Time is of the essence in retail, and nowhere as much as in the travel sector.
Every time a new contingent of passengers comes onto your vessel, you want them to be able to take full advantage of all your onboard retail and dining outlets before they reach their destination. Getting the most from this captive audience requires you to plan ahead, so you can have the staff and resources to serve your customers efficiently.
The cruise and ferry businesses leading the way are the ones that have the capabilities in place to gain full oversight of their retail and hospitality operations down to the smallest detail. They can understand buying patterns and shopper behaviors, see which areas of the business perform best and which products and menu items sell the most. They can check that all their stores are running the correct promotions and deals; and carry out effective planning and forecasting to avoid out-of-stock situations.
Here are some points to consider to make the right decision when selecting a travel retail POS and management software:
1. Retail travel specific functionality
In duty-free and travel retail, fast service is essential. Passengers are only onboard for a limited amount of time, and you only really get one chance to sell to them. If something's out of stock or the queue is too big for them to get served there and then, they won't return a few days later.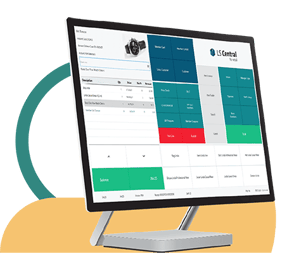 To make the most of this valuable opportunity, then, you need an efficient and reliable POS system that supports the specific needs of your travel business. That includes ability to run offline POS when at sea, use data-driven insights, support new fulfilment options such as click and collect pre-ordered goods.
Canal cruise ship operator Stromma uses the LS Retail management software, including the mobile POS functionality, to ensure smooth transactions onboard its boats. "It's wireless and connected to a payment device," said Nick Rutten, Functional Application Manager at Stromma. "Overall, using the LS Retail system helped improve customer service and transaction speed."
2. Multi-industry support and integration
Most cruise and ferry operators juggle multiple industry verticals within their business. They sell tickets, they run retail stores as well as restaurants and cafés, and sometimes offer tours and events such as wine tasting evenings. The ideal solution enables them to run all these services within a single environment, providing staff with role-based access and supporting a seamless consumer experience from the moment they step on board to the moment they disembark.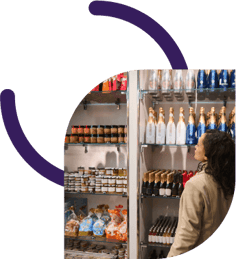 DFDS, the European cruise and ferry operator, chose LS Retail to achieve its goal of having one POS system on all vessels, which can easily support its onboard shops and food service businesses.
"We selected LS Retail because we needed one unified software platform that our 600 crew members can use to support our more than six million passengers
a year," said Martin Ebbesen, Head of Business Applications at DFDS.
3. A truly global solution
Onboard a ferry or cruise ship, you need a POS which can handle all your regulatory, tax and customs needs, regardless of the countries (or waters) you're operating in. It must also support a variety of payment options and accept multiple currencies. On top of that, wherever your ships are, you need to be able to feed information to them and manage all that data centrally.
Every year, four million passengers sail with Color Line on routes to and from Norway, enjoying the restaurants, shops and entertainment available on board. Color Line uses LS Central to manage data like menus, prices, and offers centrally and automatically synchronize operations from headquarters on land to the systems on board the ships.
"We thoroughly researched the market and found that LS Retail had the best solution for our needs," said Marianne Gade Gørbitz, IT Director at Color Line.
4. Flexible and future-proof technology
When Scandlines, one of Europe's largest ferry companies, went on the lookout for a new onboard sales system, it wanted to be sure the technology it selected would grow with its business needs and still be around, and kept up to date, for years to come.
"Our existing till system is ten years old," said Mikael Kragh, IT Manager at Scandlines. "It is no longer being maintained and supported. It has been described as a cigar box with a screen. We wanted a modern and future-proof standard solution, based on best practices, to give us the management tools we needed."
It's so important to consider whether the technology you're investing in now will stand you in good stead for the future. Talk to potential technology vendors about their technology roadmaps, and check whether their platforms will allow you to easily add new functionality and expand into new markets. Make sure you have a clear understanding of where their own business is heading and how they will continue to support you over the years.
5. Proven in the industry
Finally, make sure the POS and management software you go for is already proven in the cruise and ferry industry. Check potential technology vendors' websites - do they have customer testimonials from other leading companies in your sector? Have their customers spoken at industry events and openly shared how their technology positively impacts their business?
For Scandlines, it was critical to know it was investing in technology that will not only stand the test of time but was already successfully being used by other businesses within the industry.
"In the selection process, we got a demo system on which they completed live transactions," said Mikael Kragh, IT Manager at Scandlines. "That was brave – because we have seen that kind of thing fail before."
If your cruise and ferry business is on the lookout for a new POS and management software solution but isn't sure where to start, get in touch with our team of experts to discuss your options.