Product tour
Delight customers with a self-ordering process that saves time and enhances satisfaction
Simplify operations
Simplify operations
Improve customer service
Customize your menu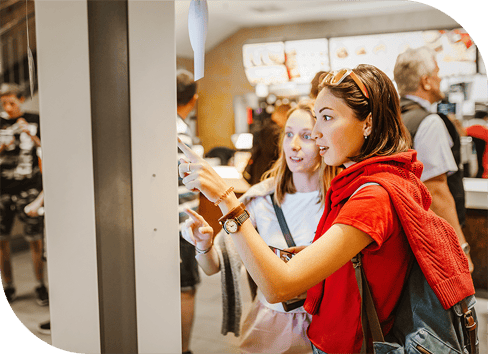 Simplify operations
Enjoy enhanced efficiency, improved decision-making, and a seamless customer experience, with a comprehensive restaurant software solution. Seamlessly connect all aspects of your business, including self-ordering stations, ensuring consistency across all touchpoints and accurate data.
Reduce queues effortlessly and grant diners autonomy and choice. Customers can access the menu directly at their table through QR codes, tablets, or self-service kiosks, eliminating the need to wait for assistance and letting customers customize their orders as they please.
Speed up service and food delivery. Orders placed through the self-service options are sent directly to the kitchen, ensuring they are prepared in the order they were received. You can even designate orders to specific stations, allowing your team to prioritize their tasks efficiently.
Free up your workforce, reallocating employees to focus on other crucial tasks. Distribute your resources more strategically and invest in areas that directly impact your restaurant's growth and profitability. Take data-driven decisions based on accurate data.
Improve customer service
Drive additional revenue putting the customer in charge of their orders. Eliminate mistakes and ensure upselling and cross-selling opportunities displaying targeted promotions or recommendations.
Eliminate risks and ordering mistakes. Let customers customize their meal based on their dietary preferences by giving them access to ingredient and allergen information and letting them easily add/subtract ingredients.
Offer your menu in multiple languages depending on the location of your restaurant and your customers, allowing you to easily operate in large tourist destinations or multi-language communities.
Allow customers to order at their own pace without feeling rushed. Diners who have control over their ordering process often increase their basket size, spend more, and come back again and again!
Customize your menu
Create the menu you want for any time of day, occasion, or season, and always keep your information updated across all your channels by making updates centrally from the same platform.
Activate different menus depending on the day, such as a breakfast or brunch menu, which you can automatically remove at a specific time of day and replace with lunch, dinner, or all-day menus. Or offer special menu items for limited hours and automatically remove them at the right time.
Control your menu centrally and automatically push changes to all your touchpoints. Want to change the price or remove an item from the menu? You only need to do it from one system, allowing you to keep a consistent menu in all your locations.
Don't let your customers order an item only to find out it's out of stock. Make it easy – with self-service you can program the menu to only show the menu items that are available at your location. And once an item goes out of stock, automatically remove it from the menu.