Why you need a single hotel platform that unites PMS, POS, ERP and more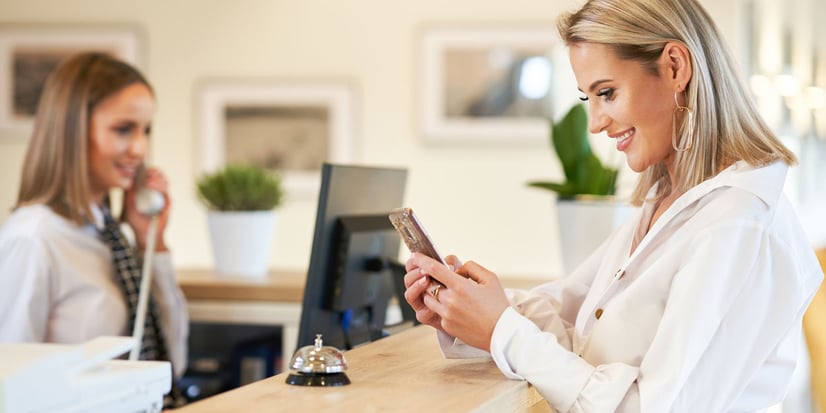 Up to 4,000 guests a day flock to the iconic milky-blue geothermal waters of Blue Lagoon Iceland. Not only is it one of the 25 wonders of the world, it's also an impressive hospitality and wellness resort. Guests can check in at one of two luxury hotels, relax in a subterranean spa, swim in the mineral-rich lagoon, dine at four different restaurants and even buy bioactive skincare products online and in store.
A pillar of the Icelandic travel industry, Blue Lagoon Iceland's success has seen its operations expand rapidly in recent years. And with that expansion came the need to unify its technology and gain a single view of its business. Today, the company uses LS Central, the unified hotel management platform from LS Retail.
"We needed a holistic solution for our operations," a Blue Lagoon representative told us. "LS Central and Microsoft Dynamics 365 Business Central provided us with one unified solution, covering retail, restaurant, hotel, activities and member management. It does not require us to do any integrations."
Leaders like Blue Lagoon understand that hospitality is all about experience and connection. And while the guest experience used to be all about human interaction, today that experience is primarily managed through technology. Research suggests that some hotels are struggling to keep up, held back by their siloed IT systems that prevent them from seeing the bigger picture. In its report "Rebooting customer experience to bring back the magic of travel", McKinsey cited common challenges hotels face, including inconsistency in customer experience across products, services and digital; difficulty predicting customers' sentiment without having to ask them; and time lags in going to market with updates, releases and enhancements.
Today, the technology you choose to run your business on can define the entire guest journey, from booking to checking out. Get it right and you will succeed in delivering truly guest-centric experiences, driven by insightful decision-making and cross-functional collaboration. Get it wrong and you risk undoing all your best efforts, leaving guests with a disjointed experience that they may not come back to again.
Want to find out more how a unified hotel management platform like LS Central could transform your hospitality business for the better? Here are eight reasons hotels and resorts like Blue Lagoon Iceland have made the switch:
1. Speed up the check-in/out process
How long do your guests expect to wait at the service desk to check in? It might not be as long as you think! Research has found that even a short, five-minute wait at check-in can impact guest satisfaction. The last thing you need, then, is loads of guests all arriving at the same time, creating long queues and putting front of house staff under pressure as they deal with increasingly disgruntled guests.
Thankfully, online and self check-in/out kiosks are an effective solution to reducing crowding in the lobby. They can significantly reduce front desk wait times and free up staff, so they can attend to guests' most pressing needs, rather than filling out forms and checking documents.
A comprehensive software system like LS Central supports hotels to streamline the check-in/out experience. When the guests arrive and leave, the hotel can recognize who they are and allow them to check in and out online, on their mobile or at the desk – fast, smooth and hassle free.
2. Remove payments friction
From self check-in to booking services online and contactless payments – guests increasingly prefer to use self-service technologies during their stay, and they want it all to be as frictionless as possible. According to a Skift article, this means making payments "invisible and painless, and not an area of concern for consumers. The more payments can be an invisible part of the process, the more consumers will have a better brand experience."
To achieve this, you need a software system that manages all departments, services and amenities in one place so that all payments can be linked to each guest and room, and then resolved conveniently at checkout, whether that's at the front desk or online.
Not only can a seamless and transparent payments experience enhance satisfaction, but it can also present new opportunities to upsell and increase spend during each guest's stay. For instance, if a guest wants to book a spa session or requires a late check-out and they can manage it all on an app quickly, without having to put in their payment details every time, chances are they're more likely buy these added extras.
3. Automate invoicing
Alongside friction-free payments, hotels need the ability to generate, send and process invoices for different properties and departments.
For this to happen, the enterprise resource planning (ERP) system must communicate seamlessly with the property management system (PMS) and point of sale (POS) without any manual intervention to ensure that invoices go automatically to the right revenue streams. Having all systems in one helps to avoid manual errors and saves significant time.
4. Simplify bookings at the spa and fitness center
Guests want to be able to book and check in to your hotel quickly and easily, and they expect the same experience across your other services and amenities too. They don't want to have to call different departments in the hotel to book a spa treatment or personal trainer, or find out too late that all the slots for their favorite exercise class have already gone.
Using one centralized system, all employees can see exactly what is available across each of the different services you offer and book a spot for guests. And if guests want to do it themselves, they can check availability, book, and cancel directly online. That's how easy it becomes for your staff and guests when all information is centralized.
And with LS Central, you can even manage conferences, weddings, trade shows and other special events, and handle space rentals, room booking, ticketing, and catering in the same platform.
5. Create a unified experience with your restaurant
Increased adoption of QR codes and online ordering in the restaurant industry has played a significant role in reducing waiting times and improving the guest experience. Customers like the option of being able to order and pay for meals on their phone, and they increasingly expect that digital experience in the hotel restaurant too. In fact, almost half of hotel guests indicated that they would be more likely to order in-room service or to go to the hotel restaurant if they could use a mobile app to place their order, Hotel Technology News reports.
With LS Central, you gain all the tools you need in one place to manage your hotel, restaurants, catering and food preparation services. Let your guests order online, or make a reservation at any POS around the hotel. And in the restaurant, you can use the deep industry functionality the system offers: manage table occupancy, split or move bills, and speed up service with the kitchen display system (KDS), which automatically receives orders from the restaurant floor and shows them on a screen in the kitchen, helping to manage everything from preparation instructions to timings.
And of course, you can link all tabs and bills back to the room booking to deliver the seamless, hassle free experience your guests expect.
6. Digitalize and track housekeeping
Job vacancies remain high in the hospitality industry, making it challenging for hotels to fill housekeeping jobs. As more hotels compete for labor, then, they need to be able to do more with less. And that means being able to streamline daily tasks, manage housekeeping teams efficiently and have full visibility of daily requirements.
With a single hotel and property management system, hotels can simplify time-consuming tasks by centrally managing housekeeping schedules, tracking room attendants' progress, and quickly adjusting changing requests. At the same time, they gain a real-time overview of maintenance, housekeeping and reservation statuses to maximize room occupancy. Staff can check their duties and manage their shifts on mobile devices and communicate on one platform, ensuring all parts of the hotel run smoothly and adhere to the highest quality and cleaning standards.
7. Send personalized offers to guests during their stay
A report by Epsilon found that 87% of customers prefer cooperating with brands offering personalized experiences. For hotels, that means delivering everything from personal greeting emails ahead of arrival, sending targeted recommendations to guests before and during their stay, and highlighting special offers and deals on your mobile app with targeted push notifications.
When you are using a unified software solution, you can recognize past customers, keep in touch throughout their journey, and build guest profiles that keep into consideration each guest's habits, preferences, and tastes.
By tapping into this knowledge, and using this information to deliver right-in-time, valuable communication and offers, you can enhance the guest experience and boost potential earnings from every booking.
Even after your guests have gone, you should stay in touch via their preferred channels and target them with incentives to rebook, using all the information you have based on their previous interactions and preferences.
8. Reduce losses from cancellations
High cancellation rates have plagued the hospitality industry, peaking at 35%, according to online hotel search firm Trivago. Of course, when a guest cancels a room booking, all services and extras they've booked must be cancelled too. Hotels can limit the damage by reacting quickly and reselling those slots to other guests. That popular, sold-out spa treatment could very easily be snapped up by a guest on a waiting list, or the family that had to opt for a later restaurant booking may now be interested in the earlier dining slot that's come available.
If you have a unified hotel management system like LS Central, all related bookings are connected to the guest in the room – so as soon as the room is cancelled, the system automatically cancels all related reservations, making them instantly available to other guests. No need for your team to manually go through lists and make bookings and cancellations. And no risk to miss out on the opportunity to resell those empty slots.
With LS Central for hotels, you can run your every aspect of your hospitality business within just one platform – no data inconsistencies, no department silos, no surprises. Contact us for a demo and to find out more.