Kitchen Display System (KDS): why your restaurant kitchen needs it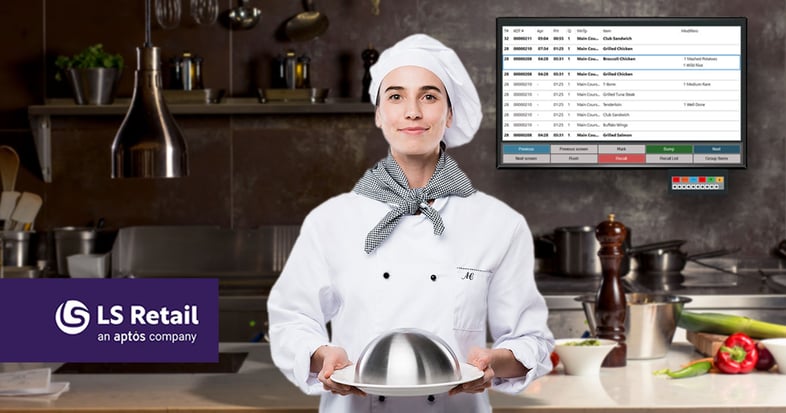 How do you run your kitchen operation today? If you're still using handwritten paper notes or printed tickets to process orders, then you're not alone. But you could be missing out on a real opportunity.
In pursuit of greater efficiency, more restaurants are turning to technology to replace their kitchen printers and manual processes. This technology is called Kitchen Display System (KDS), and it has the potential to completely transform your back-of-house operations.
What exactly is a Kitchen Display System?
A KDS is, in effect, a digital menu board for your kitchen staff. It acts as a traffic officer between the front of house staff and the kitchen, and delivers the following functionality:
Routes orders to the proper food preparation stations
Organizes items, so dishes that should go out at the same time are prepared in the right order
Alerts kitchen staff when orders have been in the queue too long
Can be customized, so it follows your kitchen's flow
Is interactive, so the kitchen staff can bump dishes to different stations or mark when they are ready
Enables front-of-house staff to see the status of dishes on the mobile POS and pick up orders as soon as they are ready. They can also use this information to share updates with customers.
Whether your business is big or small, here are eight reasons why you should consider introducing a KDS to your restaurant kitchen operation:
1. No more lost orders
It's easily done. Your waiters have taken an order, it's come through on the kitchen printer and been added to the ticket rack, but amongst the hustle and bustle of a busy service, the ticket falls off and gets lost, or maybe it accidentally gets taken off the rack too soon. This simple mistake can put your service into disarray. Kitchen staff end up rushing to get the missed order out – or worse, they may not even realize what's happened until the customer complains about slow service.
A KDS takes this problem out of the equation altogether. By automatically displaying new orders and sorting them into logical queues, the KDS ensures that staff always know exactly what's going on, and no dish gets lost or left behind.
2. Every dish is prepared in the right order, at the right time
Restaurants use a KDS to clearly see orders coming through from the restaurant floor. Screens show what's in the queue and how long it's been there. Orders are prioritized and highlighted when they need to be made to ensure food is served hot and fresh.
Importantly, the KDS can also flag up special requests, menu customizations, dietary requirements and allergy information to kitchen staff, updating them in real time so they can prepare accordingly and still get orders out on time. Even if a customer changes their mind after the initial order, for example asking for no mayo in their burger, the note on the POS will cause the KDS to update straight away and flag the change. This way kitchen staff can accommodate requests, avoid unnecessary food waste, and still ensure that the entire order arrives at the table simultaneously. The result is an organized operation where kitchen staff can see exactly what they need to do and when.
3. Clearer workflows in the kitchen
A KDS takes the confusion out of a busy service. Orders are sent to the right workstations, separating items that must go to the grill from those that should go to the salad station, for example. This increases efficiency in the kitchen, as staff can be stay at their stations and complete more orders – no need to shout instructions back and forth, or move around to look at a tiny piece of paper. Work is assigned automatically, and tickets can be completed faster.
What if a station falls behind during an especially busy period? With a KDS, you can easily move, prioritize, and even reroute orders to a different prep station. You can also use the system to simplify orders to make them more manageable for staff to handle. For example, an order of one club sandwich with fries, two cheeseburgers (one with fries) and a chicken Caesar salad, plus another order of one club sandwich and a cheeseburger with fries is a far more complicated way of communicating the following:
3 cheeseburgers
3 fries
2 club sandwiches
1 chicken Caesar salad
The KDS breaks information down and communicates it clearly so staff can focus on what they need to make at that moment in time. And it also helps chefs keep track of modifications, and know exactly what needs to be prepared for each menu item.
4. Better communication between front of house and kitchen staff

Restaurant guests tend to be unforgiving when mistakes are made. If they ask for no dressing on their salad, they expect exactly that. But when your staff only have a notepad to jot these instructions down on, requests can easily get overlooked or misinterpreted and the inevitable happens: orders go wrong, and you end up with disappointed customers – and perhaps a dish that ends up in the garbage can.
A KDS takes misinterpretation and lost notes out of the equation. No menu request or change becomes too much for your staff to handle – no illegible long lists or quickly scrawled notes to decipher. Waiters update their POS and the information is communicated in real time to the kitchen. And the communication channel works both ways. So when front of house staff need an order update, they can easily check their POS to see what's happening in the back.
5. Food at top quality when it reaches the table
When you're paying to eat a meal out, there's nothing worse than food arriving at your table cold (unless it's meant to be!). Chips left out on a plate can quickly cool, which is why kitchen and waiting staff need to be able to move swiftly as soon as order items are ready.
The KDS ensures that all orders per table are synchronized so that meals come out at the same time, at just the right temperature. It can be set so that items that are likely to turn cold quickly are flagged up before they're ready, giving front of house staff time to collect orders just as they're being served up.
6. Better organized, quicker service
Picture the scene. One of your front of house staff has just taken a large table order. But on their way to the kitchen to deliver their hand-written note, they get called over by another table who are also keen to order. Five minutes later, and the kitchen staff are still unaware of the large food order coming their way. In that time, they could have begun to prepare the food, but instead they're waiting for the paper ticket to be handed over.
With a KDS, these delays are taken out of the equation. Front of house staff are no longer under pressure to memorize orders or write down notes that need to be hand-delivered to the kitchen. Instead, orders are sent to the kitchen immediately. Chances for miscommunication and error are minimized. If required, you can also organize orders by seat to ensure there are no interruptions, and no risk of giving a customer the wrong dish. This kind of attention to detail will also make your general service feel more polished and professional.
7. A more environmentally friendly and sustainable business
Running a more sustainable kitchen operation not only reduces your impact on the environment but it makes good business sense. By cutting down on food waste and planning better for every service, restaurants save money and appeal to environmentally conscious consumers.
By minimizing the possibility of any discrepancy or errors in your orders, you can significantly reduce food wastage in your restaurant. The KDS, integrated with a smart restaurant POS, eliminates confusion and ensures you run your operation as smoothly, efficiently and accurately as possible.
And by doing away with kitchen printers, just think of the amount of paper you will save. Printing off your daily orders may not seem like a huge expense or waste in the grand scheme of things, but it quickly adds up. An average roll of printer paper costing around US$5 covers roughly 450 orders. That works out at just over one cent per paper ticket, not to mention the higher cost of printer ink. Consider roughly how many orders your restaurant kitchen takes per day and then think about the savings – and the positive environmental impact – you'd make by eliminating paper tickets altogether.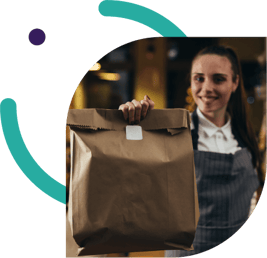 8. Handle takeaway orders easily and accurately
Food delivery apps are increasingly popular among consumers. Deliveroo, which transports restaurant food to consumers at home through a network of food delivery riders in the UK, has seen its revenue grow over 650% year on year and reports that restaurants who partner with it also experience an increase in revenue by up to 30%.
As restaurants explore the opportunity of takeaway orders to expand their reach and customer base, many worry about the impact this will have on their kitchen operation. Will the introduction of online orders and takeaway services impact their business model and throw their kitchen into disarray? Not if it's handled with the right technology.
A KDS routes orders from the online ordering systems directly to the kitchen, without the need for staff members to manually enter information. If required, you can set the system so that online orders must be approved by a manager before they reach the kitchen. But the overall result is that online and takeaway orders are fully integrated into your kitchen operation without any extra effort. And in the kitchen, take-out orders can be clearly marked as such on the screens, to ensure that they are prepared and packed appropriately instead of, for example, being plated up.
Would your kitchen benefit from an improved flow and better organization? If you want to find out more about how you can take advantage of a KDS to streamline your restaurant operation and do away error-prone manual process, please get in touch with our team of experts.