According to the U.S. Department of Agriculture, food prices are increasing at the fastest rate in 40 years and many restaurants have had to raise their own prices in response to growing costs. And while prices continue to soar, customers are also dining out less frequently. In fact, more than 66% of restaurants have experienced a decrease in sales due to inflation, as reported by Seated in a survey sent to Restaurant Dive.
Being quick to adapt to more cost-efficient strategies could make the difference for restaurant owners between barely surviving and succeeding. You've probably read already our 3 suggestions on how food service business can battle inflation, here are three more ways to maintain profit in your restaurant during these difficult times:
4. Leverage technology to offset labor costs
One of the toughest challenges for restaurant owners facing an inflated market is also having a shortage of staff. According to Restaurants Canada, over 80% of food service operators are having trouble hiring kitchen staff, and 67% can't fill serving, bartending, and hosting positions. The situation is very similar all over the world, but the lack of employees doesn't have to threaten the success of your restaurant business.

To combat hiring difficulties, many restaurants are turning to technology to fill in the gaps. One of the ways they're leveraging technology is by adding self-service kiosks/tablets or QR codes into their venues. Having a POS system that mirrors your menu, or ditching printable menus for a scannable QR code at the table, can take loads of pressure off front-of-house staff and simplify ordering for your guests. Not to mention, if you also connect your front-of house with your kitchen, orders will get sent straight from the POS (or ordering kiosks) to the kitchen without your employees needing to jot down every item a customer wants. This way, your staff can have a manageable workflow and put more focus on things like customer needs and keeping the restaurant floor tidy to make full use of their time.
But that's not all. Restaurant owners should also be thinking about the type of staff management software they're using and consider how it's benefiting their employees. Are they getting the proper number of hours? Is one employee working too much or too little? How can you track vacations to make sure you won't be left with even less employees during a specific week, or know when to call in an employee due to another being sick? If your system includes smart staff management functionality, it will help you optimize your scheduling capabilities, as well as let your staff easily register vacation/sick days, switch shifts with other team members, request more time, and get a clear picture of their working days.
5. Reward customer loyalty
As a restaurant owner, it's sometimes hard to avoid raising prices on the menu when your own costs have gone up. But you can still show customers you want to give them a good deal by introducing a loyalty program that gives them benefits and encourages repeat business.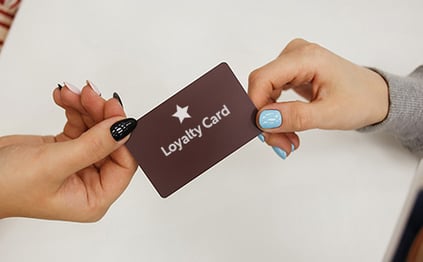 A recent report from Paytronix and PYMNTS found that 47% of diners now use at least one loyalty program and about 60% of them said they would purchase more from other restaurants if they also had a loyalty program in place. Customers want to feel recognized for their business, and a strong loyalty program can encourage them to sign up and gain rewards. You want to make sure that the loyalty program you implement at your restaurant is easy to sign up for and is simple to navigate, ensuring that anyone, anywhere, anytime can register to redeem offers and you can build brand loyalty quickly and efficiently.
And one of the biggest advantages you'll have with a loyalty program is the access to valuable customer data that can show you who your returning customers are and how they utilize loyalty in your restaurant. By identifying patterns, preferences, and purchase history, you can send customers targeted discounts and promotions that fit their dining habits and incentivize them to come back. You can also let customers redeem points to receive special menu items/offers or get money off their next order – something that's available only to loyalty members will convince customers they're getting an exclusive deal, and they'll be more likely to use it during their next visit to your restaurant.
6. Prioritize good customer service
While inflation can cause trouble for your restaurant sales, it's important not to forget that good customer service should always be at the forefront of your business.

According to HubSpot research, 93% of customers are likely to make a repeat purchase when a company offers excellent customer service. To stay competitive in an inflated market, you need to make present and future customers want to recommend you to their family and friends, and choose your restaurant to spend their money in. A few things to keep in mind:
Ensure accurate wait times. It goes without saying that long waiting times can have a negative effect on the customer experience. In fact, a recent survey from QSR Magazine found that 54% of consumers felt annoyed with waiting more than ten minutes for food while dining at a restaurant. To keep your restaurant patrons happy, you need to be able to limit the risk of errors in the front-of-house and kitchen, as well as promote effective communication among your staff.
Inform customers about allergens on the menu. According to a survey conducted by the Food Allergy and Anaphylaxis Network, 34% of allergy sufferers have experienced an allergic reaction while dining at a restaurant. It's vital for your restaurant to clearly list and disclose any known allergens in your dishes to avoid putting your customers at risk and damaging your brand's reputation.
Show understanding. Your customers want to feel seen and heard, especially during times of hardship. Making sure your staff is properly trained to handle customer concerns or complaints can go a long way in delivering returns for your restaurant. Forbes reports that 96% of customers will stop doing business with companies who deliver bad service – that's a lot! Empowering your employees to problem solve, actively listen, and show empathy towards an unhappy customer can encourage a positive outcome out of a tense situation.
Take your restaurant strategy a step further by switching to an all-in-one software solution that can manage your financials, POS, operations, supply chain management, inventory, online channels, staff, and customer loyalty on a single platform. Want to know more? Contact our experts.