4 ways to increase productivity in your restaurant chain with the right POS design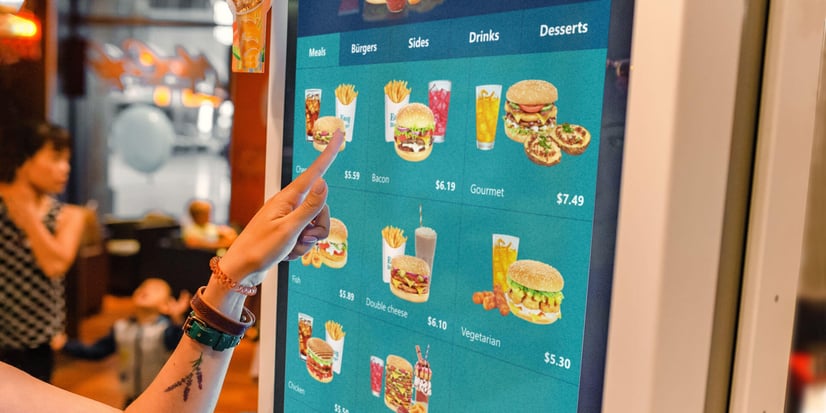 As restaurants start to recover, the main focus is on attracting guests while keeping costs down. For many operators, the question is a tough one: how to increase efficiency without losing the quality of the service?
If your restaurant management system allows you to configure the design of the Point of Sale, you may be able to increase efficiency on your restaurant floor by at least 20%. That's the experience of a chain of fast-casual restaurants and retail stores over 650 locations across the United States​. They took the advice of our team of restaurants experts and implemented the steps we outline below on their restaurant management system. The result were lower IT costs, higher guest satisfaction, and improved order efficiency.
1. Design the POS so it mirrors the menu
Engineer your POS system so that it mimics your menu. It sounds obvious, but so many restaurants are missing out on this trick.
In your POS, you should organize and present each food item from your inventory, including modifiers, in the same order as it appears on the menu. This way your employees can handle conversational ordering – meaning, they can take orders in the same way that customers reel them off. Say a customer wants the cheeseburger, but please skip the ketchup, add lots of onions, and make the fries double. You know what – add some extra cheese on the burger. Your employee can instantly record it on the POS from the same view– no need to ask the guest to stop, or repeat the order.
You can also set up different menus, depending on the shift or on what you offer in your restaurant. So for example in the morning, when customers are ordering from the breakfast menu, your servers will see the breakfast menu items by default. By only seeing the menu items that are currently available they can flip quicker among the options, and upsell more, because they see the correct upsell items on their POS. The large restaurant chain we mentioned earlier has seen efficiencies on the restaurant floor increase by as much as 40% by setting the POS system so that it mirrors the menu. Their staff can now handle order inquiries faster and with more accuracy. They also have more time to interact with customers since they're not as busy amending orders and navigating a complex user interface. Customers are happier because they're getting great service, and they're in and out of their seats quicker too.
2. Break down menu items into components
An average breakfast menu can include dozens of dishes, many of which are quite similar. Two scrambled eggs with bacon and fries. Three scrambled eggs with smoked salmon, and fries or potatoes.
If you list all the menu options as separate items on the POS, you'll end up with an extremely long list. But that's what too many restaurants still do. So if a customer orders a dish, and their friend orders the very same dish, but with extra bacon, these are registered as two different dishes, with separate entries on the POS.
This kind of setup has several serious drawbacks for your business.
Ordering is slower. Your front-of-house staff has to wade through a long list of often similar options, and make sure they tap the correct one. It's time consuming, and there's the real risk of selecting the wrong dish.
Reconciliation is difficult and time consuming. If you have ten separate dishes that include sausage and twenty that include fries on your menu, you'll have to reconcile multiple dishes separately to the same item. That's going to add a few hours – or days – to your reporting.
Menu management becomes complicated. How can you optimize your menu if you don't have a clear overview of what dishes sell best? If any variation on a plate – say, adding an egg to the omelet, or swapping the regular fries for sweet potato ones – causes it to be registered as a whole other dish, you can't track how many guests are modifying your plates, and in which ways.
You can't accurately track inventory. If your servers need to go through a long list to add an extra like whipped cream, or avocado, chances are they will find simper ways to do it, like writing it in the comments of the order, or just asking the chef to add extra bacon. This kind of behavior is common, and understandable in a busy restaurant. Unfortunately, the result is wrong inventory.
In LS Retail software solution, you can set just few dishes in your menu, and then use modifiers to add or remove ingredients. For example, you can record the basic breakfast plate with two eggs, two slices of bacon and medium fries. If a customer wants three slices of bacon and cheese on the fries, the server can simply add the extras to the plate.
Ordering is faster, but that's just part of the benefit. By using fewer item numbers and using modifiers, you can capture food costs more accurately, simplify inventory management and align replenishment to actual use. Reporting and reconciliation are also easier to perform and more precise.
There are also benefits when it comes to menu engineering. When you know exactly in which ways your guests modify your dishes, you can better align your menu to your customers' tastes, and modify or remove dishes that are unpopular. Having clear information on what sells will also help you price dishes and extras so that they deliver healthy returns.
The large U.S. fast-casual chain of restaurants we've been supporting used to have around 9,000 items on its menu. That's a lot of dishes to wade through – and an astounding amount of data to analyze at the end of the month. After moving to LS Retail software solution and using this methodology, they're down to circa 3200 items – that's around one third of what they used to have! The chain still offers the very same menu to guests – they simply configured the POS differently. As a result they can now serve guests faster, and track food consumption more precisely.
3. Color code courses and items
Once you have your POS set up in the same way as your menu, you can make it even easier for your staff to flip between courses by color-coding items and categories.
For example, you could:
Give each course a color code. Starters are blue, mains are purple, and desserts are pink.
Color-code sectionswithin your courses. Soups can be brown while salads can be green. Yellow for chicken. White for fish. And so on.
Color code options. For example, a steakhouse many find it useful to label degrees of doneness for their steaks. Rare is dark red, medium rare is pink, well done is brown.
Use a specific color for upcharge items, so staff can more easily turn over a higher profit – and inform guests of the charge if they need to.
With these kind of color cues (which can be set as greyscale for those who are colorblind), your employees can find the right courses quicker, and clearly see all the options available for each menu item. It'll make their job easier, and they'll be able to provide guests with better and quicker service.
4. Offer self-service and contactless ordering
If you select a restaurant solution that can run the Point of Sale on self-service devices, you can increase both efficiency and guest satisfaction.
Self-service options are becoming increasingly popular among guests, especially in quick service and fast casual restaurants. Customers are increasingly comfortable with digital options, and several restaurants have found that self-service devices and kiosks can increase average checkout totals by as much as 15-30%. When the Dodgers Stadium concession stands in the US tried out new self-service kiosks, they saw average order size increase by 20%. Similarly, Subway noticed that guests buy more add-ons and generally spend more when they order using kiosks - probably because they're more comfortable with the options in front of them compared to when they have to ask a server to add items to their order
Self-service devices can also speed up ordering and table turnover, as guests can order their meals when they are ready, without having to wait for a server to be free. These kinds of automations are not meant to substitute employees. While guests are taking care of sending orders to the kitchen, your staff members have more time for higher value activities, from welcoming guests, to table delivery, to cross-selling activities such as drink service.
By selecting a POS system that can be customized to follow your restaurant's flow, you can reduce the risk of mistakes and inefficiencies, and make your employees' job easier. And when the POS is part of an enterprise-wide centralized system, you can also ensure that all staff members get the vital information they need to do their job fast and well. A unified software solution gives you flexibility to adapt the POS to your workflows while also empowering you with one point of management, one source of information, one general ledger, one system of record – all you need for one successful business.
To find out how a flexible POS can make your restaurant chain run more efficiently, contact us.