As a restaurant owner, you may be worrying about the effect of inflation on your business – what can you do to keep up? Growing costs throughout your supply-chain, like food, rent, labor, and gas, threaten the growth of your restaurant. It's a difficult situation to confront and one that many restaurateurs are currently having to face.
In times like these, restaurant owners should be quick to adjust to more cost-efficient strategies if they want to compete in an already challenging market. Here are 3 ways you can maintain profit in your restaurant while battling inflation.
1. Engineer a simpler menu
Reducing the size of your restaurant menu seems like an intimidating task; you've already established a set of dishes that define the flavors and style of your brand, but with the rising costs of key ingredients like meat, eggs, and milk, how do you cut things down without sacrificing too much?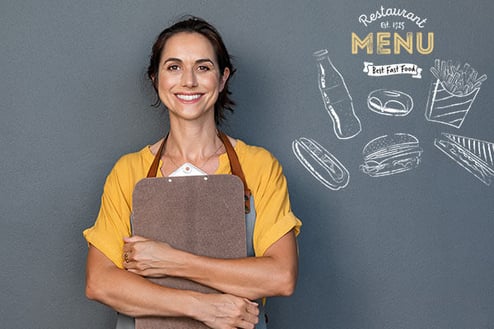 Well, to take the first steps, you'll need to evaluate which dishes are the most popular. Monitoring past sales and measuring how often a dish is ordered can reveal what the majority of your customers want when they walk into your restaurant. Do they frequently purchase mozzarella sticks as an appetizer? Or how about the pastrami sandwich as a main meal? Those are items you'd probably want to keep. The rest? You'll need to decide what's worth scrapping. It also helps to have a restaurant management system that allows you to access all this information – from showing you what dishes are selling to telling you how much each ingredient costs, and how much of it you're using for every dish, etc. If there are items on your menu that aren't attracting much profit, keeping them won't provide returns and will end up being more costly for your business. Or, on the other hand, if you see potential in a dish, first consider: how can you promote it to sell more or tweak it so that it catches the eye of hungry patrons?
One idea may be to swap out expensive ingredients for less-costly substitutes. Using an inexpensive alternative, like chicken tenders instead of chicken wings, or something plant-based that may appeal to your health-conscious consumers, can help you save money without forfeiting too many dishes all at once, while also offering you new opportunities for profit.
2. Entice customers with fresh ideas
In a recent Popmenu survey, over 1,000 customers reported they spend 40% of their food budget on restaurants despite inflation. For restaurant owners, this is great news, because it means that many consumers are prioritizing dining out over other expenses, like clothes, travel, and gym memberships. But this doesn't mean that customers aren't selective when it comes to where they want to eat, so what can you do to attract customers to your restaurant over others?
Restaurant owners shouldn't be afraid to get creative when the opportunity presents itself; keeping things fresh shows consumers that you're innovative and willing to be different. Playing around with new flavors can be an exciting thing for your customers – and gives you the chance to make use of items in your inventory that haven't seen great demand. Why not use that bottle of brandy that's been sitting on the back shelf of your bar to create an exotic cocktail that can be added as a special to your menu? Or how about concocting new, delicious sauces that your customers haven't tried before to add to their meals?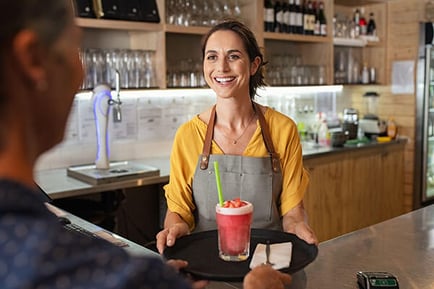 Some restaurants are even going so far as to create seed-to-table programs, which is when fresh ingredients are grown from an on-site garden, instead of being sourced elsewhere. This option is considered an ideal move towards sustainability, and your customers will appreciate knowing where their food is coming from. Not only that, but you can become less reliant on vendors to avoid being heavily impacted by supply-chain shortages, while also not limiting your dishes by the shelf life of certain produce.
And let's not forget that customers enjoy a great meal deal! Try bundling up some of your menu items to create an offer they won't want to refuse. By doing so, you can try to use more of your inventory or market less popular items in a way that'll seem inventive and make customers feel like they're getting more value for their money.
3. Use automation to reduce food waste
It's more likely than not that your restaurant has had to throw out a lot of products due to spoilage, surplus, cooking mishaps, and dissatisfaction from customers. It's just bound to happen, but the amount adds up fast; in fact, millions of tons of food is wasted by restaurants every year. The problem is both costly and unsustainable in the long-term, and when inflation becomes an issue, you can't afford to be wasting so much food that could otherwise be useful. Luckily, advances in automation can help lessen the burden of food waste in your restaurant.
Having strong inventory management tools in place is key to minimizing product loss and simplifying reordering processes. With the right technology, you can easily manage expiry dates, understand what ingredients you're using (and for which recipes), and plan how and when to use ingredients without having to manually label and track each one. The ideal system will help you predict the number of products you'll need to order to have the correct amount of food. Are you selling less rib eye and more filet of cod as a main dish? You should be able to see how many customers ordered either dish, how many ingredients were used, and the appropriate amount of food to reorder, so you're not stuck with too much or too little. And with automated replenishment capabilities, you can place a new order for ingredients before they run out.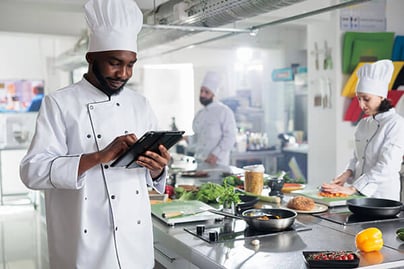 Not only that, but the right system will help you keep track of what you're throwing away and in what quantities, allowing you to have clearer visibility over the usage of ingredients and correctly report waste. This way, you can see where your restaurant is actually losing money and quickly act upon this information to try to limit it. And because it can also tell you what ingredients you're using the most of, and at what capacity, you can make sure you're not overspending on ingredients that won't get used or underspending and losing out on revenue.
Do you want to know a few more ways to battle inflation?
Check out 3 more suggestions on how restaurants can remain profitable in times of crisis.
Finally, contact our experts if you want to know more about how you can take your restaurant strategy a step further by switching to an all-in-one software solution that can manage your financials, POS, operations, supply chain management, inventory, online channels, staff, and customer loyalty on a single platform.