Showrooming: threat or opportunity? [infographic]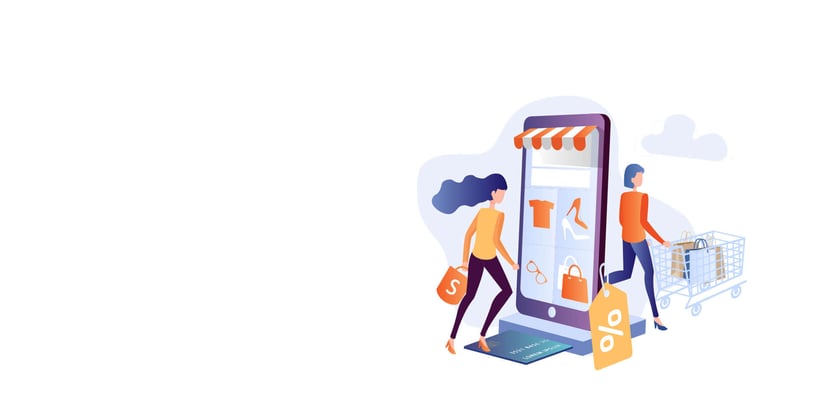 The steady evolution of technology and the easy availability of product information online have enabled retail customers to quickly find what they need with just a few clicks on their computers or swipes on their mobile devices. Consumers can visit a store, choose what they like and then take out their smartphone, locate alternative vendors, compare prices and even buy directly online while still in the store. This practice is known as "showrooming"; in other words, when customers look at items at a brick-and-mortar store but then buy the same thing at bargain rates online. Many retailers feel threatened by this phenomenon. And understandably so, especially if people are just visiting stores to scan bar-codes or enter product SKUs in order to then compare prices among e-tailers.
But is the situation really so grim?
Reports from Marketing Land as well as Forbes and multiple other sources are exploring the effects of a reverse mechanism, also known as "webrooming", when consumers do their research online, but then head to a physical store to finalize their purchase. Apparently, this trend is nothing new, but only recently retailers have started to recognize its benefits and are, therefore, more active in pursuing those sales. Although physical stores are still winning at the shopping race for the time being, the relation between online and brick-and-mortar shopping is obviously becoming more and more complex, so what can retailers do?
1. Bring online and innovative technology into the store:
Retailers need to fully embrace new and innovative technology in order to make shopping in their stores an effortless experience:
Strive to deliver relevant, useful and personalized experiences to customers by coordinating all customer touch points, whether in store or online.
Collect data with the aim of addressing customers as individuals, identifying their needs and wants, and responding accordingly.
Offer digitalized display screens or other smart devices inside your store, constantly providing product information, advice and relevant information on promotions and offers based on purchasing behavior.
2. Offer great customer service:
Focus on improving the customer experience
Elaborate a strategy and execute it by empowering your staff to act based on informed decisions.
Give them the right tool to know your customers and quickly access relevant product information as well as ordering or delivery alternatives.
Be proactive and work on anticipating your customer's needs.
Be responsive: be prepared to react to prices and flex your margins.
3. Go mobile:
Mobile is the bridge between our physical and digital worlds.
Offer mobile apps for promoting customer loyalty while in-store.
Use mobile technology to create and deliver personalized discounts or special deals.
Offer mobile point of sale solutions to improve check-out process.
4. Offer Loyalty Programs:
Use the data that you collect offline and online (if you also have e-commerce) to create personalized messages, deals and promotions as an incentive for customers to shop again at your store.
Incorporate your loyalty program into the full customer experience: for example by integrating payments and mobile technology.
Offer valuable extra services by identifying your industry pain points and solving them for your returning customers.
5. Leverage the advantages of having a physical store even when selling online:
The idea is to offer various pick-up options for online purchases. This way, customers may be interested to buy extra products and at the same time you eliminate the risk of problems due to late postal-deliveries or similar issues.
Offer "Reserve and Collect" options aimed at customers who like to do their research online but prefer to pick-up their purchase in-store.
Offer free "in-store returns: make it easy and convenient for customers to return items to your store where they could exchange them or get a refund faster than they could otherwise.
Appeal to the 'want it now' mentality: sometimes customers just don't want to wait for whatever time it takes to deliver their chosen products to their home.
6. Embrace Social Media:
Consumers are online 24/7. They have easy access to product review sites (including their friends' assessments of products on social networks), consumer ratings and aggregated review statistics, which basically put them in control. Social Media have therefore become an important tool to open up communication with current and potential customers and some of the benefits are :
Successfully engage customers with relevant and personalized communication
Allow businesses to personalize their brand and give them a voice
See what your customers think about you in real-time
Amplify your business' reach and visibility (if done correctly!)
To sum it up showrooming and webrooming are here to stay and should therefore not be ignored [Tweet This] A good retail system can certainly make it easier to respond to customers' changing needs, to gain insight into their behavior and therefore fulfill what has been listed above. So how is your current business management software measuring up?