Software as a service (SaaS) has become mainstream. In just a few years, it has become the default software delivery model, to the point that as-a-service solutions now represent 75% of all enterprise software revenue, according to McKinsey data.
Enterprise resource planning (ERP) software is no exception, and Microsoft is leading the way with its focus on the cloud for its Dynamics 365 ERP solutions. Just two years ago, 4,000 companies ran their business on ERP Microsoft Dynamics 365 Business Central SaaS. Today, over 20,000 companies – and counting - entrust their business and data to Business Central SaaS.
Big business opportunities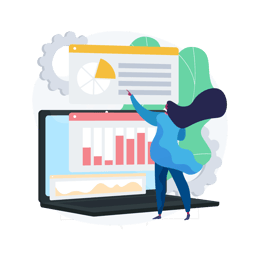 Thanks to consistent investments in performance improvements, Business Central is also increasingly attracting larger businesses.
As Microsoft explained at Directions EMEA 2021, there are now no limits in Business Central SaaS for number of users, sessions, transactions, or size of database. Thanks to an investment in load balancing and auto-scaling systems, the system can scale automatically when needed, preventing overload even when the number of users and data increase. "Our continuous investments in scalability and performance are paying off," says Christian Baek, Director of Dynamics 365 Business Central Engineering at Microsoft. "We're seeing more and more large businesses choosing BC as their ERP – proof that Business Central has also become the ideal ERP for businesses with many users, large databases, and a high number of entries and sales orders."
Vendors have been taking note of the growing popularity of the solution. "In the past few months many new, high-profile partners have joined the Business Central community as ISVs or VARs," says Christian Baek. "Often, they come from competing products. They say they see great opportunities in Business Central. One of the key factors for their decision is how popular BC has become with customers."
SaaS versus on-premises: what's in it for vendors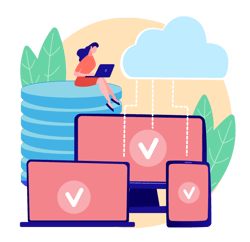 Microsoft has been encouraging its partners to move from selling on-premises software to SaaS for years. To this end, they have created special projects, maintained a sharp focus on the cloud in their development and communication, and offered a series of incentives that revolve around SaaS. As a result, it's now become significantly more profitable for Microsoft partners to have a customer running on SaaS than on prem.
Changing partner economics
"Today, by having the same kind of customer on SaaS, instead of on premises, over five years a partner can double their revenue," says Peter Vach, Vice President Partner Operations at LS Retail.
Peter Vach is well versed in partner economics, and his example is a real-life one, based on a calculation his team recently did for one of our partners.
Imagine you have a retailer who needs five back-office users, two stores, and 44 POS. If you, their partner, sell them a perpetual license, over five years you'll make €40,000 (USD 45,600). If the partner sells them a SaaS subscription, after five years the partner will have made €80,000 (USD 91,200), twice as much.
"This is an incredible difference – and it's based on today's model. The margins on annual enhancement and licensing are going to decrease further, so tomorrow, this gap will be even wider," Vach explains. "Ultimately, the economic model for on-premises software will become less and less attractive, while SaaS will become more valuable, both for Microsoft and LS Retail partners."
A different approach
While the opportunity is clear, to make money in a SaaS world partners need to adopt a new approach. "The monetization models are very different between SaaS and on-prem. We're seeing that the most successful partners are transitioning away from billable hours to a recurrent revenue stream," says Christian Baek. "It's a different approach, so it will be hard for some companies to make the change. But the sooner they do, the faster they'll start reaping the benefits."
Cross-selling opportunities
While an effort is required, selling Business Central SaaS will open up new opportunities for partners. Unlike traditional on-prem ERPs, and unlike some of its competitors in the cloud, Business Central SaaS offers more than just the functionality of the ERP. Business Central users can take advantage of the vast portfolio of products and services Microsoft offers. "The Dynamics 365 ERPs can solve customer needs in better ways than most other ERPs," says Baek. "The array of functionality is beneficial to users, but also to Business Central partners, who have more cross-selling options than ever before," he adds.
Many Microsoft partners have already seized this opportunity, and are now offering their customers a large array of solutions within the Microsoft ecosystem. Baek notes that some of the most popular services are in the intelligence and data analytics space. "The LS Retail Intelligent Cloud Solutions, which are built on the Microsoft intelligent services, are also extremely popular," Vach says. Add-ons such as LS Insight, built on Microsoft Power BI, and demand planning solution LS Forecast leverage Microsoft's investments in AI to give LS Central customers all the insights they need to run their business with confidence.
SaaS versus on-premises: what's in it for customers
While there are many examples of businesses benefitting from moving to SaaS, some are still unsure whether there is an economic advantage for businesses.
"The ROI for customers is proven, but you need to look beyond a one-to-one, license-to-license comparison," warns Vach. While at first sight a BC SaaS license is more expensive than an on-prem one, it includes more services, which need to be factored in the calculation. "SaaS is definitely the most cost-effective choice, but you need to consider all the extras that are included in the price," Vach says.
When you select LS Central SaaS, which extends Business Central SaaS,
You don't have to worry about infrastructure - Microsoft takes care of running your servers.

You don't have to pay extra for software updates or upgrade projects. Your software is kept up to date automatically, and all updates are included in your subscription.

You don't need to have a team working on the latest security patches. The highly advanced cybersecurity teams at Microsoft take care of that.

You don't have to run servers in-house. All associated costs, from IT experts to electricity to housing costs, are included in your subscription.
Chistian Baek agrees. "When you add it all up, SaaS becomes a very attractive proposition for businesses. And while not everyone was happy with our sharp focus on SaaS at first, it is now clear that, in the long term, SaaS is the model that will serve our customers best. It keeps them safe, helps them stay up to date with limited effort – and allows them to easily source all of their technology from just one IT partner. It's more convenient and more efficient – and that's what we stand for."
An appealing proposition
Microsoft is now the largest cloud player in the world, and businesses interested in moving to the cloud are growing too, both in number and in size. Unsurprisingly, there also are plenty of software vendors who are eager to join the Dynamics 365 ecosystem, and test the warm waters of Business Central SaaS.
"The clock is ticking for Microsoft, and LS Retail, partners that are not fully dedicated to SaaS. The time to focus completely on SaaS is now. If you don't make your move, someone else will take your space," says Peter Vach.