The future of business ERP is SaaS. Reporting from Directions EMEA 2021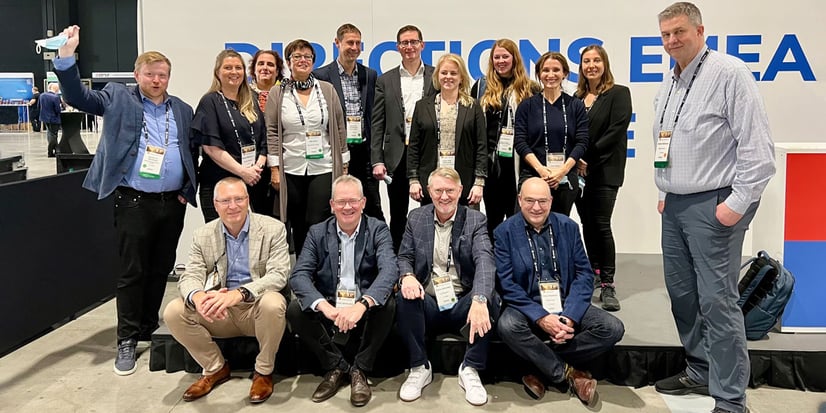 Directions, the independent conference for Microsoft Dynamics 365 Business Central partners, is finally back after one year of break. Directions has become a must-attend event for anyone who wants to learn what's coming up in Business Central, share knowledge with other Dynamics experts and enthusiasts, build new partnerships, and get the latest news straight from Microsoft employees.
Between October 26 and 29, thirty employees from the LS Retail team were among the 1,400+ developers, salespeople and experts who met in Milan to see new and old friends and colleagues (finally!) face to face, and learn about the present and future of BC.
The momentum of Business Central SaaS continues
"Business Central has been growing very quickly, far above our expectations," said Charles Lamanna, Corporate Vice President Business Apps & Platform at Microsoft.
Since the last Directions EMEA in October 2019,
The number of partners selling Business Central has more than doubled, going from 1,400 to over 3,300.
There are four times as many business solutions available on AppSource. In 2019, they were 450; today, they are over 1,800 – and the number is growing by the day.
The number of customers has increased tenfold, going from 2,000 to over 20,000.
More global businesses are selecting BC as their ERP. Business Central SaaS is now a truly global solution, available across over 70 countries on all continents.
Serving a wide variety of businesses
The type of customers moving to Business Central SaaS is also becoming more varied, and now ranges from startups to enterprises across in several industries in all regions in the world.
While some of the businesses selecting Business Central are new to the Microsoft ecosystem, many of these companies are confirming their investment in Microsoft technology, moving to BC from Dynamics NAV, GP or SL.
"Many businesses have realized that Business Central online is the best place to run your business applications."

Mike Morton, General Manager for Dynamics 365 Business Central at Microsoft
Larger businesses are also increasingly choosing Business Central as their platform of choice.
Increasingly attractive for large businesses
In the past, SaaS ERP tended to attract smaller-scale businesses. Today, thanks to consistent investments in performance improvements, Business Central is also suited to large installations.
In a packed session, Microsoft software engineer Rayner Vaz and architect Christian Heide Damm explained how Business Central SaaS now does not set any hard limit for number of users, sessions, transactions, or size of database, making it an ideal ERP for businesses with many users, large databases, and a high number of entries and sales orders.
BC also includes load balancing and auto-scaling systems, which enable it to scale automatically when needed. When the workload increases, the system automatically spreads it across multiple virtual machines, adding more VMs when needed. A separate monitoring system reveals how the algorithm is performing, tracking average utilization and checking how many VMs are becoming overloaded. This way, the system automatically prevents problems even when the number of users and data increase.
"Today, BC SaaS can handle over 5,700 Web Service requests per minute, which is 5,100 requests higher than what the official documentation says they should be able to handle (600 req/min)," says Dadi Karason, CTO at LS Retail. "It looks like Microsoft is on the right track – they have put a lot of time and effort into making BC SaaS a scalable and performant platform that should be able to handle all our customers' needs. Good job!"
Leading in security
Microsoft has been investing heavily into security and compliance, optimizing its services in a variety of ways, from data encryption, to automated threat detection, to identity isolation and just-in-time access, to mention a few.
"In the long term, the cloud is going to be the best solution for businesses, because of its ability to keep businesses secure with the best practices, latest patches, and top security management."

Mike Morton, General Manager for Dynamics 365 Business Central at Microsoft
Automations for partners
In the past few months, the Microsoft team has launched several improvements to simplify partners' jobs. The most interesting ones include:
Quicker technical validation for apps that are submitted to AppSource. Now an app can be automatically validated across all the countries where BC is available in just five minutes – a couple of years ago this validation would take hours, if not days.
Several tools for efficient troubleshooting. These include telemetry (which can be monitored to analyze operations that may affect performance and diagnose problems), page inspection (to learn the data model behind a page and troubleshoot it), snapshot debugging (which allows you to record running code and debug it later) and the AL debugger, which enables users to do the debugging in a sandbox.
Improved cloud migration, whatever the size of the customer. In the past, you could migrate to the cloud 80 Gb maximum. Now there is no limit to the amount of data you can migrate to the cloud, which means it's a much more attractive propositions for businesses of all sizes. (Since storage rules haven't changed, the good practice of cleaning up all logs and data while on-prem still applies.)
A new Business Central Partner sandbox will enable partners to buy users at a low price ($6 per user, minimum 5 users) and use them for demo environments, development, and validation. This will be on top of internal usage rights, which are already available for partners with specific competencies.
Easier onboarding
A new onboarding framework with quick views and a guided overview will simplify the experience for new Business Central users, helping them understand the key features at a glance and become productive faster.
Using the easier onboarding framework, several ISVs have already managed to deploy customers more quickly, reducing the time spent on setups and lowering consultant costs at the same time.
"I am very satisfied with the amount of tools Microsoft has been creating for partners to manage our SaaS customers. I can see how the assisted onboarding setup will help with new customers, and the Partner Sandbox will make selling the solution much easier," says Sigurdur Ari Sigurjonsson, Business Development Director at LS Retail.
A vision for the future
In Mike Morton's vision, the future development of Business Central revolves around three key areas:
Simplifying the user experience
Increasing connections
Stepping into the predictive era.
Simplifying the user experience
The goal is to make Business Central the easiest-to-use business application. Onboarding should be simple and response times should be videogame fast.
While there is a long road ahead is long, the BC team has already launched the new onboarding framework, which helps ISVs reduce the time spent on each customer, and a new accelerated data entry in the BC client, with a mechanism that gives a fluid typing experience no matter how quickly users enter data. This change alone has realized time improvements ranging between 12-23% when posting and creating sales and purchase orders.
Increasing connections
Business Central is already a highly connected ERP. It is fully integrated with the whole 365 stack, from Teams, to OneDrive, to Outlook. From Q1 2022 it will also be seamlessly integrated with eCommerce platform Shopify, bringing seamless synchronization of data between ERP and eCommerce store. When it was announced the Business Central would be the lead ERP solution in Shopify's global ERP program, the shares of Shopify rose 1.5%, showing the markets' level of trust in Microsoft software.
In the future, Microsoft plans to invest heavily in connectivity, with other software solutions within and outside the Microsoft stack, and with new (but increasingly important) sources of data such as sensors or IoT devices.
Stepping into the predictive era
Artificial intelligence (AI) is more powerful, and more affordable, than ever before. In the future, Microsoft plans to find new ways to use the data businesses get – including big data from the outside world and information coming from customers– to make businesses more actionable, efficient, and profitable, in a highly automated way. Tomorrow's Business Central platform may become a proactive tool that encourages users to act, telling them when they should contact a specific customer, or suggesting ways to optimize their supply chain to maximize revenue.
"There are exciting times ahead of us," says Peter Vach, Vice President Partner Operations at LS Retail. "I invite all Business Central partners who are interested in getting more out of their BC investment to come join our partner network. We can help you gain the competencies and get the support you need to be successful in the exciting verticals of retail and hospitality."