How to make your Food & Beverage business an omni-channel star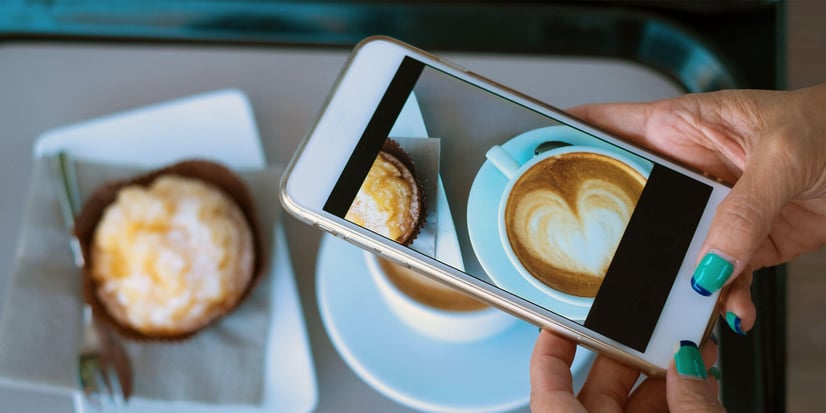 The world of retail has been disrupted by technology and changing consumer expectations: retailers who cannot adapt to the new omni-channel world will soon be left behind.
What about the foodservice sector?
According to a recent report by Deloitte, the expectations of diners are not very different from those of retail store customers: they want to be able to order online, they demand flexibility when it comes to methods of payment and they ask for a personalized service. In other words, they want the restaurants they patronize to be truly omni-channel. Creating a true omni-channel experience, however, is not easy – and developing a website and a mobile app alongside your physical locations is definitely not enough.
What is omni-channel anyway?
Omni-channel is essentially about two things: following the customer journey and being consistent. Successful omni-channel restaurateurs deliver a consistent customer experience throughout their channels: no matter which touchpoint customers decide to use to interact with the company, the brand, values and voice shine through. Perhaps most importantly, the company is there when customers need them: online and offline, providing information about their products, answering customer inquiries and offering great advice and deals. We have inspected the most successful omni-channel restaurateurs around to check what they do right – and here's a handy list of do's you should keep in mind when creating your own omni-channel strategy:
1. Think "seamless"
Make this your mantra: seamlessness (ok, a bit short for a mantra, but you get my drift). What this means, in practice, is that you should always do your utmost to give your customers a consistent brand experience, no matter if they look at your website, order on your app, in a kiosk, through your call center, or in person. For example: if your app doesn't allow your diners to add or remove pizza toppings, even if you offer that possibility at your restaurants, people will simply stop using it. If your restaurant is elegant and minimalist, but your website is a clip art and animated gif-ridden tribute to the Nineties, you should probably think about devoting some funds to a new web design, unless you want to utterly confuse your guests.
2. Simplify your platform
The more software solutions you use in your business, the more complex and costly their management – and the harder it is to maintain consistency. If every time you update your prices or specials you have to do it multiple times – for example at HQ, at each outlet, in the loyalty app, on the website — you will inevitably will run into errors and inconsistencies. There is a solution. By replacing disparate systems with an end-to-end management system like LS Central for Hospitality restaurateurs can push consistent information to multiple touchpoints, ensuring consistency – and saving a lot of time.
3. Make it all about your guests
What do your customers need, like, want, use? How do they order from you? What could you do to make the customer journey – from choosing items, to ordering, to paying and picking up – easier, more convenient and more pleasant for your customers? Focus on each single step of the customer experience, and implement solutions to fill the gaps, and satisfy your diners' needs. Do your customers often ask for extra ketchup or no lettuce in the burger? Then make sure you give them the chance to add or remove ingredients whichever touchpoint they use to order – kiosks, the app, the website, or by phone. Do you run a quick service restaurant? Then do not forget to implement quick payment solutions, like mobile wallets.
4. Re-design your organizational processes around the omni-channel
Once your diners can order through different channels, make all needed adjustments to your organization to guarantee that their needs are met. These can include:
Installing food warmers, to keep your dishes top quality until they reach your diners' plates.
Creating dedicated cash registers for customers who only need to pick up their order.
Organizing your kitchen: the best management systems can identify the source of order (take-away versus in-house) on the kitchen display system to simplify expedition of orders.
Giving your take-away customers complimentary parking vouchers, if your outlet is located in an area with few parking spaces.
5. Acknowledge, engage, personalize
Capture your customers' data, and turn this information into action. According to a recent Deloitte research, 70% of customers want restaurant apps to engage with them, delivering personalized offers and information. You can offer this kind of experience too - with the right tools. Does your system enable you to gather information on your diners across the channels, so that you can interact in a personal way? Are you able to link offers, loyalty, social media and your ordering platform? According to Entrepreneur, lack of visibility over loyal customers' info was one of the key mistakes of fallen fast food giant Chipotle. Unable to recognize and therefore attract its once-loyal diners, Chipotle, which is still struggling in the wake of last year's food safety debacle, has resorted to giving away free-food to random customers, in a marketing ploy that has simply resulted in further losses. Keep track of your customers, and use that information to delight them, surprise them, attract them. Even little efforts can bring big results – according to a recent survey, 75% of customers who receive birthday wishes from a company thought more highly of that company, and were more prone to shop with them.
6. Satisfy your guests' appetite for information
Modern consumers are used to always having a computer in the palm of their hands, and like to take informed decisions on their own terms – and using the channel they prefer. According to a Deloitte survey of restaurant visitors, an amazing 85% of respondents will view the menu on the restaurant's own website before deciding to visit for the first time. I know I do it too. No prices, limited menu previews? I'll just head somewhere else. Secrecy won't lead you anywhere: give your customers all the info they need to make a choice, or you risk losing them before they even cross your restaurant's threshold. Include your address, opening hours, menu with attractive pictures of the dishes (extra points if you include ingredients and allergens!) well visible and easy to find in your app, website and restaurant. To ensure that information is consistent across touchpoints, use a management system that powers all ordering points. Unified systems like LS Central for Hospitality and LS First Hospitality guarantee that your menus - dietary info included - are always up-to-date everywhere, as all information is driven off the same centralized platform.
7. Focus on mobile
From mobile ordering to tabletop tablets to mobile payments, many customers equate mobility with convenience, and have come to expect mobile technology in fast and fast casual restaurants. To capture this growing number of diners, focus on
Equipping your staff with mobile POS, to take orders and payments at the table.
Making mobile payments fast, easy and safe.
Having a functional ordering mobile website or app.
Equipping your outlets with tech which allows customers to go through the menu and order at their convenience.
To create the type of dining experience today's consumers demand, restaurateurs need to align their strategy, get the right tech in the back and front of house, and be there – on social media, on mobile, wherever consumers are. At bottom, omni-channel is all about surprising your guests, and making the most boring parts of the dining experience (ordering, paying) convenient and, why not, even exciting. Omni-channel is a need, but also a great opportunity for restaurants: it gives you a chance to increase loyalty by competing on the quality of the experience, rather than on margins. Is it easy? No. But it's definitely worth it. To know more about how to create a memorable dining experience for the omni-channel guest, make sure to download our whitepaper. [hubspot id="9"]