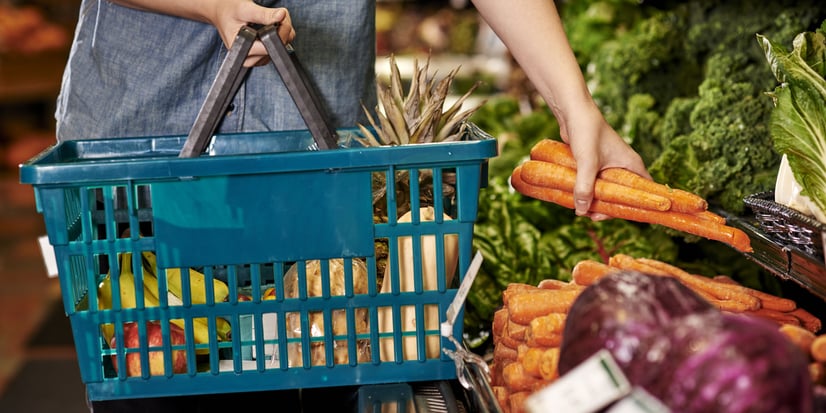 Walk into the new T11 Food Market in Beijing, China, and you'll get a glimpse into the future of grocery shopping. T11 is a supermarket created by technology developers and uses artificial intelligence to seamlessly merge the online and offline experience, making shopping in store as smooth, enjoyable and convenient as possible.
T11's technology manages and syncs the supermarket's retail operations from the back-end – think supply chain, stock replenishment and employee scheduling – all the way through to the consumer experience, tracking purchases and giving people personalized product recommendations as they shop.
Tech drives great in-store experiences
But while technology runs the show, T11's creators have not forgotten the importance of getting the look and feel of the physical store right too. Products are displayed beautifully, each item illuminated by individual LED lights. Consumers can see fresh bread baking behind glass windows, and choose from an extensive range of wines that features ratings and pairing recommendations. They can head to the exclusive Market Bar for a drink, and select fresh fish that will be cooked for them in the restaurant. T11 is all about bringing the highest quality produce to its customers within a luxury setting, elevating the weekly shop so that far from being a chore, it becomes an experience – one that customers can look forward to.
T11 isn't the only supermarket innovating in this space. In another Chinese supermarket, Alibaba's Freshippo, conveyor belts transport fresh produce above shoppers' heads as orders are prepared for collection, customers browse in store and order via their mobile app, and facial recognition units scan customers at checkouts. And in the US, Amazon Go tracks shoppers using a bank of cameras and sensors around its stores, allowing you to simply scan the Amazon Go app as you enter and then leave with your goods – no checking out required.
It's the dawn of a new age in grocery shopping. While these innovations may seem a little farfetched to the average consumer, they are a sign of things to come as retailers focus on turning their stores into experiential destinations that draw customers in time and again.
Here are six top trends that are shaping the future of the supermarket:
1. In-store pop-ups, events and classes
Retailers need to encourage their customers into their stores and keep them there for as long as possible. A report by The Wall Street Journal said that retailers such as Origins, which has invested in getting shoppers to linger in store, have seen sales increase 20% to 40%. Supermarkets have learned the lesson, and are turning to pop-up experiences and special events including cookery classes to drive foot traffic and boost engagement. These types of initiatives can also pave the way for partnerships, combining two brands and two sets of resources to create a one-of-a-kind experience. One successful example of this was when Target partnered with Greek yogurt manufacturer Chobani to host a yogurt bar inside their stores. Are you planning to host a successful event in store, and aren't sure where to start? We have some tips on how to do it – and how you can use it to your best advantage.
2. Analytics for personalized customer experiences
Through a partnership with Microsoft, US supermarket chain Kroger has begun using advanced analytics and information from loyalty programs to predict what consumers might want. In a test store in Redmond, WA, the company has converted more than half of the shelves into digital displays that light up when shoppers are near an item they have on their shopping list in the Kroger app. Above the aisles, sensors track what customers are buying and flag up out-of-stock items so they can be replenished quickly by staff. And artificial intelligence (AI) software predicts each shopper's profile – age and gender – to help deliver tailored advertisements and personalized product recommendations.
We expect that in the coming months, supermarket brands will increasingly implement Business Intelligence suites to harness big data analytics with the goal of delivering personalized customer experiences and better anticipating what their customers want.
3. Hybrid shop-and-eat concepts
Like T11, more supermarket brands are exploring new dining concepts that blend shopping and eating. In the UK, Waitrose has rolled out a supper club-style restaurant in select branches. Customers can book a table and sample special menus developed by local chefs using products available in store.
In the US, Caviar & Bananas describes itself as an urban market and café, a place where customers can sit in and enjoy a gourmet dining experience – and also pick up essential home and food items. US-based Publix Super Markets has been introducing Starbucks outlets across selected supermarkets after a successful pilot in 2016.
As retailers explore the value of new in-store experiences, they find themselves operating beyond the confines of retail and branching out into hospitality and event management. To do this successfully, they need a clear brand concept, a good understanding of their customer base, and a technology platform that allows them to manage everything – from retail, to F&B, to limited-seat event and classes – centrally.
4. Aiding product discovery
In the article "The future of grocery shopping", Forbes predicts that the grocery stores of the future will display the latest trends across health, ingredients, dishes and cooking styles. The goal? To make it easier for customers to find the foods they want and get inspiration as they shop.
Supermarkets are experimenting with color coding, exciting displays and special areas that bring together certain foods or tap into a current trend such as promoting healthy family dishes, party foods or vegan meals, for example, to help customers discover new products.
As home delivery recipe kit box brands like Gousto and Hello Fresh gain popularity, grocery stores are also trying out their own version of meal kits, where customers can pick up all the components for a meal in one go. In Iceland, supermarket chain Krónan offers customers all they need to make a new healthy recipe every week. The printed recipe, and all the ingredients for the dish, can be picked up in fridges placed everywhere throughout the stores.
Other grocers are trying out features such as digital signage that offers extensive product information, including products' origins and nutritional properties, according to the article "Reviving grocery retail" by McKinsey.
In partnership with Microsoft, Kroger has developed EDGE, a cloud-based signage solution for retail shelves that displays nutritional and allergy data. Specialty breads announce that they are gluten free. Pasta sauce reveals: "I'm local!" Powered by the Azure cloud, the system updates to show dynamic pricing – prices drop for seasonal produce and highlight flash deals – all while showing the consumer the latest information they need to see.
"It brings the information richness of the internet to the sights, sounds, touch and feel of retail," Brett Bonner, vice president of research and development at Kroger, said.
5. Sustainability
More and more grocery stores across Europe are offering people a greener way to shop, selling food without packaging in an effort to reduce the toll of plastic on the environment. Customers bring their own containers from home and simply weigh the goods they want to buy. The Guardian estimates that over the past two years, well over 100 of these stores have sprung up across the UK alone – a response to growing concerns from the consumer about the amount of waste we generate from single-use plastic. While most of these stores are independently run, larger businesses are now exploring the idea of selling packaging-free products. Indeed, Europe's first plastic-free supermarket aisle debuted in 2018 in Amsterdam. Here, shoppers can choose from more than 700 plastic-free products, all available in one aisle.
6. Home delivery
The ability to order online and have your weekly shop delivered to your door is an increasingly attractive proposition for time-pressed customers, and most supermarkets now offer this option. In China, customers living within a 3km radius of Freshippo can have their groceries delivered to them within 30 minutes if they so wish. But for many companies, home delivery is a cost-intensive business that eats into profit margins.
In a McKinsey podcast, Jessica Moulton, who leads the global management consultant's UK Consumer Practice hub, explained that most grocers end up paying out far more than the delivery fee they charge customers.
Grocery stores are exploring different ways to overcome the problem. "The biggest one is by trying to increase drop density," Moulton said. "There are some interesting models out there that assist in this. One we think is particularly interesting is the milkman model, which is being used by a small company called Picnic in the Netherlands, that offers only two slots per week to the customer instead of the typical 24 or 32."
In China, Digital McKinsey is developing an app that's helping merchants link up with logistics companies and trucking fleets with the aim of sharing capacity. McKinsey estimates that this approach will reduce fleet costs by around 30%.
Others, like Waitrose and Asda in the UK, are exploring solutions such as temperature-controlled lockers for home delivery to reduce the need for specific delivery timeslots and avoid the need for customers to wait in for their delivery. Waitrose customers receive a text message with a PIN, which they key in to collect their shopping, while Asda's lockers open by scanning a QR code through the Asda mobile app.
Trial and retrial new innovations
As supermarket brands look to the future, Moulton encourages them to keep moving. Consumer expectations are changing fast, and supermarkets must keep pace with this rate of change. And if one idea doesn't work out? Try another, she says. "This is a category in which you get to trial and retrial, and you get to come back to your consumer and get them to reevaluate you," Moulton said. "We think a lot of grocers could be doing more – focus on the love consumers have of the food categories they're in and on all the competitive advantages that they have in sourcing and in delivering a great in-store experience, and take that further."
Need help taking your supermarket business to the next level? Need a system that will support you as you grow and expand into new categories and industry verticals? Contact us: our team of experts is here to help.