Technologies that speed up transactions, like self-service checkout lines and kiosks, have surged in recent years. In fact, the self-checkout market is expected to reach $12.01 billion by 2029. But as convenience continues to be the number one factor attracting customers to physical stores, retailers need to continue to innovate to retain a competitive advantage and find ways to better service customers.
The number of stores offering mobile self-scanning (also called scan and go, or scan pay go) options is expected to triple by 2027, according to research firm RBR. While scan and go solutions have become most prominent in grocery stores like Walmart in the US or Sainsbury's in the UK, the technology continues to reach other retail sectors as well. Flying Tiger's arts and crafts stores in the UK and Carrefour Proximité convenience stores in France are just a couple of the most recent examples, but the number of retailers following suit is still rising. Here are five benefits driving the success of mobile self-scanning apps.
1. A faster checkout experience makes things more convenient
We've all gotten frustrated by long lines – but have you ever left a store because the line was too long? According to the State of Waiting in Line study by Waitwhile, 85% of customers will abandon a line if they have to wait more than five minutes. But with access to a mobile self-scanning app, your customers can easily open their smartphones, or a provided retailer device, scan the items they need and pay immediately. Apps like ScanPayGo make the shopping experience faster than ever – not only can customers scan barcodes and build their basket within the app, but they can also create and share shopping lists with other app users, access and apply loyalty points, view their purchase history, and pay securely.
With this type of technology available to your customers, you can significantly reduce the need for checkout lines or eliminate them altogether. Not only does this create more space for your customers to fulfill their purchases, but it also helps you achieve a higher customer turnover; that's because it can keep your store from getting too packed during peak hours and becoming a turn off for people who may choose to shop elsewhere during those times. Customers get in and out of the store at the pace they desire, and retailers are less likely to miss out on valuable sales due to long, slow checkout lines.
2. Employees have more opportunities to focus on customer care
With a self-scanning mobile app to help speed up the checkout process, retailers can free up their employees to put more focus on customer service. According to HubSpot research, 90% of consumers think that an immediate response is important or very important when they have a customer service question. Employees should have the means to deal with customer needs straight away, but when they're stuck manning checkout lines, it's much more difficult for them to deliver the best possible service.
Scan and go technologies take pressure off of your employees at the checkout – in fact, there are fully autonomous stores that use this technology without any cashiers at all! But whether you use mobile self-scanning as the only checkout option, or just one of the checkout options, you can free up employees that no longer need to stand behind a cash register and allocate them to other areas of your store. In an industry where labor shortages are becoming more frequent, this type of technology can save you time and resources while also enabling you to make full use of the staff you currently have and increase efficiency where you most need it. And with more employees available to respond to customer inquiries, you're more than likely to have happier customers.
3. Customers are motivated to buy more stuff
Did you know that impulse buying makes up 40-80% of all purchases? Well, when you implement scan and go tech into your store, it's likely that customers will become more susceptible to impulse buying – especially when it's so easy! This gives you the opportunity to push irresistible promotional offers and discounts in store – a 2 for 1 deal on shampoo? $5 dollars off toilet paper? When all the customer needs to do is click to get the offer, it's hard for them to turn it down.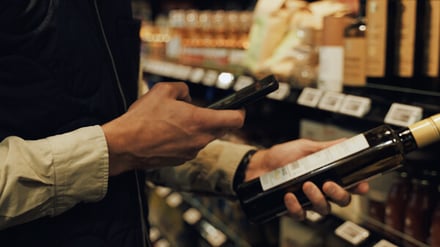 With a mobile app you can also analyze customer purchases and send targeted promotions directly to the customer's phone. By offering an appealing deal, you can make customers feel like they're getting good value for their money while also encouraging them to buy more during their next shopping trip.
These kinds of apps can also show customers detailed product information – like whether or not the t-shirt is organic cotton and if there are specific washing instructions – so customers know all they need about a product right away instead of having to search for information on the packaging.
4. Fewer errors, fewer inconsistencies
Imagine – you've spent forever waiting in line at the checkout and just as you get home from the store, you realize you were double charged for the same item. Outrageous! Not only did you pay more than you should have, but now you have to go back to the store and have them issue a refund. Customers face these types of situations all the time. Mobile self-scanning technology ensures your customers don't experience unnecessary errors that could negatively impact their shopping journey or impressions of your store's service.
Since customers have full independence when they're using something like a scan and go app, they can easily keep track of the number of items they buy and adjust the amount themselves. And because they scan items as they shop, they won't encounter irritating inconveniences like a cashier who mistakes a red orange for a more expensive pink grapefruit. In just a couple of clicks, customers can see product information, get exact prices, and add items to their cart with nothing blocking their way.
And if you're afraid of customer fraud, you can always add random checks at the exit to reduce the risk of product swaps.
5. Implementation is fast and affordable
The best part about mobile self-scanning apps is that they take no time to implement and require minimal upfront costs with the right software. When you have a software platform in place that already supports this type of technology, you don't need to spend tons of money and time just to add and integrate yet another separate solution to your tech stack.
LS Retail's ScanPayGo app is connected directly to the LS Central retail management software platform, with which it communicates all information. Just activate the app, and use the same logic as your ERP and POS. You can also personalize the look and colors to fit your brand. And because the ScanPayGo app runs on the same platform as your ERP, POS, inventory management, and customer management, you can easily access key insights to understand your customers, allowing you to stock your inventory accordingly and send out offers based on the purchasing habits of individual customers.
No need to spend hours putting together information from different sources and trying to make separate systems communicate when you can get it already made for you.
Curious to know more about our software solutions for retail? Contact us.