Reducing out of stocks: 5 ways you can avoid losing sales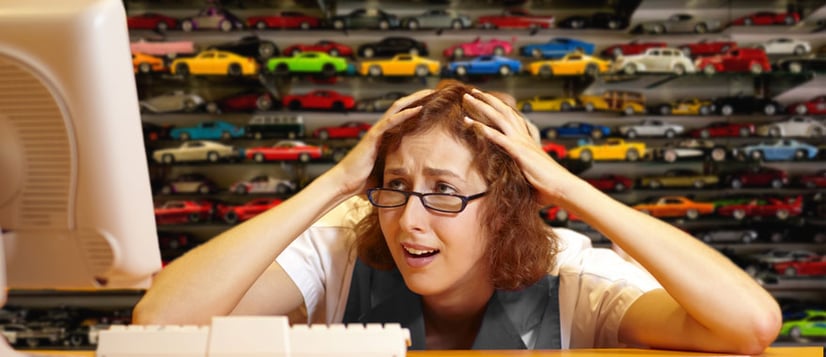 Stock is one of the biggest investments and risks for a retail business. Have too much, and you're landed with a whole load of products blocking up your storerooms and warehouses which you can't shift. Too little, and you can expect a load of disappointed customers who won't shop with you again because they can't get hold of what they want. It's all about getting the right balance – but for many retailers this is a real struggle. The problem is they lack the insights they need to manage their stock in the most effective way.
The "Out of stock, out of luck" study by global research and advisory firm IHL Group found that retailers are missing out on nearly US$1 trillion in sales because of out-of-stock items. 600 households surveyed in North America said that they couldn't get hold of what they wanted one out of three times they visited a store. And almost a third of shoppers ended up turning to Amazon when the product they wanted wasn't in stock at their local store.
Today, when customers walk into your store with the intention of purchasing, most expect to be able to walk away with the item straight away – or buy it there and then, and have it delivered quickly. If they can't do that, they will find another retailer who can. Many will already have done their research online, and have come into your store to see the product in person. They may have seen that the item is in stock online, and assumed it'll be available in your store too. But imagine if it isn't. You don't have the color they want, and it's going to take a few days to get it shipped to them. They will be disappointed – and chances are, they will head to one of your competitors and spend their money with them instead. So how can you avoid risking sending them home empty handed?
Here are five ways to improve the way you keep track of your inventory, and prevent out-of-stock scenarios:
1. Ensure your data is reliable and up to date
You may think that you already have good control of your sales and inventory data, but how reliable is it? Is some of it still inputted manually? How often do you run reports and analyze them? Weekly? Daily? Unfortunately, this is not enough anymore. Today, if you want to be able to react to your customers' demands and give them the service they expect, you need to be able to track your stock in real time. Ideally, you need this information to be held in a centralized system and you need to have the tools to see exactly how products are selling across your stores, where there are stock shortages and if certain products are selling faster than others.
Armed with this information, you can then put measures in place to make best use of your stock and plan ahead more effectively.
2. Anticipate demand with effective forecasting
You may have a good overall picture of what stock you have, but you also need to be able to understand what you're going to need in the future. To do this, you need to be able to interrogate your data to anticipate demand and make accurate forecasts so you can determine what products to order and when.
You may already be trying to forecast demand on your own by using your judgment and factoring in calculations such as min/max replenishment. But is this giving you full control over exactly what's going on with your inventory? You could save significant time, and achieve better results, by automating basic replenishment tasks. Advanced forecasting and replenishment tools can calculate the exact quantities to reorder for stores and warehouses taking into account multiple sales history trends including seasonality, holidays and annual events.
3. Understand the impact of key retail events and promotions
Easter, Christmas, back to school, beginning of the summer holidays – these types of events all have a huge impact on your sales performance. The question is, do you have the ability to compare these types of events year on year, regardless of where they fall in the calendar, and properly prepare for them? If you want to really understand your sales performance, you need to clean up your sales history data and know exactly what information you're dealing with.
Here's an example. There was an annual music festival on in your city last weekend. It brought a surge of tourists to the area and they all purchased lots of cold refreshments because it was hot and sunny. But just because this happened last weekend, you cannot expect to see the same sales pattern the following week, but you do want to be able to plan for it the following year. When anticipating future demand, you need to be able to adjust for anomalies. And you also want to have the ability to accurately identify products with specific lifecycle patterns – such as swimwear and festive decorations – and account for regional variances.
Similarly, discounts and promotions are likely to have a big impact on the quantity of products you sell in store, and you don't want to risk under-stocking and selling out too quickly. Again, you need to be able to look back and identify sales spikes to see which products sold the most and when.
4. Put tools in place to effectively redistribute stock
What measures do you currently have in place to balance the sale of stock across your stores? How do you identify products which are selling better in some stores than others? There are ways to optimize your stock at store level and take advantage of digital workflows to see exactly which stores lack certain items and which have a surplus.
This is particularly necessary in the fashion sector, where trends fluctuate quickly and clothing lifecycles are limited. Inventory redistribution in season is almost inevitable, and you need to be able to react fast to minimize lost sales and avoid marking down loads of unwanted products.
5. Identify trends and track customer preferences
Just because a product sells well this year, it doesn't necessarily mean it will perform the same way the following year. You can't afford to become complacent. You always need to be tracking current trends and identifying the types of products that people are gravitating towards.
For example, Spanish fashion brand Zara says the secret to its success is the ability to keep up with rapidly changing fashion trends and bring new apparel to market with very little delay. Its teams watch how fashion is changing and evolving every day across the world, and then develop and put new designs into stores within a matter of days.
As technology continues to become more sophisticated, retailers will have a greater ability to identify who their shoppers are, what they're looking at, where they are in the world and anticipate exactly what they want, then have the products delivered and replenished to the right places at just the right moments.
An advanced retail system that covers all bases
Many retailers today rely on a variety of best-of-breed systems to handle their inventory forecasting and planning processes. The trouble with this approach, though, is that it can be very difficult and costly to integrate them with your retail enterprise resource planning system. The good news is that there is another way.
With LS Central, we've got you covered. Our advanced unified commerce software platform replaces all the separate systems you are using now and allows you to keep every element of your retail business under control. Working from one centralized database, you can gain full visibility of your inventory in real time, monitor current stock coverage, optimize stock amounts and product mixes based on store capacity, plan the best assortments for every store, calculate variants for each location, and perform real-time stock checks on mobile devices.
Contact us to find out how you can take advantage of this technology to drive your business forward, keep track of your stock levels with ease, and impress your customers every time.