How retailers use data to improve product offerings and customer experiences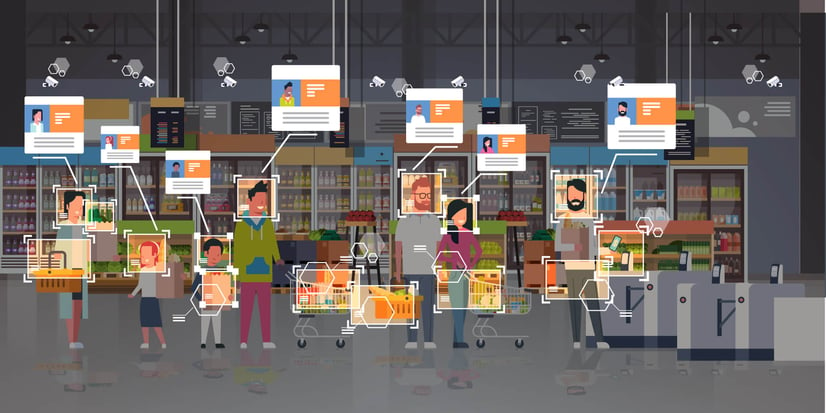 When online wedding gift registry business Zola confirmed a new partnership with US home retailer Crate and Barrel to sell their products through its website, a few eyebrows were raised over this so-called unlikely collaboration. In many ways the two companies are rivals. Both sell similar products, and Crate and Barrel offers customers its own wedding registry service. So why did they decide to partner? The answer: data.
When analyzing its data, Zola realized that Crate and Barrel was the top external brand couples externally added to their Zola registries. Zola's goal is to make the shopping experience as convenient as possible for its customers, and provide everything they want in one place. That's why Zola decided it made good business sense to team up with competitor Crate and Barrel. Now, customers can add a curated collection of Crate and Barrel's dinnerware, furniture and décor to their registry, while they are choosing from over 60,000+ additional gifts and experiences already sold in the Zola store. It's a win-win for both businesses. Zola is delivering on its vision to be a one-stop shop registry, and Crate and Barrel is continuing to grow brand awareness and develop lifelong customers.
Like Zola, many retailers are turning to data to understand their business and their customers better and establish a truly customer-centric business model. The ones leading the way are harnessing intelligent technology to transform data collected from multiple channels into holistic insights and develop a deeper understanding of what their customers want. This, in turn, allows them to create more seamless and engaging experiences, develop products and content that are aligned with their audiences, and establish effective marketing strategies that nurture stronger relationships with consumers.
Here are four ways retailers are using data:
1. To create seamless experiences
Retailers are using data to connect all elements of the customer experience – from digital to physical – in a bid to capture a greater share of the market and impress customers.
For example, while online retailer Amazon has already tried to make returns as easy as possible with pre-printed labels at no cost to the customer, data showed that the majority of customers still want the opportunity to return goods in store. Rather than opening its own bricks-and-mortar spaces, Amazon partnered with US department store Kohl's, allowing Amazon customers to return unwanted purchases to any store, even without a box or label. The initiative allows Amazon to continue offering outstanding customer service, while Kohl's delivers on its plan to drive more traffic to stores and bring more relevance to shoppers.
Businesses like online fashion subscription service Rent the Runway are using data to reach out to where their customers are and make their lives more convenient. Through a partnership with Marriot W Hotels, the company allows travelling customers to select their favorite clothes on the Rent the Runway site and have them waiting for them in their hotel room when they arrive. At the end of the trip, they simply leave everything at reception and the hotel takes care of all returns. The idea, Rent the Runway CEO Jennifer Hyman said, came from looking at data. Subscribers were changing their shipping addresses to hotels when they were away, and Rent the Runway realized they could make the process easier. "We saw that women were already doing this, and we thought we could take this one step further," Hyman said in a presentation at the National Retail Federation's (NRF) Big Show in January 2020. "We wanted to create the dream of traveling without luggage."
2. To understand customer preferences and behaviors
Beyond knowing more about individual customer profiles, data is empowering retailers to understand more about how their consumers shop and when, what they want to see in store versus online, and what products and displays catch their eye. With this information, retailers can adapt their product assortments, change their advertising strategies and help customers find what they want, faster.
TechStyle, owner of a portfolio of brands including Fabletics, Just Fab and Shoe Dazzle, collects data through a membership model that rewards customers with better pricing and promotions, while allowing the business to more closely understand customer preferences and behaviors.
"In digital advertising we get tons of signals; we can see what shoppers are responding to and how they're engaging with our apps," Laura Joukovski, president of Global Fashion Brands at TechStyle, said in an interview with NRF. "Likewise, there are a lot of signals consumers send based on how they browse and shop, what they buy and how they leave us information in their products reviews and returns. We're very serious about capturing all the signals that people are sending and using that data to buy better merchandise, build better ads, improve our websites and make it easier and more fun to shop."
And then there's Nike's flagship store in New York, which has been designed to be personal and responsive to customers throughout. An entire floor, for instance, uses data to stock shelves with the local community's favorite shoes and apparel, and then is quickly restocked as their tastes change and evolve.
3. To embrace more dynamic advertising
Data is changing the way brands look at consumer segments and audiences to shape their marketing strategies. With more information at their fingertips, retailers can now segment consumers way beyond the basics of age, gender and location, and gain deeper and richer insights into factors such as a customer's social influence, shopping behaviors and more.
Drinks brand PepsiCo is harnessing data to increase the efficiency of its promotions and become more dynamic with its advertising and marketing spend. "We can tailor and target ads with greater precision, optimizing the ROI of individual campaigns or of the digital elements of the media mix and building a single view of the consumer by integrating consumer data from various sources, such as CRM, data, brand sites, cookies and ID data as well as second-party and third-party assets," chief financial officer Hugh Johnston said in a press release. "By capturing and analyzing more granular consumer-level data, we can understand the consumer in a more individualized way to both customize communication and execute in every store with precisely the right products in the right location at the right price."
Improved data and predictive analytics give the company greater confidence when expanding its product lines and adding new flavors. Johnston cited the introduction of purified water brand Lifewtr and flavored water bubly in the soft drinks category, enhancing the Lay's brand with popped potato snack Poppables and extending the Gatorade brand with the introductions of sugar-free option Zero and functional drink for athletes Bolt24 as successful examples.
Speaking to NRF, Susan Vobejda, CMO of advertising platform The Trade Desk, said that the closer she got to using data and technology in her former role as CMO of American fashion icon Tory Burch, the more effective she was in her strategies.
"For example, I wanted to target women who lived a few miles from our stores, but I also wanted to target women who shopped at my competitors," Vobejda said. "At the same time, since it was snowing outside, I also wanted to target women who were searching for warm weather destinations. That's a more detailed strategy. Every fashion CMO knows that data and tech fluency is critical to driving customer acquisition and return on investment for their brands." Data-driven advertising allows retailers to target very specific existing customers or even profile likely potential customers. "It's always better to use data than to guess," Vobejda said.
4. To empower staff
Of course, data is not just for the customer experience. In his keynote at NRF's Big Show, Microsoft CEO Satya Nadella said that key to retail success in the new decade is using technology to support employees too. "Giving data to employees is the single most ROI intensive thing you can do," Nadella said. "It increases your conversion rate by 15% and your satisfaction rate by 10%."
Nadella cited Swedish furniture retailer Ikea as an example. The brand has developed an app that simplifies the way employees rearrange their working schedules to fit both their own needs and traffic patterns in the stores. In the process, Ikea has cut six levels of administration between the staff using the technology and the staff developing it.
Today, retailers are finding more ways to collect and harness data to understand their customers better, make more informed business decisions and develop exciting new strategies. The most successful are able to draw from a pool of solid, reliable, holistic data, backed by a technology platform that enables them to collect the information they need in a fast, effective manner.
To find out how we can help your retail business harness data and master it, contact our experts. Download our e-book on future retail trends to discover where the industry is heading, and how you can maximize the potential of your business.