How to start future-proofing your hotel business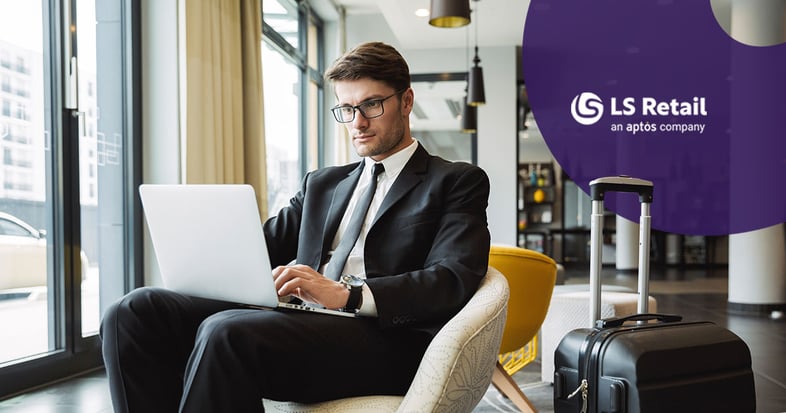 Future-proofing is a term that often gets thrown around in the hotel industry but what exactly does it mean? In short, it's what businesses can do to ensure long-term viability. Historically, many hotels have been driven by short-term thinking, and have chosen cost rather than value as the driving factor behind decision-making. But it's now evident that short-term solutions aren't enough to stay competitive, especially during large-scale changes to the consumer market. Hoteliers need to invest in sustainable business models if they expect to navigate unexpected disruptions to the industry and come out strong on the other end. This not only means spending more time on innovation, but also creating "future-ready" strategies that will help them retain an advantage.
Here are five key elements you should consider when future-proofing your hotel business.
1. Focus on omnichannel experiences
The modern traveler will always demand convenience, consistency, and clear communication. Whether that means navigating multiple online platforms or mobile apps, your guests expect to reach you through a variety of channels. According to Harvard Business Review, an average guest will use at least four different touchpoints before finalizing their hotel stay. Hoteliers need to realize that staying connected to their guests throughout the whole buying journey is key to delivering a seamless omnichannel experience, and to do this they must strengthen every stage of the travel cycle. Here are a few tips to enhance your omnichannel delivery:
Don't slack on mobile communication
A report from Search Engine Watch revealed that 72% of users prefer a mobile-friendly website. Ensuring your website works well on mobile means being present where potential customers can easily reach you, making it more likely that they'll complete their booking. A mobile app can also be a valuable investment. Guests can use it to access information about your hotel, book their stays, modify existing bookings, search for offers, and even collect and spend rewards points with just a few clicks. They get a more streamlined booking experience, and you can increase brand awareness through targeted promotions and other hotel updates that customers are more likely to see via their smartphones.
Make sure your brand messaging is consistent
Think about what you want your hotel to convey to your guests. Are you catering to a younger or older crowd? Is your hotel historical or brand new? Do you focus on resort-based vacations or quick city visits? How you present your brand will affect what kind of people you attract and impact how they interact with you. Whether online or in your hotels, make sure you always represent your values and attributes consistently and clearly, so customers know what type of brand you are, what you stand for, and why they should do business with you.
Show an understanding of your guests
According to Invesp, companies with omnichannel customer engagement strategies retain on average 89% of their customers. Create a customer-centric journey by asking yourself what your guests want and what they expect. With clear customer information and proper data analytics, you can achieve a panoramic view of your customers, and send out special offers, promotions, coupons, etc., to your target audience through a variety of channels. Let's say your hotel is in a beautiful destination that attracts a lot of couples – many of them on their honeymoon. Before arrival, why not send them a special offer for spa entry, couples massage, and a romantic dessert? Or how about offering them a complimentary room upgrade once they're there? Guests notice and appreciate this attention to detail. Personalizing their experiences, no matter what stage of the journey they're at, will lead to higher brand recognition and drive more traffic to your hotel as a result.
2. Personalize the hotel stay
When you give guests more control over their stay you can learn more about their preferences, and tailor the visit directly to their needs. It's a win-win: you create a better guest experience overall and encourage guests to return or recommend the hotel. According to PwC's "Experience is Everything" study, 70% of guests value personalized experiences and nearly one third of guests are willing to pay more for them. Here are some ways you can make the hotel stay more tailored to your guests:
Build guest profiles
The hospitality industry is realizing the importance of creating single digital guest identities. When you have a single profile for each guest you can see at a glance who they are, from previous transactions to past reservations, to comments/notes regarding bookings, all the way to details like how often they've visited each of your properties, their average length of stay, etc. This information gives your staff the opportunity to take action, and perfectly cater the hotel stay based on customer preferences. Leaving a personalized note in their room, offering to book a table at the restaurant they usually eat in, or providing a complimentary bottle of wine can make all the difference and leave your guests with a more positive impression during their stay.
Tailor packages and add-ons
Hotels are always looking for ways to drive demand, and targeted packages and add-ons can help guests build the kind of experience they're looking for. According to Trivago, guests who book packages are more likely to stay longer and book far in advance and are less likely to cancel their booking.
Before you create a package or offer any add-ons, consider what kind of guests frequent your hotel. Are they families, couples, larger groups staying for events like weddings or conferences? Knowing your consumer base will help you create better offers to attract these types of guests and encourage them to book.
Not only that, but it's important to add some creativity into the mix – don't just settle for the standard names like "romance package" and "family package." To make guests feel like they're getting a custom hotel experience, think of names that show you understand what they're looking for. Maybe you've noticed a lot of newlyweds tend to stay at your hotel, so why not change "romance package" to something like "luxury honeymoon" or "lovers retreat"? The more enticing the name, the more interest it will grab. You can also differentiate your brand by going beyond the typical spa-massage-dinner mixes. Why not try something a little less common, like an "explore the neighborhood" package with bike rentals, a choice of lunch in 2-3 places, and a museum ticket all included?
Elevate the in-room experience
To make the hotel stay super personal, you need to hear exactly what your guests want and make it happen. And what today's guests want is a modern and digitalized in-room experience. The 2021 Customer Engagement Technology Study from Hospitality Technology found that 55% of consumers wanted smart TVs or content streaming technologies in their room, 34% wanted the ability to control the TV, lights, thermostat, and other in-room amenities using an app, and 31% said they wanted a voice-device in the room. It also goes without saying that guests expect reliable internet to stay connected if they so choose. By ensuring your rooms are up to date with modern amenities and newer technologies you will be putting more control into the guests' hands, while also adding value to their stay.
3.Invest in automations
Automation isn't just for larger chain hotels – it's also beneficial for boutique hotels, hostels, inns, B&Bs, etc. A recent article from Hotel Technology News says that 77.6% of hotels expect to increase their tech investment within the next three years. It makes sense: automations can help deliver better gest experiences, while increasing productivity and reducing the workload for hotel employees. The hospitality industry has long been known for its high rate of burnout, and many workers are quitting at some of the highest rates of any industry. By investing in automation, hotels can increase both guest and staff retention rates.
Increase efficiency of daily operations
Reducing the number of manual and repeat tasks for your staff will greatly increase the effectiveness of your team and make your daily operations more efficient. Let's say you're using separate systems for your rooms, spa, and restaurant. When a guest takes advantage of your different services, chances are you'll need to manually copy and input data in each system to ensure your records are consistent. This is a laborious and time-consuming task for your employees, and not only does it distract them from other responsibilities, but it also leaves plenty of room for human error. When you use one unified system to cover all your services, you can keep a single customer account, and register room, spa services, and restaurant bookings to the same account. A single system saves you time not only every day, but also at the end of every month, when you won't have to compare the data and bring it together on your own – the software already has all the information clear and organized.
Streamline employees' tasks
Hotels can get chaotic, especially during peak seasons, so it's important that each member of your staff can easily keep track of their tasks, fulfilling their responsibilities in a timely manner and using their working time efficiently. By implementing hotel software that supports role-based access to tasks you can give your employees a clear overview of their responsibilities and easy access to the information they need, helping them stay on top of what has/has not been done without needing to ask others or access a multitude of different systems and databases.
Achieve more with less
By automating tasks, for example using kiosks or apps for guest check-in, you need fewer employees to complete tasks and care for guests. At a time of high resignation rates in hospitality, this can be a huge lifesaver, helping you do more – and keep customers satisfied – with less staff. Investing in technology can reduce the pressure on you to look for employees, as well as on the employees still in place, since their workload will be more evenly distributed.
4. Encourage guest engagement
Guests want to feel seen and valued by the brands they're interacting with, and hotels that make an effort to reach out and provide acknowledgment to their customers are more likely to maintain a strong consumer base. Here are a few elements to keep in mind as you evaluate how you interact with guests:
Reward loyalty
It's so important to reward repeat guests with discounts and other exclusive privileges that the average hotel guest can't get as easily. Why? Because it shows guests who are loyal to your brand that you value their business and want to make them feel special. Offer a loyalty program so guests can accumulate points and use them towards special offers, such as dining and room discounts, or to save on a future stay. An effective loyalty program will benefit both your guests and your business. When guests continually return to your hotel, they not only help boost occupancy and revenue, but they also give your team the opportunity to become more familiar with their preferences. And the happier the guests, the more likely they are to recommend your hotels to their friends and family!
Keep your guests informed
Clear and punctual communication helps maintain a relationship with your guests while also increasing their confidence in your services. Sending pre- and post- stay emails shows a willingness to be in touch with guests to address their needs and give them an opportunity to provide feedback. Sending ads and promotions based on the customer can help entice them to return – such as holiday weekend specials for families or offers on spa add-ons for couples. Usefulness is key: don't forget to include information that may be relevant to guests' travels, such as travel restrictions, airport transfers, temporary closures etc., to preemptively address concerns and help out guests.
Allow for flexible policies
Travel can be a chaotic task and sometimes the unpredictable happens. Reduce the stress for guests by giving them opportunities to rebook, reschedule, or receive a full refund if they need to change their plans. By staying flexible to guests' needs you'll show them that you value their business and want to encourage them to come back if they can. This is especially important to consider when targeting your main consumer base – are they international travelers? If so, this flexibility may be more necessary due to the different factors that can contribute to cancellations or delays in travel.
5. Move to the cloud
Software solutions running in the cloud are allowing businesses, including hotels, to achieve more and keep up with guest demands. Software running as a service (SaaS) guarantees more data security and resilience – unlike traditional in-house servers, where you risk your operations if a piece of hardware breaks down or if you get attacked by hackers. Here are just a few benefits:
Keep your data secure
Moving to a SaaS PMS and management system means you can stop worrying about security, ransomware, even backups. Your data is kept safe in the cloud, protected by the cloud provider – and the main business clouds like Microsoft Azure, AWS and Google Cloud have large teams of experts whose main task is keeping your data secure. These same teams will troubleshoot and fix issues immediately, keeping your business always running and safe from any security risks.
Be on the latest technology
Too many hotels are limited by their outdated software. Want to create a new loyalty program? Nope, can't integrate it to the old PMS. Check-in kiosks? "We can't afford it; we're already spending all our IT budget on maintaining our old software". When you move to a SaaS PMS and hotel management system, you can forget about these challenges. The system is kept up to date automatically, so you're always on the latest version with minimum effort – and no disruption to your daily activities. You don't need to run a complex upgrade project – or even budget for updates, as they're already included in your subscription fee. So, whenever you want to try on some new functionality or add a cool new piece of technology that you know your guests will love, you can.
If you're looking to future-proof your hotel business but you aren't sure where to start, contact our experts to discover how a modern hotel software solution can benefit you.