Operating a retail business has grown increasingly more complex through the years. Today, consumers expect to shop in physical store locations, on their mobile devices, and on the web via your e-commerce site, and to get a smooth experience whichever of these channels they decide to use. These added outlets and increased demands add extra complications to your daily operations. The world is changing, but many businesses are not keeping up. Too many retailers still use multiple IT systems for different aspects of their business. As these system often don't fully communicate with each other, they make retailers' jobs even harder. If your inventory management system software isn't talking to your Point of Sale (POS), your eCommerce system or your accounting software, chances are you and your customers regular have to deal with outdated information. You're also probably wasting time and money getting data from one system and inputting it into another, hopefully without too much delay and too many mistakes.
ERP systems: a definition
An Enterprise Resource Planning (ERP) system is a software that is implemented throughout the business to improve the flow of data and facilitate business processes throughout the organization. With the implementation of a quality ERP system, you will be able to streamline operations in your business, reduce costs, increase productivity and deliver an improved overall customer experience.



Included: in-store, product and inventory management
Your ERP system will make back-office work a breeze by simplifying the processes related to adding, categorizing and grouping new items, implementing special offer campaigns, stock counting, replenishment of inventory and much more. Your system can be customized to meet the specific needs of your operation.
Included: staff management
With a comprehensive retail management software solution in place, you can easily manage your staff rosters, oversee work schedules and keep your staffing costs under check. The ERP solution can automatically calculate sales commissions, and can help to prevent losses by detecting suspicious activity in your Point of Sale (POS) transactions.
Included: personalized customer service
An ERP system can collect customer data, enabling you to gain valuable insights about your customers' buying habits. You can then use this data to create special offers tailored to their tastes and preferences, based on their previous purchases. You can also offer a loyalty program that rewards regular customers.
Cloud and on-premises ERP
In the past, most ERPs were on-premises, that is, they were hosted on the retailer's hardware and on in-house servers. The retailer's internal IT team was responsible for system updates, upgrades, maintenance and security.
Today, however, ERPs have moved massively in the cloud. Cloud-based ERP (also called SaaS ERP, with SaaS meaning "software as a service") has several advantages over the traditional on-premises one:
It is automatically updated by the ERP supplier. The retailer doesn't need to do anything - aaS software guarantees that you are always automatically on the latest version, with all the functionality that comes with it.
The ERP provider takes care of security and compliance with legal requirements.
Capital expenditure is lower: there is no need for hardware and servers, and the cost of running and maintaining the system, is included in the subscription price.
It's easier to plug in new functionality or deploy extra applications.
POS: a definition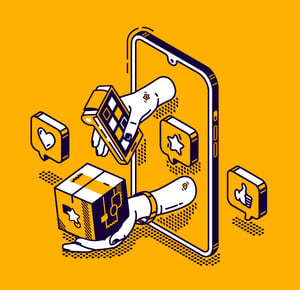 Point of Sale (POS) is the name for the new generation of cash registers. However, unlike old cash registers, POS are electronic, and can do much more than just process sales. They can also handle various types of payment forms, record and track customer orders, support special promotions like buy-one-get-one offers, connect to other systems and manage and update inventory. On top of providing retailers with a more integrated way to manage their business, a modern POS offers a large number of tools to give customers better and faster service.
POS terminals can be stationary, on a fixed till, or run on mobile devices or tablets. With a mobile POS, retailers can empower their staff to serve customers, search for product information and even complete transactions anywhere in the store, or even in the yard or parking lot. Mobile POS are especially useful in temporary and outdoors stores, as well as in very large stores (for example, a garden center, or motorhome trader) where sales associates need to roam wide areas.
For a retailer, it's paramount to select an ERP system that is seamlessly integrated to a POS system. Your ERP and Point of Sale systems must be able to communicate without disruptions and delays: otherwise, you risk mistakes and lots of time wasted aligning data.
The bottom line
An ERP system offers unbeatable opportunities for efficiency, data reporting and analysis. You can measure and track how you are performing against your KPIs, uncover ways to improve profitability, and keep track of how well your business is doing – all in real time.
As a retailer, make sure you select an ERP system that also comes with all the retail-specific functionality you need, or which can easily integrate to a retail management system. After you have implemented a retail enterprise planning solution, you'll wonder how you were ever able to get things done without one.