The hotel experience has been rapidly changing within the last few years as guests demand to be more independent. It used to be that customers expected human interaction at every step of their hotel stay - from employees greeting them at the door, to getting checked in at the front desk, to calling room service to have their food hand-delivered. But the rising digitalization of hotels has empowered hoteliers to transform their services and rethink the customer journey using self-service technologies, and it looks like this digital shift is only the beginning. According to new research published in part by Skift.com, which surveyed 688 hotel owners from around the world, 96% of hotels are already investing in self-service technologies, with 62% believing that a fully contactless experience is likely to become the new normal.
But what exactly are the benefits of self-service technologies for the hoteliers? Here are three reasons why hotel chains are implementing self-service technologies.

1. Self-service technology strengthens customer loyalty
A study from Skift.com surveyed 5,266 consumers across the world and found that 73% of hotel guests are more likely to stay at a hotel that offers self-service technology. In fact, some people will refuse to book with a hotel brand altogether if it doesn't have digital options!
Technologies such as self-check-in kiosks, mobile apps, voice activated services, keyless room entry, and more, help modernize guest channels from check-in to check-out, leading to faster service and more seamless experiences.
Some hotels are even using technologies such as voice-driven AI to make it easier for guests to report problems and get them resolved. According to Hospitality Tech, "77% of consumers hold a more favorable view of brands that actively seek out and accept customer feedback." Rather than waiting to speak to a staff member (who might be busy, and anyway once freed up may or may not know how to solve the issue), or leaving without saying anything altogether, guests can leave voice messages to communicate with a hotel across all its touchpoints. The AI can even sift through the feedback in real-time and identify the key takeaways that hotels can later turn into action, making their guests more likely to return by showing a willingness for improvement.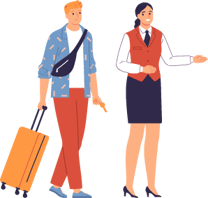 2. Self-service technology improves staff efficiency
A lack of employees is one of the biggest problems hotel owners are facing. According to Hospitality Tech, 95% of hotels are experiencing a shortage of staff at the same time as some of the highest occupancy levels in recent years. Not only does this have a negative effect on productivity, but it also has a huge impact on customer service. In fact, Skift.com reported that 34% of hotel guests said they would be less likely to re-book a hotel that has a staffing shortage. By implementing self-service technologies, hotels can easily address these issues without sacrificing their reputation.
Let's be honest – checking in guest after guest using the same procedures and explaining the same information, is time-consuming and redundant. Hotels need to make the best use of the employees they have and limit the need for repeat tasks. Self-service technologies let hotels free up their staff for more unique services that leave a positive impression, such as giving guests recommendations for what to do in the area, or promptly resolving issues that arise.
Once freed up, employees also have the time to take care of operations that they may have been too overwhelmed to handle otherwise. Perhaps your front desk receptionists need to generate daily reports, but once check-in time rolls around – they're too busy showing guests to their rooms, on top of dealing with requests and complaints from guests who are already in house ("the TV in my room isn't working!" "We need extra towels!"). Suddenly, all your employees are so preoccupied that none of them can complete the reports. With self-service technologies, hotels can give the guests the option to send these requests directly to the people responsible, leaving more time for employees to tend to their operational duties.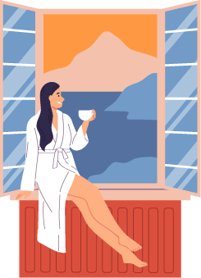 3. Self-service technology brings insight into guest behavior
Data is one of the most important assets self-service technologies can offer to hotels. Let's say that one of your repeat guests checks in and decides to add extra pillows in their room, reserve the spa package, and extend their stay by an extra night. When you allow customers to add these things on their own using self-service technology, you can easily collect and process their data to discover if they always make the same purchases, if there was an offer that influenced their decision (such as 'stay a certain number of nights and get a discount on the spa package'), or if they're simply purchasing based on popularity. This access to data enables you to monitor changing trends in guest behavior and adapt your services to improve personalization.
In order to make sense of the data you're collecting with self-service technology you also need to have a strong software system in place, where the PMS, spa bookings, restaurants, and more are connected, enabling you to assign the purchases to the correct guests and connect the dots with minimum effort. Take Blue Lagoon for example, one of Iceland's most popular attractions with two hotels, four restaurants, four retail shops, and several different activities. They realized that their guests were starting to demand more self-service and automation, and they needed a way to deliver these options to stay competitive on the market. Using LS Retail's software to implement more self-service technology allowed Blue Lagoon to see great benefits almost immediately, especially in terms of data. "We even exceeded our expectations, observing almost 90% uptake on our self-service checkout kiosks," says Sigurdur Long, Chief Information Officer at Blue Lagoon, "LS Retail not only assists us with the technical infrastructure and frequent upgrades, but also with understanding how our guests behave and how we can serve them better."
Before you add self-service technology to your hotel, you need to make sure you have a strong system in place that can both centralize your data and simplify your business processes. Contact our experts to discover our unified software solutions and start modernizing your guest experiences.