How to adapt to the 5 biggest changes in retail [Retail trends in 2021]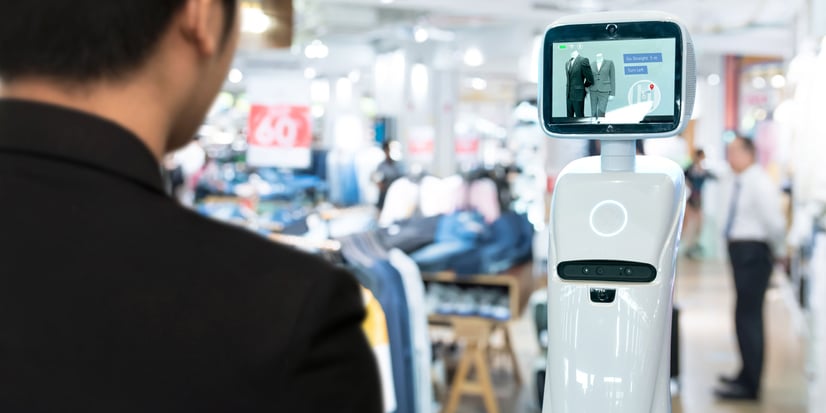 The retail world moves fast. If you want your retail brand to succeed, you must learn how to adapt to change, and quickly. Here are the five most monumental shifts facing retailers today, and our tips on how you can face them to create the experiences consumers are looking for.
1. Shoppers are as knowledgeable as salespeople
It's now very easy for consumers to do their own research on products before they enter your store's doors to buy. According to the latest GE Shopper Research Study, 81% of consumers check products online before going to a store. And when it comes to major purchases, consumers are very thorough, spending an average of 79 days gathering information. People have been doing their due diligence on durable products like vehicles or large electronics for a long time. Today, this habit has extended to all sorts of products, even low-commitment items like groceries. Salespeople must be ready to deal with extremely knowledgeable customers who ask detailed information about specific items, and who know what options are available in different stores, and how much these options cost. Expect consumers' demands to become even more specific in the future.
What can you do?
Your staff should be at least as informed about your products as your customers are. Make sure you focus on employee training during their whole career, and not just when employees are newly hired. Give all your salespeople a chance to stay updated with courses and specialized training. For example, if you are selling professional kitchenware, your staff could benefit from a cooking course, and from videos demonstrating differences between each product line you stock. And don't forget to keep your employees informed about the latest items that are coming to the store: your customers know what's new, and your staff members should know, too. Technology can also help. Your sales associates can't be expected to memorize your entire catalog. A mobile POS directly connected to inventory will help them deliver knowledgeable service, easily. On the POS, your employees can check which products are available and where, look up item descriptions, images and specs, and even compare products, or order them from other store locations or vendors.
2. Omni-channel is the new normal
Today, a typical shopping experience may start with a customer researching products on a smartphone while visiting your store. The customer may then, a few days later, buy the item on your e-commerce site, and select to pick it up in one of your store location. According to a study by Deloitte, today 60% of shoppers use their smartphones at some point during the buying process, whether it is to look up prices, find deals, or complete a purchase. And this is just the beginning. The thing is, customers don't think in terms of channels anymore – they simply look for shopping experiences that are easy and convenient. But how do retailers stack up? According to a research by Periscope, not so well: 78% of retailers admit that they are still unable to offer a unified brand experience across all channels.
What can you do?
The customer journey will only get more rich and complex. If you can't yet offer a consistent experience on all touchpoints (mobile, online, stores, social media…), you need to start working immediately on removing barriers between channels. For many companies, this will mean having to work on two fronts: changing business culture within the workplace, and looking for new unified commerce technology to unify the channels within a single view. Can you keep track of how your customers contact you, what they add to their favorites on your eCommerce, and what they buy in-store? Are you connecting online and offline with services like click and collect? Can you see where all your inventory is, and move it where needed? If the answer to any of these questions is "no", you need to get to work, now.
3. Online is a necessary sales channel
A functional eCommerce website is now a necessity. In 2014, online retail sales represented just 5.9% of total retail sales; by 2021, online had jumped to 16% of retail sales. Nasdaq predicts that more than 95% of sales will be facilitated by an eCommerce platform by 2040.
What can you do?
Brick-and-mortar retail won't die, but it must transform to survive. In the future, as margins shrink, you may have to change your strategy for your brick-and-mortar stores, changing your focus from selling products to facilitating omni-channel interactions. If you do not yet have a functional e-commerce site, this is a necessary investment for your business, and an urgent one. As you build your eCommerce, here are some points to keep in mind:
You need to be found, easily, on search engines and social media.
Your online and offline presence must be consistent in terms of branding and experience.
Your customers will judge you based on more than your products. The overall experience on your eCommerce must fulfil their demands. Is your site secure? Is it easy to browse through products, or look for specific items? Are payment and shipment terms clear? Can customers pick different types of delivery?
Don't forget to use your e-commerce site to drive customers to your stores.
4. Reviews can drive, or kill, your business
More people are sharing their opinion of businesses' services and products online – and these reviews can have considerable weight. According to BrigthLocal's latest Local Consumer Review Survey, 87% of people use online reviews. Of these people, 92% say that they are less likely to use a business with negative reviews. It's not just one- or two-star reviews that retailers should worry about: 52% of consumers say they won't consider using a business that is rated less than four stars!
What can you do?
Many retailers dread online reviews. However, reviews are not going to go away – and they can benefit your business. To increase your ratio of positive feedback, encourage fans to leave their opinion. Start a dialogue with online communities of people who love your product, and give them a reason (and a place, directing them to the right sites) to express their love for your brand. Promote reviews that make you look great, but most importantly, do not ignore negative ones! Respond politely to unhappy customers, making sure that they feel listened to and respected. Just by answering a complaint you may be able to keep a customer: in a study from Maritz and Evolve24, 83% of people who got a response to a complaint said they were satisfied just by being listened to – even when their problem had not been solved. A Coop supermarket in Switzerland was shocked to discover that their most loyal fans were not happy shoppers, but customers who had made a complaint, and had the issue fixed.
5. People are overexposed to commercial messages
People are constantly exposed to images, promotions, and ads. As a consequence, most of these communications are ignored. Studies find that businesses have just eight seconds (maximum!) to catch their audience's attention. In a study by Forrester, more than half (59%) of consumers interviewed said that the offers and communications they receive from retailers are of no value to them. In a world full of colors, sounds, images and brands, how do you make your products stand out? You'd need to reach each customer with exactly the right message for them.
What can you do?
This is where personalization comes in. One-size-fits-all offers and messages don't work with today's consumers. Retailers need to optimize all their touchpoints, focusing on collecting customer data which can then be used to provide each shopper with advertisements and promotions that are relevant to them, based on their tastes and shopping history. To deliver this kind of experience you need unified commerce systems, and Artificial Intelligence (AI) tools. In a nutshell, unified commerce is a single platform to manage your entire enterprise. By unifying all customer information in one database, you get a real-time, clear overview of what your customers buy, like, browse, and of how often they visit you. When your data is collected in an organized and consistent way, you can then run it through predictive analytics and artificial intelligence services, which can help you get the value out of your data. One such service is LS Recommend, an AI-powered recommendation engine that uses historical shopping data to suggest products that are relevant to each customer. You can then show these recommendations on your eCommerce site or at the Point of Sale, where your sales associates can relay them to shoppers as personalized suggestions. And since it uses machine learning algorithms, the more you use LS Recommend, the more accurate it becomes.
The world of retail is in constant motion, and only those who keep up with the pace of change will still be around to talk about it tomorrow. To learn where consumers are going, read our latest retail trends whitepaper discussing the most important trends we will encounter in the retail of the future.