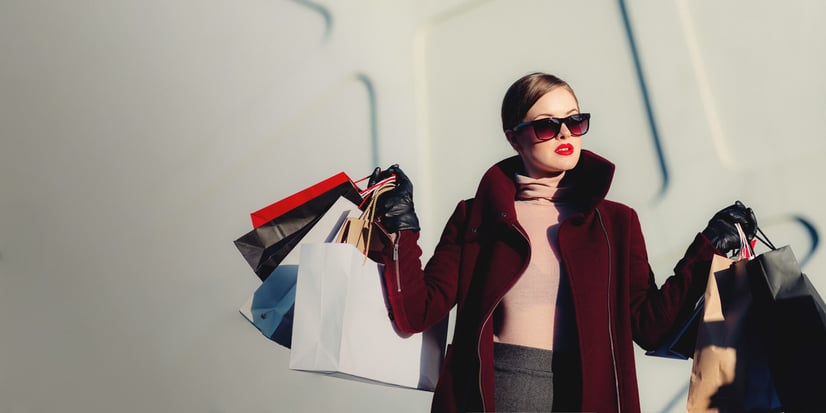 Changes in consumer culture have hit all sectors of retail, and luxury brands are no exception. The global success of fast fashion retailers like H&M, Zara and Uniqlo has had a considerable impact on the overall fashion industry, and forced luxury fashion retailers to adjust to an evolving fashion business model. Considered disruptors of the fashion retail world, fast fashion companies have consistently achieved double-digit annual sales over the last 5 years. Their secret? Shortening the length of the fashion cycle and providing consumers with instant gratification for affordable "fashion-forward" brands they crave. Although traditionally cautious with technology, many luxury fashion retailers have reacted by rethinking their business with innovation in mind, all the way from product development to customer experience, with an especially strong focus on e-commerce sales and personalization.
The new luxury fashion shopper
The new luxury shopper wants more shopping channels, rewards for their loyalty, and personalization across the board. Engaging with this new luxury consumer is an opportunity for retailers to move the conversation from price and status to a deeper connection, one focused on experiences, quality, and the feelings that luxury products bring to their purchasers. Here are 6 of the biggest technology trends reshaping the luxury fashion industry today.
1. Alternative materials
Advanced materials technology is having a huge impact on the luxury garments and accessories market. At the 2016 Met Gala in New York, a collaboration between Marchesa and IBM produced a latest-tech, high-end dress that lit up in different colors based on the sentiment that viewers expressed in their tweets about the dress. Although impressive, this was just the beginning. In recent months, we have seen a growing trend in using technology to create new types of fabrics. Take sustainably sourced materials. From Stella McCartney's silk, inspired by spiderwebs and spider DNA, to Linda Loudermilk's "vegetable cashmere" (or soybean fabric), there has been a rise in "eco-luxury retail," with consumers demanding eco-friendly alternatives to traditional raw materials, such as animal-free leather. These fabrics are good for the environment, but that's not the whole story – for example, "green" fabrics made with algae biomass or discarded leaves of pineapple plants are also better for the body, as they are non-toxic, and more breathable than synthetic textiles. Luxury brands have also been following innovative sportswear producers in creating technology-heavy, functionality-focused fabrics. Ralph Lauren's uniforms for the US Winter Olympic and Paralympic teams feature a heating system made from electronic printed conductive inks, which was printed in in carbon and silver ink in the interior of the athletes' jackets.
2. One-on-one service
With foot traffic on the decline, luxury fashion retailers are using technology that empowers staff members in-store, enabling them to offer in-depth knowledge and 360-degree assistance to match – and surpass – the level of information customers can find online. Clienteling Point of Sale (POS) software is one of the innovative tools retailers are implementing to help staff members assist the customer on the floor, with a smile and all the information they need at their fingertips. By delivering a view of products that is similar to online store browsing, clienteling POS supports conversational commerce, thus enabling employees to give the truly exceptional one-on-one service luxury customers crave. Customers want to get style advice that caters to their tastes; they want to get suggestions on products that might complement their purchases; they request in-depth, clear information on the items they might buy; and, if they find something that sparks their interest, they want to be able to order it on the spot, even if it's only available in another store location. Clienteling POS enables staff members to fulfil all these desires – and more.
3. Personalization
Taking a page from Amazon's book, many fashion retailers are now investing in technology that fuels a more personal experience for their shoppers, with the goal of driving both loyalty and engagement. Retailers are using machine learning and Artificial Intelligence (AI)-powered software to deliver personalized product recommendations in-store and online. The goal? Anticipate customers' needs, and make sure they won't end up at a competitor to complete their outfit. With a strong, personal recommendation in hand, store staff have the tools to not only personalize but completely impress the customer, leading to increased conversion rates, higher-than-average order value and greater loyalty.
Create memorable experiences with personalized product recommendations. Learn how with LS Recommend.

Request a demo
4. Mobility
Today's consumers turn to their mobile phones for everything from product research to payments. Luxury fashion retailers are pursuing this desire to shop anytime, anywhere with mobile apps, mobile payment options, real-time promotions and integrated return services. To take full advantage of this technology, many retailers are using push notifications, geo-referencing and beacons to influence and engage their shoppers. A recent example is FarFetch's "Store of the Future," a concept that allows for deep customer engagement through mobile by taking full advantage of digital wardrobes, pay-by-app and links to social media accounts.
"Store of the Future aims at providing the in-store experience of the future by giving visibility to retailers on what is happening in the store. It's the offline cookie that closes the loop between a great online presence and a complete omnichannel offering and, finally, in-store technology which augments the experience of customers in store and overall." - José Neves, founder, co-chairman and CEO, FarFetch
5. Experiential stores
92 percent of luxury sales today still take place in physical stores, but e-commerce is increasingly setting the benchmark of what a shopping experience should be like. To maintain the foot traffic, luxury retailers are using mixed reality, such as virtual reality (VR) and augmented reality (AR), and AI technology to engage customers with enhanced experiences in-store. In London, Tissot allows shoppers to try on their luxury watches virtually at Selfridges and Harrods' windows. Christian Dior developed VR glasses called "Dior Eyes" that give visitors a sneak peek behind the scenes at their ready-to-wear fashion shows. In New York City, the flagship Rebecca Minkoff store features a smart video wall that suggests new styles when people pass by or enter. Customers can even use it to order champagne to sip while they browse the collection! In the fitting rooms, interactive mirrors let consumers set the light mode, to see what the outfit they are trying on would look like on a sunny day or in a club. With just a few clicks, shoppers can also order a different size or color, or find an item that complements their purchases, straight on the fitting room mirror. The result? Sales have been up more than 200 percent each year since installation.
6. Luxury start-ups
Over the last year there has been a rise of start-up companies responsible for pushing the old-school luxury retailers into the new digital world with e-commerce and new business models. The online world has seen the rise of luxury e-tailers, like FarFetch, that sell luxury products online, anywhere in the world. Sensing the opportunity, historic brands like Burberry, Thom Browne and Harvey Nichols have already teamed up with them to increase their visibility to new generations of consumers. Renting and luxury may have seemed like an odd coupling just a few years ago – but not anymore. Luxury rental companies like Rent the Runway or Girl Meets Dress have become very successful by providing platforms on which users can rent high-end clothes and accessories for a period of time, giving even consumers on a budget the opportunity to wear luxury fashion. Tech startup Heuritech recently launched a service that uses AI to spot and predict fashion trends based on the analysis of millions of images shared on social media every day. Retail luxury brands have been criticized as being slow towards the implementation of digital innovations, but it's clear that there is a bright future ahead. High-end retailers are rethinking their strategies, recognizing that digitization is the key to supply chain efficiency, lower procurement costs and sourcing new alternative materials. For more insights on this years' retail technology trends, read our new report.