The future of the Point of Sale: why retail is going mobile, contactless and more personalized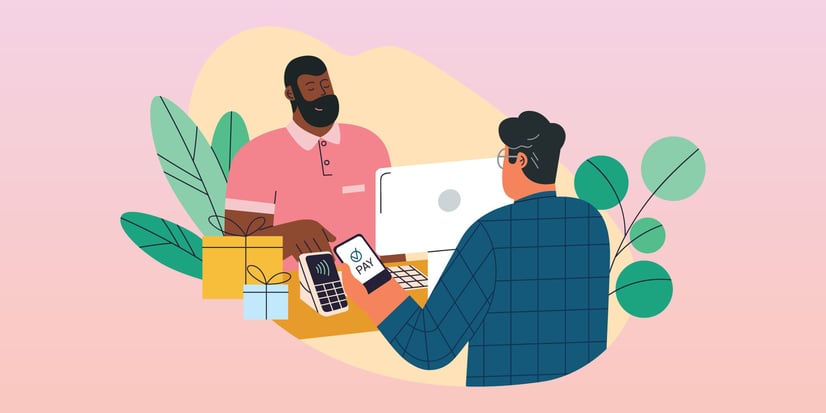 Despite the undeniable rise of online, physical retail and the experience that goes with it – going into a store and discovering new products, seeing, touching and testing them in person, trying them on, and asking a store associate for advice – remains critically important.
Over the past decade, POS systems have evolved from a static cash register at the checkout point to a collection of valuable touchpoints that sit at the heart of the entire retail experience. Moving on, POS technology will move from a transactional role to one of consumer empowerment, bringing the shopping experience to wherever the customer wants it, however they want it.
"What we're seeing retailers deploy now is typically applications which run a little bit in the cloud, a little bit on a mobile device, perhaps on the associate's device, perhaps on a fixed device, perhaps even on the consumer's own device," said George Lawrie, vice president and principal analyst at global research firm Forrester. "The technology is now in place to do that. But also to mine a terrific amount of information and to give people some contextual content depending on where they are, what time of day it is, what day it is – that's making a terrific difference."
Here are some ways in which the POS is evolving and how it is helping transform the customer experience for the better.
1. Moving the POS to the consumer's device
Running a POS on a mobile device like a smartphone or tablet is already commonplace in the industry. And while retailers are still exploring the opportunities that this approach offers, they also recognize that more customers expect to be able to interact in the retail environment with their own mobile devices too.
UK retailer Marks & Spencer launched its Mobile Pay Go consumer app to beat long queues in its busy city stores and provide customers with a checkout-free payment option. Using the app, customers can purchase their lunch in under 40 seconds.
"Making it as easy as possible for customers to come in, purchase our products and be on their way is hugely important to us," said M&S Clapham Junction store manager Joe Erskine.
Other retailers are taking a similar tact, introducing mobile POS in stores but also adding scan, pay and go functionality to consumer apps, putting the power of the transaction in their customers' hands. Spar and Eurospar convenience stores in Northern Ireland introduced this type of mobile app so that customers can check whether items are in stock before they leave their homes, and build shopping lists ahead of planned store visits. But the convenience extends well beyond planning ahead. Using the app, they can be guided around the premises using aisle satnav, scan goods as they shop and check allergen, dietary and even sustainability information, such as the recyclability of each item's packaging.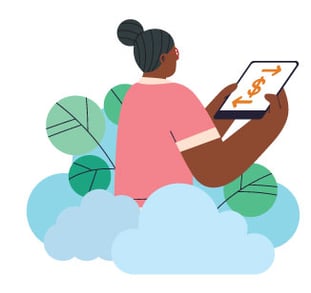 2. Cloud-based technology
Retail employees need to be able to access store transactions or sales data quickly from their devices wherever they are. Cloud technology is now widely adopted across the retail industry, also because it enables retailers to integrate customer, transaction and inventory data with omnichannel orders, and make all the data available in real time for store associates. This wealth of information also empowers retailers to deliver personalized brand experiences, offer endless aisle shopping, create offers that resonate with customers and optimize store fulfilment and inventory management.
UK grocery retailer Waitrose is giving some of this functionality back to its customers: they can now build a basket in the cloud which can be accessed and added to on any device. It means the customer can begin the shopping journey on the mobile, adding the basics they know they need, then add more stuff on their laptop at home. Once they're in store, they can scan more items in before they pay. At the same time, they know they're getting the items for the best possible price as the same promotion engine runs across all channels.
With consumer habits changing quickly, it's important to have technology that keeps you ahead of the competition. A big advantage of cloud-based POS solution are the automated updates and upgrades. New features and functions are automatically added to the entire network as soon as they're made available by the technology provider, enabling retailers to keep pace with change.

3. Personalizing the experience
A recent Epsilon survey of 1,000 US adults found that eight in ten want personalized offers and experiences from retailers. In another survey by Accenture, 91% of consumers said they tend to shop with businesses who know them and give offers and suggestions that are relevant to them.
Today, POS software can help you tailor the experience to the needs of each customer. For example, a POS with clienteling functionality allows you to identify customers who have a profile with you, enabling store associates to deliver highly personalized and relevant product advice.
Using machine learning (ML) you can take this a step further, and identify the products a customer will want to buy again in the future based on their past interactions. At the POS, then, an ML-powered recommendation engine can automatically generate a list of suggested products, which the store associate can use to make personalized recommendations. Intelligent retail will probably extend to more touchpoints in the future. Every time a customer shops in an Amazon Go store, for example, Amazon learns so much from their shopping behaviors to the point where it's highly feasible in the not-too-distant future that they will be prompted to buy staples that they haven't picked up recently or have recipes suggested to them based on items already in their shopping cart.
Hyper-personalized, dynamic promotions will likely become the norm. So when a customer scans a product, they could automatically be pointed to another item they usually buy which is on offer on the same aisle. Or if they input their dietary requirements and health goals, they could have alerts and guidance pop up on their device as they shop.
4. Contactless tech
The Covid-19 crisis has accelerated adoption and development of contactless technology. Contactless payments have come of age: a recent survey by Rapyd found that the majority of consumers are concerned about handling notes and coins, and plan on using online and contactless payments only instead of physical currency. The contactless payment market is set to more than double in size in the next five years, according to estimates by Valuates Reports.
Contactless technology extends well beyond payments. US modern department store Showfields, which calls itself 'the most interesting store in the world', has developed the app Magic Wand to enable customers to interact with nearly every part of the store without touching anything. Customers can tap their phone on the 'magic' NFC tags throughout the store to learn more about the brands and products in front of them. Anything they want to buy goes into a virtual cart. Once paid for, products are packaged up and left at one of several pick-up points throughout the store. If the customer wants, the entire physical shopping experience can be digital and completely contactless, with their mobile device becoming the key touchpoint for both receiving information and finalizing the transaction.
Amazon's Dash Cart incorporates a contactless POS within a smart cart. The Dash Cart delivers similar benefits to the cashierless Amazon Go stores, but doesn't force businesses to commit the whole store to a 'just walk out' system. The Dash Cart uses a "combination of computer vision algorithms and sensor fusion" alongside support barcode scanning to identify items when they are placed in the cart. The cart beeps with approval when an item is successfully recognized and added to both the physical and virtual shopping basket. When they're done, the customer simply takes their shopping and leaves, and their Amazon account is automatically billed.
Retailers will need to get more creative than ever to succeed. Many are now waking up to the realization of how important it is to have digital options inside the store – both to attract people in and make their shopping experience as enjoyable, memorable and convenient as possible. Modern digital POS technology is increasingly intelligent and embedded into core business operations. It's now up to retailers to embrace it and use it to ensure their in-store experience remains current, relevant and inviting.