A new experience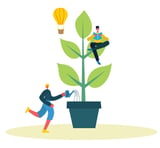 Gardens have taken on a new meaning and purpose in recent years. Maintaining a garden has become less about the level of experience you need to care for it, and more about the experience you will have when you are in it.
This, naturally, means that garden centres have had to evolve to meet the change in demand. Customer expectation has changed – not only do people want garden centres to provide plants, flowers and the means to care for them, they also want outdoor furniture and leisure items to be available too. Garden centres have become a 'one-stop shop' for everything that can be seen outside, and a visit to one has transformed into a longer, more leisurely experience where it's common to browse the options available, then stop by for a bite to eat, or visit a kids entertainment facility.
That leisurely experience means garden centres now often provide more than just garden 'stuff'. How many locations do you go to that now have a café or restaurant, a farm shop, children's attractions such as soft play, or seasonal events such as pumpkin picking or Santa's grotto? The list goes on – garden centres are now part of the well-established list of options for a great day out.
Increased demand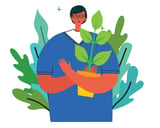 Naturally, selling a whole experience rather than 'just' plants and flowers has increased technological demand on garden centres, Many are choosing to invest in more streamlined technology that can help encourage people to the shops, and at the same time eliminate manual processes for staff, leaving them free to serve the visitors. In addition, the growing demand for eCommerce and click & collect options means that garden centres, should they wish to host 'the experience', have had major changes to implement.
One significant enhancement that many stores have chosen to undertake is the deployment of an EPOS – an electronic point of sale. This is a critical step for a number of reasons. It can offer a broader functionality to staff serving customers, who will not only be able to serve goods but also tickets, restaurant orders, process returns and take vouchers. This improves the customer experience, increases staff efficiency, and makes accounting easier.
Some centres have started to offer a delivery option for larger items, and have expanded their product offering thanks to the increased functionality that a unified ERP/EPOS/e-commerce platform has afforded them. The improved reporting and analytics available means that garden centres have been able to optimise and improve what they offer to customers, in turn improving their experience. Chris Luther, Group Head of Technical Operations at Van Hage Garden Centres, says, "We could not run our business, and I don't understand how other businesses run, with retail systems that aren't integrated into their finance system or ERP".
Effective changes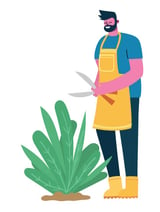 Many of these changes accelerated when the Covid-19 pandemic hit. Speed became an important part of the experience, to reduce the risk of people having to wait in long queues. With more people turning to their gardens for relief from the pandemic, garden centres were faced with the challenge of spotting trends and predicting demand exactly when trends and demand were quickly changing. For example, Van Hage's sales of compost doubled to nearly 15,000 bags every two weeks when they were the first businesses to reopen to the public after the UK's lockdown. Unified retail solutions such as LS Central enable staff to easily see their top selling items in each store location and ensure always have sufficient stock.
The pandemic highlighted the importance of having an advanced retail management system which allows for contactless payments, and enables retailers to carry out more actions from a single point. It is particularly important that the business solution chosen has a varied range of functionality which enables staff to conduct the necessary variety of tasks that customers will ask of them. Ideally, all the business' required functionality (EPOS, eCommerce, inventory management etc) should now run as part of one single system, with businesses adopting a unified commerce approach. Chris at Van Hage Garden Centres says it all makes an "astronomical amount of difference. If we didn't have an integrated POS system, we wouldn't be able to run our business at the minute". This kind of technology improves customer experience and lightens the workload for individual employees. Covid-19 has changed what is expected of the customer experience, and ease and speed have increased in importance, putting effective technology at the forefront of garden centres' IT managers' minds.
The future of garden centre technology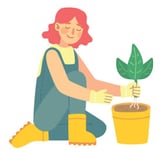 To adapt to the demands of their customers, garden centres will increasingly offer a wider range of products and services, and a typical visit will be a longer, more varied and informal 'experience'. A unified, streamlined business solution is the obvious way forward. Not only can it improve the customer experience, it also enables garden centres to more easily adapt to the changing demand. Whether they choose to increase stock, services, or facilities at their locations, reducing the amount of IT applications in use will only bring benefits.
However, it is important to remember that the support and knowledge that your service provider offers is an important part of the equation. Kishore Ragunathan is one of The NAV | 365 People's retail experts and agrees that "as the key focus moves towards garden centres offering the 'whole experience', the knowledge of your support partner must be more holistic than ever".
TNP are the UK's leading service provider for retail management solutions based on Microsoft Dynamics 365 Business Central and LS Central, and have an impressive number of loyal garden centre customers, including Van Hage and Webbs Garden Centres. They are the only LS Central Platinum Partner in the UK, meaning they are the ideal service provider for garden centres looking to benefit fully from the integrated commerce experience the LS Retail software solutions can offer.
Written by Jess Dorling Storyteller at The NAV | 365 People