See our unified commerce software solutions in action at NRF Retail's BIG Show 2018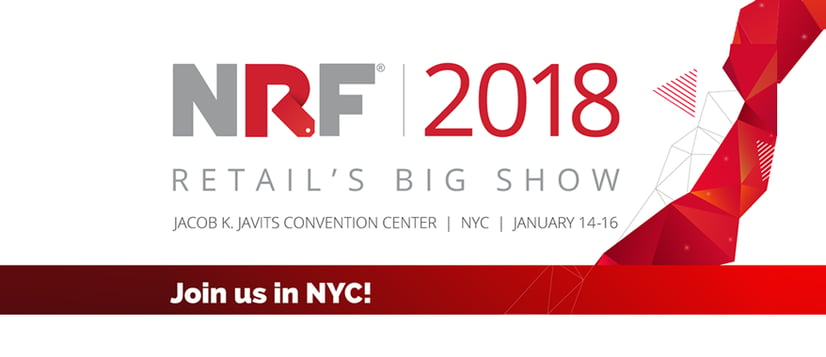 Are you attending NRF Retail's Big Show in New York, on January 14-16? Then don't forget to stop by at booth #3045! Our experts will be there during the whole show, ready to introduce you to our brand new unified commerce solutions.
What is unified commerce?
Today's customers expect seamless experiences, whatever they buy, whenever they decide to shop. At the same time, many retailers still manage their business with a patchwork of disparate applications that can't communicate with each other. As a result, businesses are left unable to deliver the integrated omni-channel experience customers demand. A unified commerce platform — combining e-commerce, m-commerce, inventory management, customer relationships, sales of different types of items, and more into one single platform — enables businesses to tackle successfully the increasing demands of the market. "Unified commerce goes beyond omni-channel, putting the customer experience first, breaking down the walls between internal channel silos and leveraging a common commerce platform," says Brian Brunk, principal at retail industry consulting firm Boston Retail Partners (BRP).
See it in real life – with a complimentary cup of coffee
Come to our booth, and see how our unified commerce platform, built on Microsoft Dynamics technology, will make your life easier, while helping you deliver superior shopping experiences. Order a coffee at the self-service Point of Sale at our booth. Then see the order line up on the Kitchen Display System behind the barista. While you wait for your drink, you could try buy yourself a box of cookies in the supermarket corner, or book a seat in a cake decorating workshop. With the LS Retail solutions, selling is that immediate – and it can all be handled in the same powerful platform, no matter whether you sell delicious dishes, laptops, bookings with a personal stylist, or all of these combined. All our solutions, from LS Nav running retail sales, to LS Hospitality managing food service, to the brand new LS Activity for events and reservations, run on the same database. This means that all your data is consistent throughout your business, and that you can always access an up-to-date, single version of the truth. And as a plus, the whole system is based on trusted Microsoft Dynamics technology. Wondering how it actually works in real life? Just look at Dean & DeLuca. The company, which runs a global chain of upscale grocery stores, gourmet marketplaces and cafés, uses LS Retail solutions to deliver exceptional shopping and eating experiences. We will be offering complimentary Dean & DeLuca coffee drinks at our booth – one more good reason to stop by!
Make it a personalized experience
While at our booth, don't forget to visit our fashion corner, where you will be able to experience next-generation selling with our latest clienteling Point of Sale. Today's customers don't care for one-size-fits-all service. They want personalized interactions and engaging experiences. That's why we have designed a highly visual, content-rich clienteling POS that empowers your employees to sell more than just your in-store inventory, all the while delivering one-on-one, highly personalized service. Have you booked your appointment with our experts yet? We look forward to seeing you at booth #3045!