From the boom of curbside pick-up and delivery to robots and smart appliances in the kitchen, the restaurant industry has been going through times of utter change. As consumer habits shift, technology has enabled businesses to keep up with new trends while also contributing to accelerating change.
Here are four ways technology is shaping the present and future of the restaurant industry.
1. Expanding the restaurant beyond four walls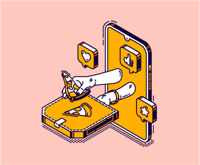 In the US alone, three out of five consumers order delivery or takeout at least once a week, according to the National Restaurant Association, and two out of five consumers say they'd buy meal kits to prepare at home if their favorite restaurant offered them. As consumers look for experiences that blend the excitement of eating out with the convenience and safety of staying in, technology is enabling restaurants to move beyond the traditional four walls to meet new demands.
Today's guests want to get their favorite food whichever way they prefer. Restaurants need technology that helps deliver a seamless consumer experience, whether guests want to eat in, order online and pick up in restaurant or at the curbside, or get the food delivered. The ideal software solution will unify customer data from all interactions into a single, unified view of the guest, enabling both loyalty and personalization whichever touchpoint customers decide to use.
2. Evolving the eat-in experience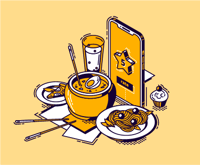 In-store designs and layouts that make restaurants spaces more social-media worthy. Plates that look like artworks. Immersive experiences that take guests into the very essence of a brand. In the past few years the in-restaurant experience has centered on creating unique, unforgettable moments.
Today, a great dining experience must still have all those characteristics, but it also needs to deliver convenience and safety. For restaurants that put hospitality and luxury at the center, a great quest experience will combine personalized attention and intimacy. For example, a restaurant in the Netherlands set up temporary greenhouses for two that allow couples to enjoy an intimate, luxurious dinner on the waterfront, at a safe distance from other diners.
For quick service and fast casual establishments, a great guest experience is a quick and hassle-free one. Self-serve kiosks or self-ordering devices at the table can provide a convenient, contactless way of ordering, while also enabling guests to take as long, or little time, as they want.
The key is to understand your customers and know why they come to your restaurant. This requires both your intuition, and using technology that unites all your key data (sales, loyalty, interactions) into a single view (after all, you can't be expected to memorize all your guests' preferences!). This kind of unified technology can help you see both individual preferences and the big picture, so you can understand what your customers are looking for and tailor the experience to cater to their needs.
3. Empowering employees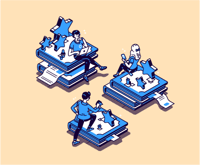 Employee turnover rates are notoriously high in the restaurant industry, with some estimates going as far as 75%. Many factors play a role, including wages, a stressful environment, and limited opportunities for growth. While more structural changes may be needed, technology can help you make your workplace more enticing to employees. When staff members fell empowered and have the means to do their job effectively, they will be less likely to look for another workplace. For example, a mobile Point of Sale device can help your servers do much more than take orders. A mobile POS can help them answer customer questions such as "Is the catch of the day still available?" or "Is the chicken Kiev gluten-free?". When you have all the information you need just a tap away, customer service becomes much less stressful. In the kitchen, technology like kitchen display systems (KDS) can organize and simplify workflows, eliminating confusion and helping your staff prepare dishes in the right order, at each guest's specifications.
With more and more young, tech-savvy workers joining the industry, being known as a forward-thinking employer that empowers staff members with modern technology can be a major differentiator to your competition in the search for talent.
4. Enhancing the business with Artificial Intelligence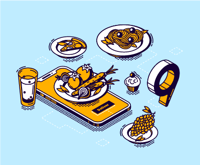 By using cloud-based business Intelligence and analytics services, restaurants can put the data they collect to good use.
Artificial Intelligence-powered solutions can, for example, be used to improve efficiency and prevent issues and waste. For example, say there's a drought or new tariffs, and a specific ingredient is suddenly hard to find or too expensive. An intelligent solution can help you to do predictive cost analysis. Substitute the ingredient with alternative ones, see your options and understand how you should design your recipes and set the prices to optimize revenue, minimize disruption, or limit costs. Whatever your goal, AI can simplify decision-making and help you take the best direction for your business. By using this knowledge proactively you can also build resilience into the supply chain, and be prepared for similar future occurrences.
Analytics solutions can also help improve your service, and align it with your guests' preferences. When you know which lunch offer is most popular on different days at each location, what type of promotions guests are more likely to take advantage of, and which dishes deliver the best returns considering how long they take to prepare, then you can adjust your offering so it delivers the best returns.
In order to get meaningful data that can be run through BI and analytics services, you must first implement a software solutions that unifies data from various sources into a single database. A unified enterprise system covering the whole business – sales, accounting, inventory and production, loyalty – is therefore increasingly a must-have.
Eager to know how innovative technology can help you reach your business goals? Contact us.