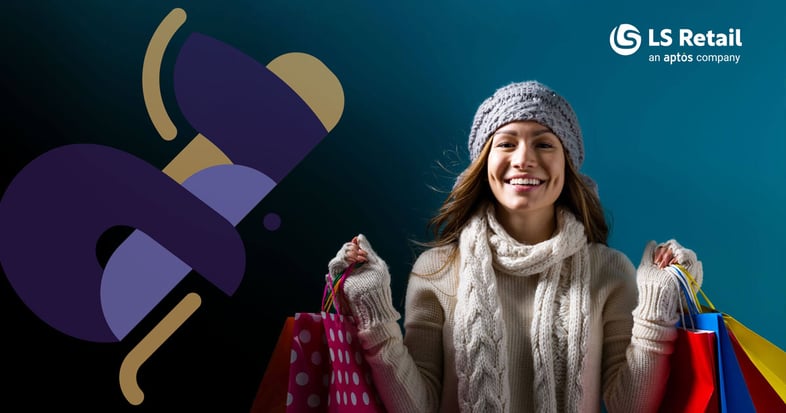 E-commerce is constantly on the rise. To make sure you attract customers on your online channels this holiday season, make sure you have a strong Search Engine Optimization (SEO) strategy for your website, and think social: post holiday deals and promotions on social media, and accompany them with high-quality images of your products to help increase engagement and improve your brand identity.
At the same time, don't underestimate the importance of your brick and mortar store. In-store shopping is still key – for a large part of customers going downtown or to the mall to buy holiday decorations and gifts is, indeed, an essential part of the holiday experience.
Unfortunately, during the holiday season in particular it's hard to give customers the relaxing and personalized service they expect. Increased customer traffic, financial constraints, seasonal products and temporary holiday staff can lead to confusion, dampening the shoppers' mood and putting revenue at risk. And once you have aggravated a customer during the holiday rush, you may not be able to win them back later in the year.
This could mean a huge blow to your revenue, as it is between four and ten times more expensive to acquire a new customer than to keep an existing one. It's imperative to try to keep customers happy and relaxed when they step into your store this holiday season.
Here are our 8 tips to help you create an in-store holiday experience that customers will want to come back for again and again, no matter the time of the year:
1. Pay attention
Why are people braving snow, wind and crowds to come into your physical store instead of shopping online from their sofa? For the service. You therefore have to make sure your employees have the time to dedicate to every customer in need – never mind the holiday rush. Technology can help. For example, transforming your POS terminal from a simple sales device to a sales assistant can empower store employees to offer a highly personalized experience, like checking real-time stock availability or accessing a customer's shopping history to find a product they want to repurchase but don't remember the name of. Ultimately, ensuring your employees have the ability to stay up to date and access information quickly will allow them to serve more customers more efficiently. And, the better the service, the happier the customer.
2. Give them space
Use your floor space wisely. Overloaded and crowded corridors are one of the top reasons why customers dislike shopping during the holiday season. Depending on what you sell and the size of your retail store, try to make your store more welcoming by giving people enough room to browse and move about especially if they are pushing a cart or carrying a full shopping basket. Also choose a layout that encourages browsing and impulse buying. Analyze your customers' walking pattern, pay attention to whether products located in some areas sell less than others, and consider whether it would be worth shifting to a different layout, at least during the holiday craze.
3. Communicate where things are
Where is the homeware section? Is this 20 percent off? Where can I find the ladies' changing rooms? Clear signage in your store is fundamental: it decreases the level of frustration and impatience among customers, and by reducing the number of repeated questions, it leaves sales associates free to serve customers who want to know about the products.
4. Don't be messy
Imagine entering a fashion store to do some gift-shopping, and finding this: items everywhere, shirts unfolded, t-shirts strewn on the floor, a child stepping on a brand-new jacket – which, at this point, looks as tired and used as a second-hand one. This is, unfortunately, not an uncommon scenario during the holiday rush. And what can a customer do in these conditions? There's no way they'll find the right product, let alone the correct size. And it's unlikely they'll want to pay full price for items that already look worn and tired. Frustrated, they'll probably leave. To prevent the risk of your store looking like a battlefield, and to make sure that customers entering your doors can find what they're looking for, hire extra staff to keep the aisles tidy and pleasant at all times.
5. Check it out and deliver it
Queues at checkout are perhaps one of the most frustrating experience when shopping at peak times. Speed up the queues by:
Placing novelty and interesting merchandise where the queue forms, to keep people entertained while they wait.
Using a POS system that performs well under stress, both online and offline, so

you can

always serve customers and sell

– even when your internet connection goes down.

Bringing the register to the customer with mobile POS. Your staff can look up information, scan items, close transactions, accept payments and print receipts anywhere the customers are, both inside and outside the store premises. No need for customers to line up at the register and wait for their turn.
Add self-service kiosks or ScanPayGo technology. Scan and go mobile apps allow consumers to self-serve in the shop, using either their personal mobile device or a provided handset to scan items and pay. Although this tech

is most common in grocery stores,

there is no reason why retailers in other sectors shouldn't take advantage of it.

Offering click and collect or curbside pickup. Both options are in high demand with shoppers, as they bridge the gap between ecommerce and physical retail, are highly convenient and – when needed – contactless.
6. Have all the info, all the time
Does this computer bag come in another color? Do you still have the pro version of these? It's easy to get flushed during the holiday rush as more and more customers enter the store with a precise idea of what they are looking for – and no time to waste. That's when the right technology becomes vital to support and boost sales.

Still, many retailers operate on

legacy

IT systems. Often, these patched-together systems

can't sync

information properly, are difficult and

costly to maintain, and don't allow retailers to deliver the services that consumers demand. This makes them a huge risk and cost for the business, even more so in peak season. To keep things running optimally during the holidays, consider a unified software solution that can run your business on a single platform and provide you with a clear overview of your business. This way you can analyze your data in real-time and obtain valuable insights - like what products you're selling and how much - allowing you to determine your next course of action and stay on top of things without any uncertainty.
7. Ship it and take it back
Out of all the gifts bought during the holiday season, there's bound to be some that don't work out. This makes it especially important to offer extended return policies, allowing people to return their items past New Year's Day, and under favorable delivery conditions. If you run an omni-channel business, accepting in-store returns for items that were bought on the e-commerce site is vital for your strategy. According to a UPS study, 60 percent of shoppers prefer to return items to a store – and once in store, 70 percent of them will make additional purchases.
8. Keep cool
Sometimes, your employees may see tense or snappy during the holiday rush; it's easy to get stressed out when working in retail during this time of year. But as a manager, you need to make sure you help reduce, rather than increase, the pressure on your staff. Keep the atmosphere light and diffuse difficult situations. The holiday season is long – help your employees stay friendly and patient throughout. Making sure you have strong software in place to support your staff - from requesting vacation time to tracking worked hours to making last-minute schedule changes - can not only maximize your employees' productivity but also keep them satisfied with their workload.