Seven points retailers must consider when opening an online store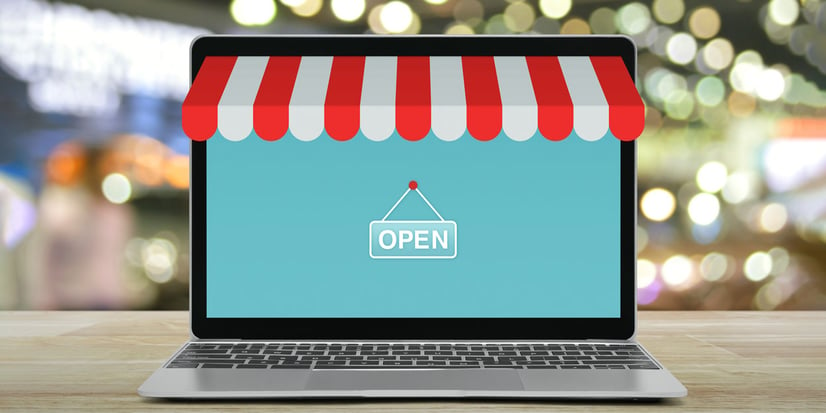 The way we shop has fundamentally changed. In 2020, eCommerce sales grew by a whopping 28% - during the same period, overall retail sales fell. If you still have a limited (or no) online presence, this is the time to invest in an eCommerce channel.
"As the online channel grows, pressure will mount on offline retailers to retain sales – for some players, to fatal levels."

Thomas Brereton, Retail Analyst at GlobalData
But it's not enough to simply create an eCommerce site, and wait for the orders to come flooding in. Retailers that want to open an online store need to pay attention the key trends that are reshaping the industry, and adopt a carefully considered approach. Here are seven points you should pay attention to if you want to build a successful online channel.
1. Deliver a hassle-free customer experience
Consumers' expectations of online shopping are modeled on the seamless and personalized experiences they have with digital leaders – think of names like Asos, JD.com or Farfetch. These brands set a high bar, but one that's worth aiming for.86% of consumers say they are willing to pay more for a great customer experience, a SuperOffice survey revealed. A study by Segment found that 49% of shoppers have made impulse purchases after receiving a more personalized experience.
On the other hand, failing to deliver a good customer experience can have severe consequences. According to Accenture, US$1.6 trillion is lost every year because of poor customer service.
2. Make shopping across channels seamless
Research from Google shows that 98% of Americans switch between devices in the same day, so customers might want to start shopping at their desktop, and complete the purchase on their mobile. Many shoppers are also choosing to start their discovery online and finish it in a physical outlet. While some retailers had planned to offer omnichannel services only temporarily, the majority of shoppers (nearly three out of four) who have tried curbside pickup, BOPIS, or delivery say they want to continue to use these services after the pandemic ends, HBR reports. It is therefore imperative for retailers to make sure that their online and offline channels are connected in terms of products, prices, offers, customer profiles and shopping carts, so that shoppers can begin, continue, and end their journey across the channels prefer.
3. Use flexible pricing and promotions to react to market changes
The last few months have clearly shown us that market conditions, product availability and consumer preferences can change overnight.
Research by McKinsey reveals that shoppers have become increasingly promotion conscious, and are always on the hunt for the latest deals. The analyst suggests that retailers should constantly re-evaluate their category vision and assortment, and test new product ranging as well as new promotional mechanics.
Having the insight necessary to react fast is incredibly important – it allows retailers to reprioritize their portfolio taking into account shifts in consumer and customer needs, as well as changes in sourcing and the supply chain. McKinsey advises retailers to get granular. One size will not fit all, so you should build shopper-, occasion-, channel-, and customer-specific plans.
4. Reward loyalty
There are many reasons to reward loyalty. Research from Invesp reveals that it costs up to five times more to attract a new customer than to retain an existing one. To retain current customers, it makes sense to offer extra perks: according to StiboSystems, 75% of customers said they are more likely to purchase from a brand again after receiving an incentive.
Encouraging repeat purchases is one of the reasons, but not the only reason, to have an effective online loyalty program. A loyalty scheme can be used to collect customer data, which you can use to understand your customers' preferences and purchasing habits. This information is extremely valuable, and can be used to improve merchandising decisions, develop more targeted communications, and track trends. The StiboSystems research found that half of consumers are willing to give up data about themselves in exchange for loyalty points.
5. Personalize for each customer
By effectively capturing and using data you can not only effectively measure success, but you can deliver precision marketing – and at a lower cost. For example, you could use your sales data to see which customers, who used to be active in the past, have not bought anything from you for the last 6 months. You could then send them coupons or discount offers to entice them to return. You could also use the sales data to create campaigns to increase cross-selling. See which customers buy your suits, but don't buy your shoes. Group them together and create a campaign to encourage them to try different product lines. For effective personalization, make sure you target the right consumer with the right product. Use your knowledge of your customers to send useful and appropriate suggestions: be thoughtful, not invasive. Treat your customers with respect, and don't make them regret giving you their personal data.
6. Analyze the data
While personalization starts with collecting data throughout various touchpoints, that is the easy part. The stumbling block for many retailers is organizing, analyzing, and transforming this data into meaningful insights. To get this right, retailers need to:
Collect their data in a uniform, consistent format, so information can easily be linked, compared, and analyzed.
Make sure the data is not siloed – meaning, that it isn't trapped into different systems.
Use an analytics system to get a clear overview of their data, helps track the KPIs, and which gives insights businesses can act on.
7. Have clear visibility over inventory
Having a clear overview over available inventory across all channels is a challenge – but it's also a necessity for omni-channel retailers. Not having a clear grasp over real-time stock can lead to excess inventory or out of stock situations, both of which are costly for retailers: in the first case, excess products will have to be sold at al loss, and in the second case, the risk is lost sales, reduced customer satisfaction, and lower loyalty levels.
It is also important to give customers visibility into inventory. Today, two in three consumers check if a specific product is available before they head out to shop, the IBM Institute for Business Value reports. If you don't give shoppers this information, they may not make the trip to your store at all. Less than a third of retailers already have full visibility over inventory and orders across channels today – but the issue is so urgent that 90% of retailers plan to offer it within three years.
Get a head start with a unified commerce platform
When setting up their eCommerce site, a lot of retailers make the mistake of running it as a separate entity to their physical stores. As a result, they just add a separate business application that is often disconnected from what they use in their retail chain. However, if your software solutions do not communicate seamlessly, and instantly, with each other, you may find yourself unable to deliver the smooth omni-channel experience customers expect.
A unified commerce platform is a must-have to deliver truly personalized experiences online and offline. By uniting all channels under the same platform, you can keep track of everything that is going on in your business, gaining the visibility you need into your sales, inventory, promotions and data. At the same time, a unified platform also enables your customers to shop as they prefer. For example, they might start by browsing your products in one of your stores, then make the purchase on your eCommerce, pick up their orders in a different store location. Once in store, they might even add more items after receiving a personalized "buy 3, pay 2" offer. Throughout, the experience is consistent and personal.
The benefits of a unified commerce platform go beyond managing sales, inventory, prices, campaigns, offers and more across both your physical and online stores. On top of handling all your channels consistently, when you run your business on unified commerce you can also control all your business processes front to back, from POS to ERP to inventory to franchises and distribution. And with all your business data available in a single place, you get a single point of truth about your inventory, operations and customers, so you can run data analytics to get insights that matter.
On top of uniting your online and offline experience, LS Central also gives you the freedom to integrate with several third-party eCommerce platforms. LS Central offers out-of-the box integrations with Magento, Avensia Storefront, Dynamicweb – as well as Shopify, through its direct integration to Microsoft Dynamics 365 Business Central, the ERP that LS Central extends. If you use any of these eCommerce platforms, you can just connect them to LS Central in a few steps, and enjoy the real-time communication between channels and a single, clear view of your customers and products. No integration work from you, no time wasted.
Would you like to know more about LS Central, and how it can empower you to build an eCommerce business that fulfills customers' demands? Contact us.