The annual LS Retail partner satisfaction survey is one of the many tools we use to stay in touch with our ever-growing partner ecosystem, and get feedback on how we can improve the level of service and support we provide. This year, we added additional questions designed to gauge partners' cloud readiness and to see how we can help make the transition to the cloud easier, simpler, and faster.
The survey responses were an accurate snapshot of the diverse LS Retail partner network as it is today – both in terms of geography and size. Roughly three-quarters were from small and midsized businesses with up to 250 employees, and about 60% operate across multiple countries.
The survey also clearly showed that our partners are ready to move to the cloud with the support of LS Retail.
Cloud readiness
We have seen exponential growth in the number of cloud licenses sold, so it is not surprising that 47% of respondents also expect the volume of SaaS and hybrid products they sell to increase by more than 10% in next year.
The move to the cloud poses both us and our partners a challenge: we will need to approach our existing consulting and sales models differently. While half of all respondents expect a loss of revenue on customer customizations and upgrade requirements, the majority of respondents are optimistic about their future in the cloud. 57% believe their business will benefit from the move towards SaaS delivery models.
Cloud readiness is not only about seeking out new cloud deals, but also updating the existing channel. 37% reported that their customers are actively demanding SaaS delivery models on products they purchase. The same number said they are actively converting their existing customers to SaaS where possible. Partners looking to increase their cloud business should proactively encourage existing customers to transition to a hybrid or cloud solution. If your customers need more convincing check out these 9 reasons to move to the cloud, or our ongoing promotions.
"Being able to customize the solution for our industry was absolutely important and we were able to do that with LS Central."

Partner in the USA
A complete product offering
Customers are not going to move to the cloud if it means compromising on functionality. So, it was no surprise that partners rated the overall quality of the product as the most important criteria when choosing to work with LS Retail. This was closely followed by:
ability to customize or configure the product
ease of use for the end-user
having a product based on a Microsoft
When asked to rate LS Retail against each of these criteria, LS Retail received a 4/5 or higher on each point.
"A great selling point of LS Central is the quality of the POS. It allows us to beat competition in the German market."

Partner in Germany
LS Retail currently has three software solutions available as SaaS: LS Express, LS First, and LS Central SaaS, which is now available in 18 countries, with more geographies being added all the time. You can keep track of current and upcoming versions on the LS Retail Portal.
"It would be extremely difficult to switch away from LS Central. There is no solution out there which has the same coverage of functionality and industries."

Partner in Germany
High partner satisfaction
Moving to the cloud requires support for our partners as well as their customers. The survey showed that partners are either satisfied or highly satisfied with every team at LS Retail, with Licensing and Partner Operations receiving the highest scores, and Technical Support and Consulting showing the largest growth in positive reviews compared to the survey results of last year.
Crucially, over 90% of respondents are committed to continue working with LS Retail for at least the next 3 years. We see this as a clear indication that partners trust us to provide quality products and service as more and more business is moved to the cloud.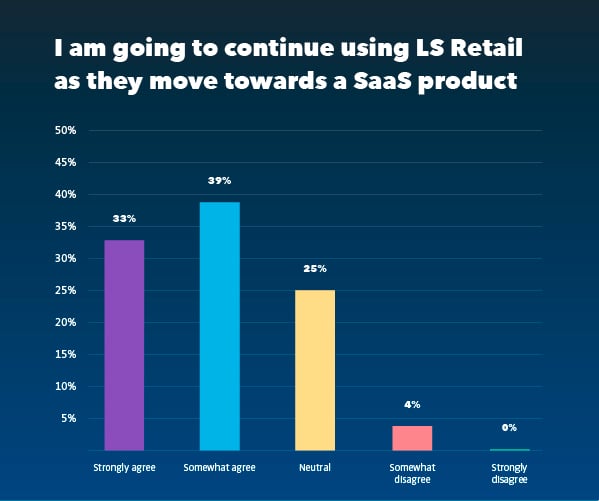 We thank all partners who answered our survey. We sincerely appreciate the feedback and will endeavor to continue to improve your partner satisfaction in the year to come. You can find the results of the survey on the LS Retail Portal.
"There is no reason to consider switching away from LS Retail. It would only be if our company changed direction completely, which I do not see happening."

Partner in Germany