LS Nav 11.04: new mobility features, improved stock management, better kitchen management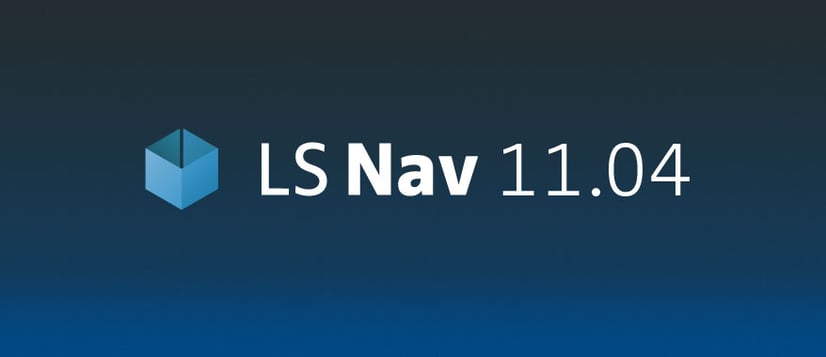 Version 11.04 of LS Nav was released on September 27th, 2018. Here is a rundown of all updated and brand new features that are now available in the system.
Offer mobile service
In this release, we continue enhancing the LS Nav mobile offering with new functionality.
Run the LS Nav POS on mobile devices
The LS Nav POS (web version) enables LS Retail partners and customers to customize both user interface and business logic, and make these changes available seamlessly across their device ecosystem. With this release, we are introducing LS Nav App, a shell which enables you to easily run the LS Nav POS on mobile devices. The LS Nav App enables the POS to use peripherals like printers, scanners or PIN entry devices (PED) that are connected to the mobile device via Bluetooth or WiFi. We have released two versions of the LS Nav App:
A version for Android devices, with full functionality.
A version for iOS devices, with limited functionality. Users can run the POS, but can't connect it to peripherals via Bluetooth or WiFi.
Run the LS Nav POS on small devices in your restaurant
In this release we are introducing a new LS Nav POS setup for hospitality which is specifically designed for small devices, making it ideal for restaurateurs wanting to offer tableside service. The POS can run in our newly released LS Nav App. You can find the setup in our demo data company. In order to improve the mobile experience, we are also introducing a new split bill setting specifically designed for small devices like phones. This means foodservice businesses can now use the LS Nav POS to offer a fully mobile experience in the restaurant, as the waiter can seat guests, take their order, and complete the payment (with split bill) at the table with the LS Nav App.
New functionality for retailers using the mobile POS app
We have released a new version of our mobile POS app for the Android platform. The mobile POS now offers:
Return by receipt functionality, enabling quicker returns by scanning a barcode on the receipt.
Staff permissions. The permission settings set in LS Nav now also apply to functions in the mobile POS.
A new, more user-friendly look of the user interface.
More logging of actions for support purposes.
Improve turnover with Store Stock Redistribution
In this release, we introduce a new functionality that will help you avoid stock-outs and improve turnover with automatic replenishment. With Store Stock Redistribution, you can easily calculate the actual inventory and demand across your stores and warehouses, and propose product transfers to refill your stores from other stores, or from the warehouses. Thanks to this new feature, you can now:
Easily define redistribution rules and transfer cost between locations. This is done with the Redistribution Matrix, which is based on hierarchy relations. In the settings, you can decide how stock in warehouses should be considered.
Calculate routes (distance and duration) between stores and warehouses with the new integration to Bing Maps API (more information below).
Predict expected future sales using the newly introduced Lifecycle Curves (more information below).
Calculate redistribution proposals using different strategies, including sales demand (until end of season/lifecycle/horizon), stock balancing, reorder point / max inventory.
Analyze transfer order proposals by different variables, including lowest number of trips, lowest cost, shortest distance or shortest duration.
Track the expected sales increase, redistribution cost, actual weight, volume (cubage), expected costs, sales and profit amounts on all levels of detail in each transfer proposals.
Calculate store stock redistribution manually or automatically (with LS Nav Scheduler) .
The Store Stock Redistribution feature is a powerful addition to the LS Nav replenishment suite, and it applies to both seasonal and non-seasonal items. With this new feature, you can optimize inventory by identifying current and future stock outs, and increase sales and turnover through the proposed Transfer Orders.
Calculate geodata for your locations
You can now calculate geodata (longitude and latitude) for your stores and locations with the new Bing Maps API integration. This integration is currently used to calculate routes (including their distance and duration) in the Store Stock Redistribution feature.
Forecast demand with Lifecycle Curves
Lifecycle Curves is a new concept that describes the sales behavior of an item over time. Users can define the level of detail (day, week, or month) and length of the lifecycle, and the system will show the lifecycle sales pattern based on historical sales data. Lifecycle Curves are assigned to items either on the Retail Item Card or via the Lifecycle Curve Links page. Currently, Lifecycle Curves are only used in Store Stock Redistribution to predict sales demand until the end of the calculation horizon. We plan to apply this feature to other areas in future releases.
Source Customer Orders flexibly
The Customer Orders functionality enables retailers to sell items that are available in another store or in a warehouse, and to deliver them to the customer's preferred store or address. In this release, we have increased the functionality of the service to limit the risk of overselling items. The new web service "GetItemInventory" calculates available inventory taking into account how much stock has been reserved for Customer Orders. This way, retailers don't run the risk of overselling items on their e-commerce platforms. To simplify setup and maintenance of customer order sourcing, we have added setup fields to locations cards which indicate if a specific location can ship Customer Orders, and if customers can collect Customer Orders there. The values you set are then inherited in the Customer Order Sourcing Location setup. You can also now create a customer order that will be sourced from the same store where it is created. This means you can use Customer Orders sell items in the store, and then have the customer collect them – or ship them to the customer's preferred address. This is a useful feature for experience stores or showrooms where customers only see a display item, and stock is kept elsewhere.
Get a better overview on inventory
A new inventory dashboard called "Retail Item – Variant Dimension – Location Availability" (accessed from the Retail Item Card) gives full information on your current inventory, including items both with and without variants. The Extra Dimension Filters can be used to calculate aggregated inventory quantities for multiple variants, if set to blank.
Give detailed loyalty information on the e-commerce site
Customers who are part of your loyalty program can now see details of their status on your e-commerce site. Information includes points balance, how many points the shopper will earn when buying the items currently in their basket, and how much remains to be paid if all available points are used as payment. These web services can be implemented when integrating an e-commerce solution to LS Nav using the Member Management module.
Deliver conversational commerce at the LS Nav POS
Clienteling is a modern Point of Sale interface that enables sales staff to provide more personalized and interactive customer service. The clienteling POS interface, introduced in LS Nav 2018, is now also available in the LS Nav POS (web version).
Guarantee secure transactions at the windows POS
You can now offer secure, EFT-compliant transactions at the Windows POS. This was achieved by enabling the Windows POS to leverage the LS Pay engine through the LS Hardware station.
Streamline your kitchen with the improved KDS
In this release we are introducing more functionality for the Kitchen Display System (KDS), so it can better support the flow of your kitchen.
Send Kitchen Order Tickets to KDS for printing
We are happy to introduce a new KDS Printer option for Kitchen Printers. The POS sends the Kitchen Order Ticket (KOT) to the Kitchen Service, which will then handle the printing. This is particularly useful for restaurants with many printers: because there is a modal window on the POS for each ticket, the POS is unavailable as long as tickets are being printed with the Windows Printing option.
More flexibility in your KDS setup with POS Tags
You can now create and configure POS Tags, which you can send to the Kitchen Display System. Let's say that you have added some information about a Buzzer ID to your transaction; you can now send that ID over to the KDS, if needed.
Improved workflow in the kitchen
We have added a new option on the Display Station, "Show only when bumped on prior stations". When this option is selected, items will be shown on a specific station only if they have already been bumped on all prior stations.
Better overview on served items
The new operation Serve enables you to mark items in a chit as served. This is useful when you need to serve an order in different moments – for examples, serving items to the children at a table first, before all the other dishes of the table are ready.
New ways of seeing how long items have been waiting
Previously in LS Nav you could only see how many seconds had passed since an item had finished cooking. It is now possible to see the cooking time as a percentage. At the KDS, you will therefore be able to easily see if an item has been on a Display Station for 80%, or 110%, of its estimated cook time.
Clearer view of upcoming items
Now your chefs can get a better overview of how many items are on the display station, how many are due within the next X (time bracket configurable) minutes, and how many are in the queue afterwards. This feature is especially useful when there are many lines or chits on the stations.
Technical changes
For the technically inclined, here are the most important changes taking place with this release.
LS Hardware Station: improved setup, more EFT options
In order to improve speed and performance, we have changed the way the LS Hardware Station loads devices. The process is now simpler and quicker, and enables users to make changes to the setup. More information can be found in the release notes. The LS Hardware Station now comes with a new version of the LS Pay payment processing engine, with two new plugins to payment providers PayEx and AltaPay. The Hardware Station can also now support Windows printers.
Decoupling from LS Nav code: the importance of Events
Our work to separate LS Nav code from the standard Microsoft code continues. In this version, more code has been moved from Microsoft objects to LS Nav objects by subscribing to Microsoft events. We want to help our partners do the same. LS Retail gives request from partners to add events to LS code priority. LS Retail partners can ask for new events by submitting a ticket to the LS Retail Support team.
More web services moved to SOAP
The work to move all web services to SOAP continues. In this version, 16 more web services have been moved to the new format. Read more information can be found in the LS Nav release notes.