LS Central version 17.2 was released on January 21, 2021. Here's a summary of the improvements and new functionality we have introduced.
LS Forecast: predict the sales trend of your items on monthly level
Use LS Forecast to calculate and predict the future sales trend of your items on a monthly level. Previously, LS Forecast could only calculate daily and weekly forecasts. While you might want to utilize the highest precision for your priority one items, and therefore keep their forecasts more frequent, a forecast on monthly level can be sufficient for slow-moving and lower priority items.
Use the monthly forecast result in Replenishment
We have introduced the Monthly Sales Buckets to break down and translate the monthly forecasts into daily quantities, so the sales forecast value can be used in Replenishment to suggest order quantities for your items. The buckets provide an overview of the sales distribution pattern for each item or item group across the month. These are grouped into 31 days, from day 1 to day 31 within the month. This pattern is calculated using the historical sales data of an item group for a specific location, or for all locations.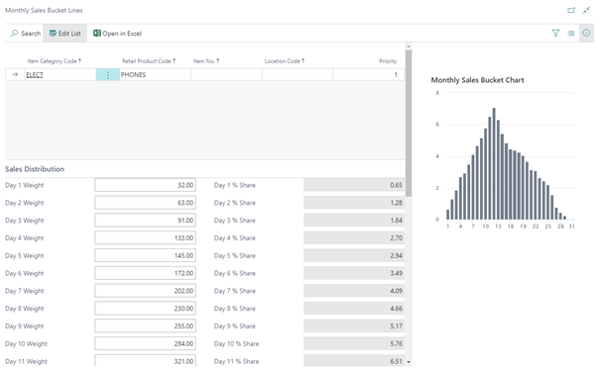 (Monthly Sales Bucket for product group in all locations)
Replenishment: considering sales history adjustments in retail sales budget
The 'Sales History Adjustment' functionality corrects the sales history and eliminates sales spikes that were created by one-time events. This functionality can also be used in implementation projects to simulate item sales history without having to create Item Ledger Entries.
You can now use sales history adjustments in retail sales budgets. When creating a retail sales budget using the historical sales data, you now have the option to also consider the adjustments that you have made to the sales history. As a result, you can easily exclude outlier sales so they aren't considered in your budget, and you can calculate the budget from sales history even without the presence of Item Ledger Entries.
Restaurants: better manage time slots
Better manage your time-slot reservations in LS Central. Perhaps at lunch you have a 15-minute interval between table reservations, while at dinner you only have two 90-minute slots. The system can now more easily reflect your real-life setup. You can now set different time periods, such as lunch or dinner, in the Reservation desk and in the Table Allocation process.
Restaurants: see groupings of items at the KDS
We have enhanced the Kitchen Display System (KDS) with a new panel. This panel, called GroupBy, groups all of the unique combinations of items and item modifiers that are assigned to a specific display station. This functionality helps kitchen staff see what needs to be prepared at each station at a glance, making your kitchen more efficient.
Enhancements to LS Activity
Reservation software LS Activity is a core part of our offering for hospitality businesses. We are constantly strengthening and extending its capabilities.
Enhancements to the activity matrix
The activity matrix provides you with a very clear overview of available resources and slots during a given time period. You can now drag and drop activities between resources (for example, you can move a sports massage to a different room, or to another therapist) and between time slots (for example, you can move the massage from 11:00 AM to 3:00 PM).
When you hover over the activity, you can now see more detailed information. You can fully customize what information will be displayed in this hover/tooltip (this is done in Business Central).
See reservation allowances at the POS
At the Point of Sale, you can now view remaining allowances for a reservation. For any package that comes with some allowance, for example a coffee drink, you can quickly look up which items are included in the allowance. This visibility makes it much easier for your staff to serve customers who have purchased a package.
LS Central for hotels
We continue to expand the functionality of our unified commerce software solution for hotels and resorts LS Central for hotels.
Automated cancellation charges
When a reservation is cancelled, the cancellation fees (if applicable) are automatically added to the reservation. This removes the need for manual action.
Enhanced tape chart
We have added more ways to view information in the tape chart, a calendar view of bookings that was introduced in LS Central 16.4. You can now toggle between room types and the room list (by room number), and see the basic details of a reservation details when hovering over it.