LS Central 17.0: Improved reservation functionality, cost-effective forecasting, support for payment tokens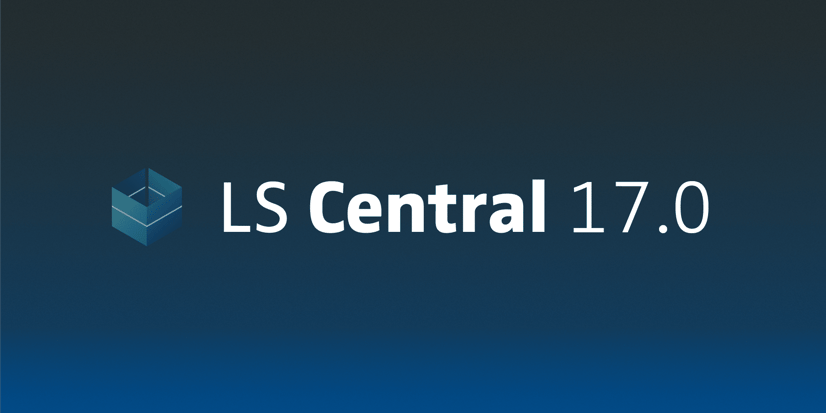 LS Central version 17.0 was released on November 26, 2020. Here's a summary of the latest improvements and new functionality.
EFT: support for payment tokens and pre-authorization
Payment tokens will become an increasingly important component in retail transactions. We are happy to announce that LS Central now supports the use of tokens in the EFT process.
LS Central can now store payment tokens and use them if they are available in EFT transactions through the POS.
It is also now possible to get a pre-authorization for your payment using the support for pre-authorization commands available in LS Pay. This enables you to get a pre-authorization, and later increase or decrease the authorized amount and capture the payment, with the same effect as a regular EFT purchase.
LS Forecast: predict the sales trend of item variants as a group
Do you work with many item variants? We have great news for you: you can now let LS Forecast calculate and predict the future sales trend of your item variants as a group. When you treat variants from the same item as a group, you have to deal with fewer stock keeping units, which also reduces the number of calculations in LS Forecast. This way you can utilize LS Forecast in a cost-effective manner even when you are working with many item variant combinations.
Use the group forecast result in Replenishment
We have introduced the Variant Sales Buckets to break down and translate group forecasts into variant level, so the sales forecast value can be used in Replenishment to calculate the order quantity for each variant. The buckets provide an overview of the item's variants sales distribution pattern, which is calculated using the historical sales data of the variants for a specific location, or for all locations.
The result is a win-win: you save costs by having fewer calculations in LS Forecast, and you can still leverage the forecast result in your replenishment to accurately determine how much you want to order for each item variant, and when to order them.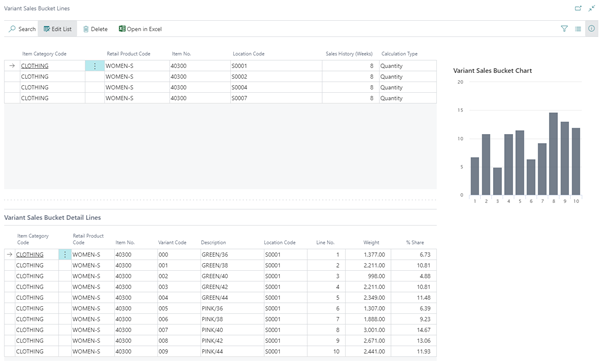 (Variant Sales Bucket for an item in specific locations)
Enhancements to LS Activity
We are constantly working on making the LS Activity booking functionality stronger and richer.
Simplified group reservations
Businesses that manage events and activities – be they hotels, restaurants, or stores - often need to plan and book activities that are in common for a group. For example, they may need to book a dinner reservation for a group, or register them all to a trip that includes a ferry boat ride and a visit to a museum. From this release on, you can easily create group activities, and have them go to a Paymaster reservation linked to the group.
Faster activity search
If your organization has a lot of activity products (for example, health services), then you need a way to find the right product fast – especially when you have the customer waiting in front of you.
We have introduced new search tags and Activity Type criteria, which make it much easier to search and find the right activity, fast.
Enhancements to reservations
When making an activity reservation, you can now:
Attach documents to the reservations for future reference.
Show the task schedule for the reservation on the reservation card.
Search for both phone and email in the name field on the reservation card and the activity card.
Hotels: improved calendar view, group bookings and internal communication
Enhancements to the Tape Chart
In LS Central 16.4 we introduced the Tape Chart, a calendar view of bookings. In this release we are enhancing it: you can now see unallocated reservations for the period set on the chart. You can then allocate each reservation by dragging and dropping it to a specific room.
If there are no unallocated reservations for the specified period, then the unallocated panel is hidden.
Another addition to the Tape Chart is the possibility to change the date of reservations by simply moving the reservation to another date. If this change involves a price difference, then the user will be notified and prompted to either confirm the change or cancel it.
Hotel Groups with LS Activity
LS Activity is a powerful enhancer to LS Central for Hotels. For a hotel, booking a group and maintaining the guest list are essential functionalities. You can now synchronize the guest list with the linked Activity group booking, to keep a clear overview of all activities for all rooms and all guests. All charges to the activity and room are seamless, which makes all management of groups that much easier.
Enhancements to the Rate Code (with LS Activity)
The Rate Code setup is now even more powerful than before. We have added Rate Attributes to the Rate Codes.
Rate Attributes can be an item, a hotel package (multiple items) or an activity product (a single activity, or an Activity Package with an allowance).
Rate Attributes are very flexible, and can for example be set to be valid:
Per day (for example, breakfast every day)
Per reservation (for example, one dinner during the entire stay)
On arrival (for example, a welcome drink)
At departure.
To give you an idea of the flexibility of this functionality, you could add as an attribute an Activity package including a spa visit plus dinner, with an allowance for a drink. The guest would then be able to freely select which drink they want to enjoy when they are using the allowance.
Improved reservation management
Communication is key in hotels: your staff needs to be kept up-to-date and empowered to find information quickly at all times. The Reservation Comments section now enables all hotels staff to add comments to each reservation, fast and easily. You can even attach documents to the reservation and create tasks related to the comments, if needed.
Scales supported in the LS Central Hardware Station
In this release, we reintroduce the functionality of weighing scale items through the LS Central POS. We have also added support for scale devices to the LS Central Hardware Station. This is an important feature for retailers that sell items whose price depends on the weight of the items.