Even if more consumers will venture to stores this holiday season compared to last year, online purchases are still expected to make up the majority (62%) of holiday spending, according to the latest Deloitte holiday retail survey.
Retail executives are betting on the importance of digital: 40% of those surveyed by Deloitte expect double-digit growth in their online sales.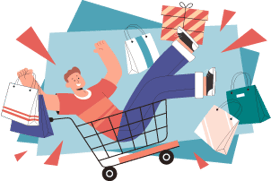 With supply chain and shipping issues becoming a global concern, it's important for retailers to avoid the risk of further delays and breakdowns in their customers' shopping experience. Here are a few ways you can optimize your e-commerce strategy to ensure a positive customer journey.
Customize recommendations based on data
Since your e-commerce storefront can't take advantage of some of the benefits of in-person merchandising (visually striking product displays, can't-miss signage, employee suggestions) you need to make sure that your customers see the products that are right for them. Use all the solutions at your disposal to create a 360-degree view of your customer with a unified database, then use AI and ML to create relevant product suggestions based on this single, clear vision of consumer behavior.
These cloud-based tools use real-time data, and can offer suggestions to the shopper as they are browsing your site, factoring in not only the consumer's purchase history, but also items that are currently trending with other shoppers. As user behavior is identified across channels through data mapping, the recommendation algorithms will "learn" from this data and change accordingly to make more precise suggestions.
The more quickly you adopt these tools to help you make sense of your data as shoppers hop from one sales channel to another, the more ground you can gain in the race to provide the most satisfying customer experience.

Prioritize the mobile shopping experience
This holiday season shopping will largely happen on mobile. According to predictions from AppAnnie, U.S. consumers will spend more than 900 million hours on mobile shopping apps in the next few months - that's a 20% increase over last year.
Mobile will drive purchasing – but that doesn't mean people won't be visiting physical stores. eMarketer expects mobile apps to drive an increase in click and collect transactions. With shoppers increasingly concerned about out of stocks and delivery issues, retailers should expect a huge shift to click and collect transactions, especially in the days right before the holidays.
Add all of these points together and the facts are clear: having an e-commerce site is fundamental, but not enough to attract business this holiday season. You also need to make sure that it can deal with the high traffic coming its way, that it works well on mobile, and that you can track inventory and sales across all your channels, to avoid the risk of selling online items that are already our of stock in-store. A unified system like LS Central, which uses the same database for all locations and gives you clear and real-time visibility of all the products you carry, is fundamental to offer a great customer experience – no matter if people shop with you online or in person.
When your customers know that the products you sell on your eCommerce are actually available, and will be delivered on time – or can be picked up in store at their convenience - , they are much more likely to click on "buy".
Give options
Modern consumers want to be able to decide how to buy and receive products. Online shoppers want their deliveries handled either quickly or – even better – cheaply, with an overwhelming amount (85%, per Deloitte) preferring free over fast delivery. Most of these people say they are even willing to wait over three days for their delivery to arrive, if shipping is complimentary.
Home delivery is popular, but it's not the only option your customers will select this holiday season. Offering a variety of flexible delivery and shipping options remains essential to building loyalty with your customers. Offering simple product returns and exchanges is also increasingly essential: according to research by Uberall, two in three (66%) US shoppers say they're more likely to purchase an item online when it can be returned to a local store.

No matter whether a shopper chooses to get their products shipped, or pick up their order at the curbside, or return in-store a product bought online, to guarantee a positive shopping experience you need to have clear visibility of your sales and customers across all your channels.
To achieve an end-to-end vision of all sales channels, and know what is available in the stores and warehouses, retailers need unified commerce systems that unite all their business data within one database, giving them clear and complete visibility. This holiday season, don't risk losing a sale because you can't locate the item your customer has come to buy – and which was marked in-stock on your website. Holiday shoppers have no time for such inefficiencies, and they will move on to the next retailer to find what they need.
Are you able to offer them the convenience and consistency they're looking for in a brand? Check out our e-book on the benefits of unified commerce technology or contact our experts for more information. The technology you need to offer great unified omni-channel shopping is already available, and has never been easier to implement.