How to attract talented people to your retail organization, and keep them there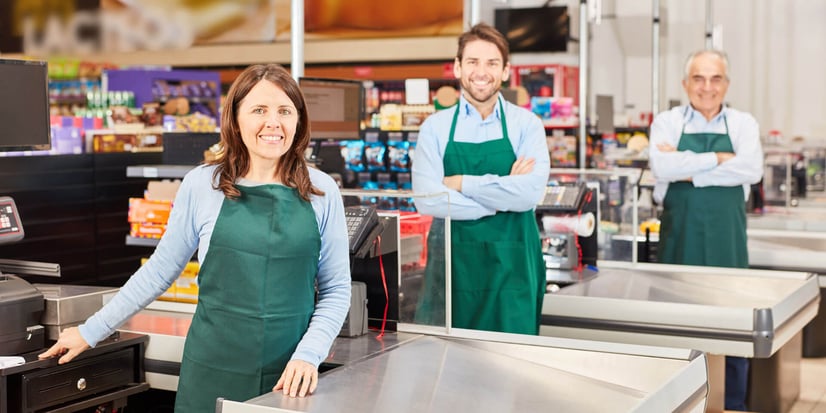 What makes your employees tick? At US grocery store Trader Joe's – recently named America's best employer by Forbes – employees said they appreciate its relaxed dress code, above average wages, generous benefits packages, perks like twice-weekly product taste tests, and a team-minded atmosphere, where even management will lend a hand when the checkout lanes are busy.
Since it was founded over 50 years ago, the company has remained committed to employee wellbeing. "We stay true to what we know works for Trader Joe's and our crew members," Jon Basalone, president of stores at Trader Joe's, said to Forbes. "You combine that with the pay, benefits and supportive, fun environment, and people tend to want to stick around."
Happy employees provide true business value
The benefits of happy employees reach far beyond employee retention rates, though. Retailers like Trader Joe's acknowledge that if you have motivated, content employees, they are more productive and successful, and you're also more likely to have happy customers. It's no coincidence, then, that Trader Joe's also tops the list in customer satisfaction surveys.
Another US grocery store, Publix Super Markets, was recognized as a top employee by Fortune. "They actually care about your life outside of work – your short and long-term goals, beliefs, your family, your struggles and successes," an employee said. "We aren't treated like work robots with one sole purpose; we are treated with great respect and appreciation."
When The Times surveyed 28,497 employees to find the best workplaces in the UK, it found that the clear leaders were the ones who placed less pressure on performing and promoted a good work-life balance. In most instances, favorable employers rewarded success and showed compassion to employees in times of need.
Wherever you look, qualities like these prevail across successful, thriving organizations where employees feel valued and are treated as the individuals they are. This is something we truly believe in at LS Retail. In fact, we were recently awarded best employer in Iceland by the largest trade union, VR. This is an award that is based solely on employee feedback from the most comprehensive workplace analysis in the country, and takes into account attitudes towards different business factors including management, morale, pay, working conditions, job flexibility, corporate image and equality.
If you're looking to improve your employee retention rates and boost morale, here are some tips from our Chief HR Officer, Bergthora Hrund Olafsdottir, around how we manage talent at LS Retail, what we do to keep people motivated and how we encourage them to stay with us.
1. Attract the right people in the first place
Good reputation is the best marketing strategy for recruiting, and your existing employees tend to be the best recruiters. That's because great people attract great people. We take into serious consideration our current employee's referrals, and ask them to help us find new members that would fit into the team. At the same time, we also try to reach out to fresh graduates, with the goal of nurturing and recognizing talent early on. We participate in university and higher education events such as Girls in Tech, recruitment days and student visits. We also offer internships and work experience placements whenever we can. Many of the students that joined us on a summer internship ended up staying with us, or coming back – to us, that's a great sign: we are creating a work environment people don't want to leave.
2. Give your employees a sense of purpose
We take great pride in providing an excellent working environment where everybody is surrounded by highly qualified people who are empowered to do their best every day. Employees know that good teamwork is highly valued, and that everybody has a voice. This comes across clearly in our workplace analysis: we score the highest on items regarding the commitment shown from co-workers. In other words, our employees feel that the team they work within is committed to doing quality work. Many of our employees also say they have made friends who care about them at work, that they feel proud of working for the company, and they know that their opinions matter.
3. Keep morale high with transparent communication
At LS Retail, we have employees working across 21 countries, many of them from their home office. When you have a distributed team, good information sharing is paramount. To do that, you need to communicate clearly from the top down, and give your people the right tools to make information sharing and collaboration as easy as possible. At the same time, it's also key to have an inclusive HR policy. This means that when you run training days or meetings for employees at HQ, all the information must be made available to those who cannot attend.
For example, when preparing for our annual partner conference, conneXion, we presented all sessions beforehand to our employees. We wanted to ensure that all employees could see them, no matter where they are in the world, so ended up streaming all the presentations online. We also hosted an innovation event online which enabled everyone to participate in a project and collaborate with other employees globally. This is a great way to build connections across regions.
We also emphasize the importance of listening to our employees, and work on things that are reported as improvement opportunities. Instead of traditional employee reviews, our managers have continuous dialog with their employees. These dialogs, which we call "quarterly conversations," are forward looking, focused on supporting our employees to achieve their goals. We also make sure we have fun together, and organize team-building events, parties and days out across our offices.
4. Offer flexible working options where possible
Flexible work conditions are just as important for your employees as they are for your business. If you, as an employer, are asking for flexibility from your employees, you must be willing to give them flexibility back. Our company policy is to offer a good work-life balance. As part of that, we are open to all flexible working requests, such as working at distance outside normal working hours when needed. We do what we can to accommodate our employees' needs, including giving them the tools to access all the resources they require from outside the office. We also firmly believe in making clear to employees what is expected from them. This simplifies their work – and guarantees better results for everyone.
5. Listen to your people
Do you feel that your business is struggling to retain employees? Perhaps you're not truly listening to your people. If you don't listen to what your people are saying, you can't react – or at least give them a good explanation as to why you can't do something on a particular occasion. Take the time to hear what your employees have to say: you'll earn their respect, and will decrease the risk of losing talent. Plus, you never know where the next great idea for your business may come from!
Of course, listening works both ways. Make sure you provide clear, solid feedback on employees' performance (when they are doing well, and during the times when they need guidance). If you use non-judgmental words and clear examples, they'll be more likely to take your feedback on board.
Ultimately, you need to empower your employees to do great things, trust them and give them authority to act in the company's best interests. And never, ever play the blaming game. Everybody makes mistakes. Rather than pointing the finger, take the opportunity to learn from past errors.
Retaining committed, competent employees is a challenge in many sectors. In this respect, the IT industry is not so different from retail. A great way to develop enduring relations is to ensure you treat your employees with respect, and give them the opportunity and tools they need to do their best work every day.