Open restaurant franchises faster using technology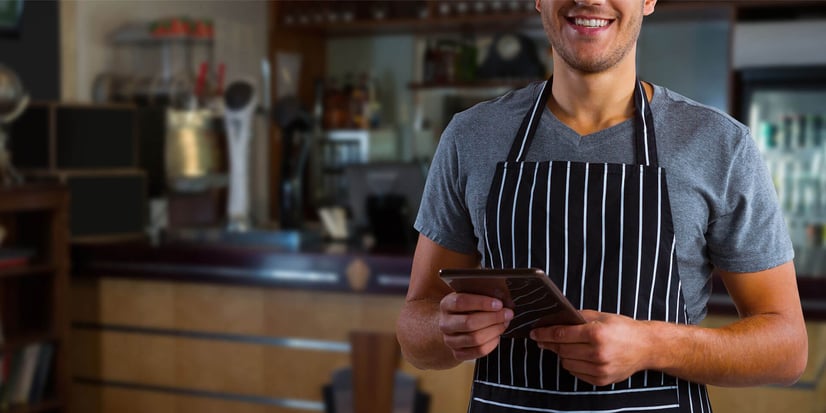 A large fast-food restaurant chain is in the process of opening up a new franchise. It's a big upfront investment for the franchisee owners, and everybody wants to get the restaurant open as quickly as possible.
From the moment the builders break ground, the pressure is on to get everything ready for launch. On top of all the obvious stuff to consider and install – think food preparation stations, ovens, sinks, ventilation, customer seating and bathroom areas – the business owners must dedicate time to selecting the right restaurant management technology. If they pick the right software, it will guarantee smooth day-to-day operations for the business for years to come. If they pick the wrong one, though, they may experience chaos during rush hour, frustrated employees, problems seeing and understanding their data and, worst of all, unhappy customers as a result of system inefficiencies.
Put yourself in the franchisee's shoes for a minute. They've already paid out a few hundred thousand dollars before they're up and running. Now they need to know how quickly they will see a return on investment, how challenging it will be to recruit good staff, how long it will take to become profitable, and what support they will need from you at HQ.
As the brand franchise, how can you help? What technology should you be equipping your restaurants with? Ideally, you want future-proof technology which can easily adapt as your businesses grow. You will need a single Point of Sale (POS) interface which can be rolled out across multiple locations, a system which is easy for new staff to learn and use, technology which distributes information clearly according to individual job roles, and a system which can handle your changing menus. And you want everything to be connected so that your POS terminals seamlessly integrate with your enterprise resource planning (ERP) system and bring all your data together – so you know exactly what's going on across each and every location.
One POS interface for all locations
Any restaurant franchise needs to have in place a technology infrastructure which allows them to grow and expand, while simultaneously ensuring that they remain in control and retain their brand values.
A key way of doing this is by choosing technology which allows you to centrally design the POS interface for all your locations. This kind of functionality can save you a lot of time and effort at a time when you need it most – the opening of a new location. You simply set up a master restaurant once, and then deploy new locations with the simple push of a button. A new restaurant POS can be up and running in a matter of minutes. All the data is there, as it mirrors all of your master settings and menus, and it's ready to use straight away.
Train staff, quickly and easily
In the restaurant industry, workers tend to be transient, which means that staff turnover is normally quite high. This can be a real pain point for restaurants. Recruiting and training staff is very time consuming and costly, and just when you think you have a new employee fully up to speed, they may leave in a matter of months.
It's important, then, that the systems that you use are intuitive, and easy for all employees to operate. Ideally, you want your POS set up so that if your staff know the menu, they can find their way around the system without much trouble, and without needing extensive training. It's a double benefit for the franchisee; if they know the menu they can communicate that effectively to the customer and, in turn, use the system efficiently to add orders.
Organize for productivity
Role-tailored, permission-controlled user interfaces, again which can be configured from headquarters, help your franchisees better organize their workforce. And real-time reporting allows managers to monitor staff performance and quickly see how different parts of the restaurant are functioning. This way they can pinpoint areas they need to focus on, see where staff may be falling down, and highlight training requirements.
If you have productive staff from the start, chances are you won't need to hire as many workers to keep your restaurants running smoothly, leading to cost savings in the long run.
Ensure smooth kitchen operations
Quick service restaurants often offer many menu options. For customers, this means having what feels like an almost infinite number of food options to choose from. For the restaurant, this means being ready to prepare not only all the items on the menu, but also all possible variations. Eggs sunny side up or scrambled? A regular hamburger with extra cheese and no mustard, please. Can you make the pancakes gluten free? From cooking preferences to specific dietary requirements, your staff need to be able to easily manage customer requests, and seamlessly feed the information to the kitchen to ensure all dishes are prepared exactly to requirements and served in a timely fashion.
Set high standards and maintain your brand values
Make it as easy as possible for your franchisees to fulfil their potential and adhere to your brand values. Direct integration with your ERP system gives you a complete view of your entire business, from the kitchen display systems and POS to your inventory, and helps you plan across the entire restaurant base to take action when necessary.
With this setup, you can be sure that every POS terminal, regardless of location, is always displaying the most up-to-date information and it's completely accurate. You want your customers to have a consistently good experience. That means your franchisees need to be able to offer the most current menus, prices and promotions. At the same time, you can make sure you're planning ahead more effectively by working with real-time sales and order information, which comes directly from the POS to your ERP.
Understand your business and grow
Powerful data analytics allows you to generate the reports you and your managers need to identify operational strengths and weaknesses, pick up on trends, closely monitor cash flow, and effectively manage risks and costs across your operation, helping to increase your bottom line.
If you use the same system across all your restaurants, you're far more likely to be able to see patterns and spot issues quickly. If a unit is underperforming, you can find out exactly why, and fix problems before they escalate. Customize your reports so you can monitor what's going on across all areas of your business by different variables and make adjustments for long-term growth.
Future-proof your business with unified commerce
Today, many successful restaurant franchises recognize that a unified commerce platform can help meet their unique requirements. Unified commerce software gives restaurant owners and managers complete visibility over their entire business, from the back office all the way to the kitchens and front of house. Unified commerce also streamlines day-to-day operations, from an enterprise point of view, down to each single location.
It means that all of your staff are equipped with modern POS terminals which are connected to one central platform. You'll be able to keep them up to date and ensure every restaurant is running the latest menus and promotions, so that all staff have the information they need, including nutritional and allergen content. This helps productivity, cuts down on human error, and empowers you to deliver great dining experiences, as you can put all your focus on serving guests.
The advantages carry through into the kitchen, too. A unified commerce platform complete with a kitchen management system gives your franchise restaurants the best possible chance of running a streamlined operation and serving up food quickly and efficiently. It can guide new staff through the entire food preparation process, giving them real-time information about the status of customers' orders, telling them when to open or close processing lines to meet demand, automatically routing orders to the correct preparation stations and clearly flagging when meals need to be ready. And because the system is unified, you can easily add the ability to give customers flexible ordering options. If they want to order online and pick up from the nearest restaurant, they can. If they want to place an order in the morning and collect it later in the evening, they can do that too. Finally, when you want to make changes to all the menus of restaurants in your chain, you simply update it from headquarters and transmit it to all your locations, instantly.
Does this all sound too good to be true? It's not. Get in touch with us and request a demo. We'll show you how we make it all possible, easily, with LS Central for restaurants, the complete restaurant management solution which can meet all of your franchise business requirements.