6 ways retailers can avoid being haunted by a poor customer experience this holiday season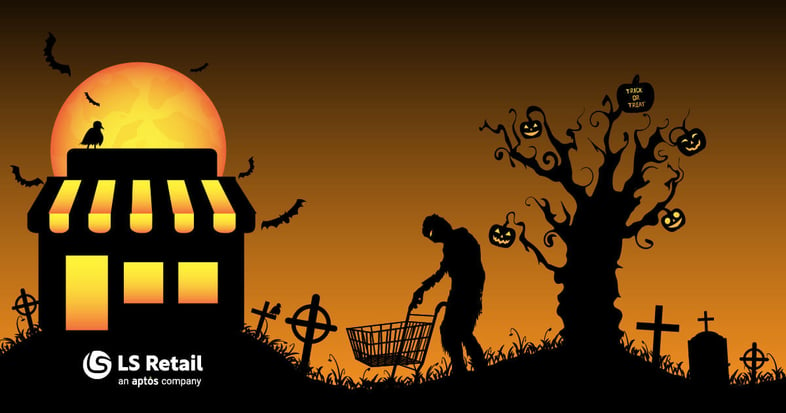 In the not-too-distant past, Halloween served as a colorful demarcation between the summer months and the ensuing winter holidays – a playful omen of the massive consumer-spending to come. These days, the National Retail Federation estimates that 40% of consumers in the U.S. begin their holiday shopping before Halloween.
It's important that you are prepared to handle this influx of shoppers and maintain the same quality of customer service you strive for during the rest of the year. Customers tell an average of nine people about a positive customer experience, but tell 16 people about a negative one, Deloitte reports. While this figure is terrifying, strategic holiday planning can help you face your fears. Let's check out the best ways to avoid being haunted by negative customer experiences over the rest of the holiday season.
Eliminate out-of-stocks
Customers enter your store expecting to find what they're looking for. This should not be surprising, yet a study done by the IHL Group has shown that retailers are losing almost $1 trillion dollars in sales every year due to out-of-stocks. The statistic is shocking, but it indicates an opportunity for your business to be the place where the popular products are always available. When your customers walk through your doors, they are choosing your business over others. Respect that choice with consistent product availability. To make sure your store is always carrying those "must have" holiday season items, you must optimize your inventory management system.
How efficient is your replenishment? How automated are your purchase orders? When you maximize the functionality of your inventory system, you can eliminate the waste of over and understocked items by having total visibility of your merchandise. It doesn't matter how many stores you have or how many channels you sell through, a modern inventory solution will give you a real-time look at the inventory your locations and warehouses are carrying. When your store makes the most out of its inventory management, your customers will leave with both the items they came in for and a great review to share with their family and friends.
Offer exceptional promotions
If there's one thing consumers love, it's cashing in on great deals. These days, the expectations of consumers are set to assume you will have outstanding sales the moment the jack o' lanterns have been moved to the clearance table and the leftover Batman costumes have been marked down. Shoppers start hunting for deals in droves when the calendar flips to November 1st, and it's up to you to be ready for them. This means the benefits of preparing for and running promotions for your retail business can't be underestimated.
Ideally, your promotions should benefit both your business goals and your customers' demands. Know where your pricing fits in the market relative to your competitors' prices and measure the success rates of previous promotions. Be careful to maintain the perceived "value" of your products when promoting sale prices – your customers would rather buy a product of value than one with a price that is suspiciously low. Running several different promotions at once can allow you to target a wider variety of shoppers. This can be complicated, but if you select a retail management system with powerful promotional functionality like LS Central, the process of running compelling deals is easily done. You can manage multiple promotions at once, plan their periods of activity, set a hierarchy that clarifies which promotion should override other promotions, and track the results of each campaign.
Customers will have positive experiences when you offer bundle discounts, initiate buy-one-get-one-free deals and create personalized offers that can fit your shopper's tastes while maintaining a considerable profit. These strategies are not only great for improving your margins, but also give your shoppers the sense of satisfaction that comes from getting all the items on their lists at great prices.
Reward loyalty
As you seek to provide an amazing customer experience for your shoppers, it's important to remind them of how important they are to your business. With the implementation of a loyalty program, your stores can share their investment in the customer's satisfaction with the customer themselves. You can strengthen their connection to your brand by delighting them with surprise discounts, custom-tailored according to their purchase history.
Plus, the more your shoppers take advantage of these promotions, the more you'll be able to gain further insight into their spending habits. This means your future rewards will be even more targeted to their preferences, and you could even include limited-edition items or personalized experiences. When you know your customers well, it's easy to design rewards that really hit the mark. A clear insight into what your most loyal customers love can also help you improve your long-term inventory management.
Nielsen reports that 72% of consumers will buy from a retailer with a loyalty program over one without, so what are you waiting for? These kinds of programs can be easily set up at the points of sale and can be accessed via mobile devices, so you could even give customers the option of going cardless. Let your faithful shoppers know that your business values their business and delight them with an unexpected but personalized purchasing experience.
Embrace unified commerce
With consumers increasingly incorporating online technology into their daily routines, the reality is that your business should ideally have both traditional and online storefronts. It is equally important that these storefronts can share data in real-time, so all commerce channels can make the most of what your business has to offer.
Some retailers attempt to solve this issue by using add-ons which they integrate with their current systems. However, these can leave you with a Frankenstein's monster of different modules and vendors, all producing inconsistent data and functioning with suboptimal efficiency. As a result, you are left with frustrated customers who, after spending time comparing their options and deciding which to buy, end up with an email two days later telling them their item can't be delivered, because sorry, we just realized it's out-of-stock. Or worse, they may order an in-stock item online with pick-up in-store, only to be told at the location that it's actually unavailable. 58% of consumers say it's important that inventory status is visible online when shopping, reports Gartner.
With a unified system, you can decide which e-commerce promotions should match with those found in your street-side locations, while shoppers can return and exchange items that were purchased online at in-store customer service counters. Most importantly, the inventory numbers shown on your site will match the inventory at your location. Providing your shoppers with convenient and accurate product information is a sure way to provide them with a phenomenal experience.
Prioritize the employee experience
Technology might be the foundation for how your business operates, but many consumers still crave human interaction. Whether it's by phone, email, or on the salesfloor, the quality of your customer service shapes how your customers perceive your brand. According to a PwC report on customer experience, 82% of U.S. and 74% of non-U.S. consumers want more human interaction in the future. Is your store prepared to respond to this need?
Customers enter your store or website with a certain set of expectations, and it's important that your staff can consistently represent your store's culture of customer service. Make sure your business has a clearly defined set of beliefs regarding the customer experience, and don't shy away from investing in training programs that can offer further guidance and interaction with these values.
Your employees will find it easier to meet and exceed customer expectations the more your culture empowers them to be friendly, informed, and responsive. If the customer is having a negative experience, your employee should feel comfortable "making it right," even if that means giving them special pricing or in-store credit. Acknowledging a negative experience and quickly responding to it can make the difference when trying to maintain your customer's business.
Welcome and respond to customer feedback
Even if you've done your diligence regarding inventory, promotions, loyalty rewards, employees, and unified commerce, you might very well find yourself faced with a negative customer experience. It happens despite your best intentions and under even the best of circumstances. What matters is that you respond to your customers' feedback in a proactive way that shows you are invested in their opinion of your services. Remember, if they're taking the time to inform you of a poor customer experience, there's a very good chance they will also take their complaints to your other customers.
The same qualities your customers are seeking through human interaction when shopping can be applied when responding to negative feedback: empathy, friendliness, and a genuine willingness to make things right. Prepare to accept your store's potential shortcomings and use your customer's critique as a guidepost for finding solutions. The success of your business is built on the relationship you maintain with your customers. Be their champion when they are dissatisfied with their experience, and they will most likely continue to champion you.
With the holiday period frighteningly close, there is no time to lose in making sure you have all your holiday sales strategies in place. For more information, check out our e-book on how technology can help put the customer experience at the center of your business.