How Internet of Things could give flavor to your ice cream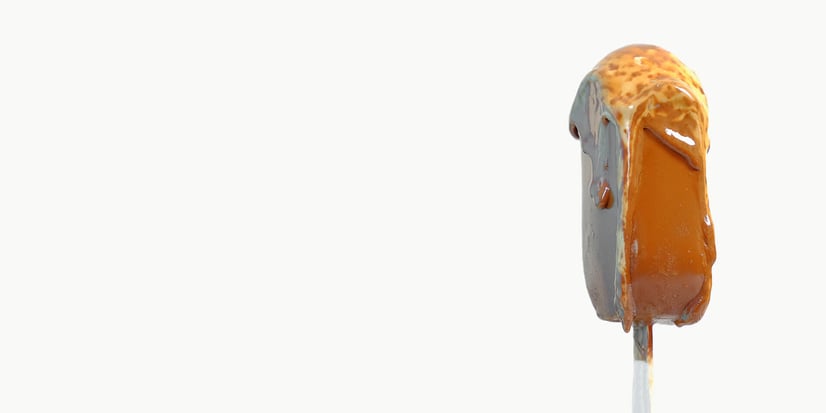 I was recently walking down the streets of Boston, a city I visit every now and then from my hometown of Reykjavik, Iceland. It was a very warm sunny day, and I was looking for the address of a specific sports retailer on my smartphone. I found it on a map close to my location; the map, however, also pointed out to me that there was one of my favorite ice cream places nearby. This being a very warm and sunny day and me being from Iceland, there was no turning back: I walked towards the temptation. As soon as I entered the ice cream place I noticed that two flavors were unavailable - sold out, according to the friendly server. I wasn't surprised that my favorite flavor was sold out on this warm day, but as I work in a team that develops software solutions for restaurant operations, I wondered if this could have been avoided. I started thinking, does this operator have the system in place to predict sales, and keep correct inventory levels? For sure, he was not expecting me there. As I sat down to enjoy the ice cream, I thought to myself how the map on my smartphone had captured me at the right moment for this ice cream place. Unintentionally? Maybe not. Prompting people with advertisements while they are searching for information online is nothing new. However, it is evidence of the great influence the Internet of Things (IoT) has on our daily lives. And this influence is growing.
What is this Internet of Things?
IoT is the latest buzzword embraced by information technology; there is a lot of talk about it now, even though most of us have used "Internet-of-Things" technologies in the past, long before the term swept the scene. It is true, though, that we have entered the next era of "connectedness", as more and more devices all around us are now linked together through the net. Research firm Gartner stated that sometime between 2010 and 2013 the number of Internet-connected devices surpassed the number of people on earth. As a matter of fact, the majority of people and businesses use Internet-connected devices to execute tasks every day.
IoT: a new world of possibilities
The restaurant business has taken advantage of IoT to some extent, for instance by allowing customers to make orders through mobile apps. These orders are then automatically transferred to Point of Sale (POS) and kitchen displays systems. However, the possibilities IoT opens up today are much greater than that. For example, restaurants can use IoT to match supply and demand, thus obtaining correct inventory at the back of house while increasing efficiency. IoT can also help restaurateurs enrich the customer experience by matching the offering of the brand to the personal needs of the customer. Successful use and implementation of IoT can provide restaurants with a more detailed overview and closer control of back office operations from all the locations. Restaurants are already using an interconnected infrastructure, from the terminals to the kitchen, to gain efficiency. By leveraging the combined power of smart devices, big data and analytics, restaurateurs can gain even greater control and productivity [Click to tweet]. Imagine using sensor technology on your kitchen devices to track menu ingredients in real time as well as supporting quality control and food safety. How much more efficient would your stock ordering be with this kind of real-time inventory management?
Making more sales with IoT
IoT solutions can increase your revenue as well as save you money. How? Tailor your promotions to customer profiles by matching customer data from your loyalty programs to information from big data cloud services. For example, if the ice cream place in Boston had done this, they could have anticipated more potential sales by
leveraging big weather data from external cloud services for the particular day I visited them;
comparing their inventory levels of ice cream flavors versus the customer loyalty program (if they don't have a loyalty program, they certainly should);
issuing a promotion to loyal customers like me based on the outcome.
Going further, the ice cream store could let customers act on that promotion on their mobile phone: this way I, fan of the brand, could make the order on my mobile, and then go to pick it up at their closest location. If the store had enabled sensor technology, like beacons at the location, my profile could be picked up on the Point of Sale terminal as I entered the restaurant (or even before). The servers would, by that time, have all the information about me they need for great customer service: from my name – which they could use to greet me personally - to information about my order. Unfortunately, for many brands in hospitality this level of information technology is still hard to reach. Some of the obstacles include, but are not limited to:
Security and privacy issue, limiting people's and businesses' adoption of IoT
Presence of system silos in restaurant operation
Lack of system interoperability and integration.
For sure, some of the external obstacles will disappear as restaurant customers drive expectations for IoT higher and higher. The latest-technology restaurant system, with their high levels of agility and flexibility, will serve as a cornerstone for successful future restaurant in creating competitive advantage. [hubspot id=3]