Develop a mobile strategy for your retail chain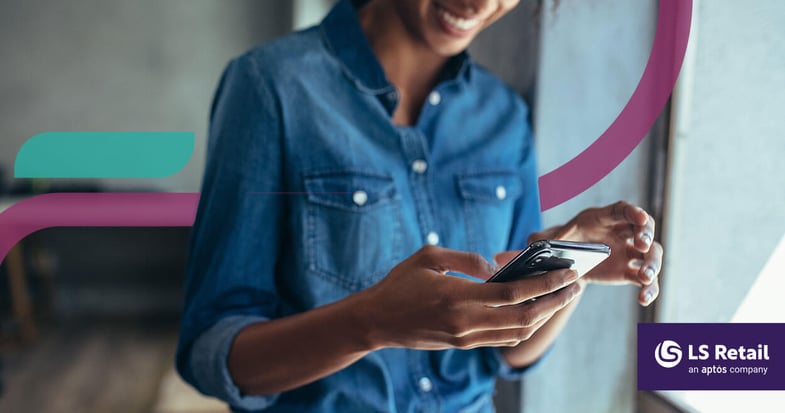 What proportion of your customers shop on their mobile devices? It's probably more than you think, when you consider that mobile commerce sales globally are worth more than US$3.5 trillion annually, according to eMarketer data. In fact, around three in four online sales are made on a mobile device, Oberlo reports. Are you doing what you can, then, to get a piece of the mobile pie?
When it comes to calculating the return on investment of a mobile retail strategy, the figures really do speak for themselves. According to McKinsey, omnichannel consumers make purchases 70% more often and spend over a third more than people who shop exclusively in stores. Why? The bottom line is, once again, convenience. No need to travel to your shop, or even boot up their laptop or desktop. Consumers can access everything they need in the palm of their hands – quick and easy.
So how can you make sure your mobile strategy works for both your business and your customers? Today, when we think about mobile, it's not just about having a mobile app or a mobile-friendly website. It's about making sure your customers can reach everything they need to from wherever they are and making the experience as connected and convenient as possible. This would encompass:
Your eCommerce website, which must be optimized for all mobile devices, allowing people to shop at their convenience and access the cart across devices. The ideal eCommerce site must also include geolocation, to let people find the closest store and check local stock availability.
Loyalty. It doesn't matter whether it's on an app or via a website, customers need access to their points so they can collect and spend them wherever, using their digital card in a physical store or online.
Mobile in-store shopping, letting people scan items and pay for them on a mobile device. ScanPayGo solutions, which bring point of sale (POS) functionality to the customer's own device, are common in grocery, and are now expanding to more industries.
New mobile features to make shopping more immersive and engaging, from beacons to augmented reality.
In this blog post, we have identified five ways retailers can build a successful mobile retail strategy that grows with your business and engages your customers at every stage of the buying journey:
Identify and understand your customers' habits
Focus on the customer experience (CX) and shopping journey
Carry out SWOT (strengths, weaknesses, opportunities, and threats) and competitor analysis to identify where to focus, see what other retailers are doing and learn what your customers expect and enjoy
Look at the bigger picture and see how mobile fits with your entire omnichannel strategy
Get key stakeholders and the rest of your team onboard.
1. Identify and understand your customers' habits
"Without a proper grounding in customer needs or determining how these investments will create and sustain value at scale, retailers sometimes end up with what amount to shiny objects that drain capital expenditures," - McKinsey, "Omnichannel: The path to value"
Many IT projects fail because at some point along the way, customers' needs and requirements get lost or forgotten. With so many approaches and technologies available to choose from, it's surprisingly easy for retailers to invest in the wrong thing and bear the costly consequences. Rather than rushing to develop an overnight mobile offering, consider where the value lies, what your customer priorities are, and how the new technology fits into your omnichannel strategy.
DO:
Keep track of the latest consumer and industry trends and determine which ones are relevant to your business as well as your customers.
Check which channels and services matter most to the customer experience and your business. Will your customers use self-service checkouts and kiosks? Do they really want a separate mobile loyalty app?
Carry out tests and pilots and act on customer feedback before committing to a wider rollout.
2. Focus on the customer experience
"What truly makes for a good experience? Speed. Convenience. Consistency. Friendliness. And human touch—that is, creating real connections by making technology feel more human and giving employees what they need to create better customer experiences." - PWC, "Experience is everything"
When it comes to mobile retail, a good consumer experience translates into a site loading with the tap of a finger, easy access to all the information people need, and a truly connected and personalized shopping journey. It's definitely worth getting right. According to Think with Google research, if people have a negative experience on mobile, they're 62% less likely to purchase from you in the future.
DO:
Avoid confusing and convoluted navigation. Clear and simple website and app designs work best.
Ensure all channels and content can be easily viewed on a mobile device, including your website and flyers.
Streamline the checkout process so that customers don't have to fill out multiple fields repeatedly and complete multiple steps to make a purchase.
Deliver personalized customer experiences based on individual preferences and behaviors.
Tie the mobile experience in with the in-store experience so your customers feel known and valued when they navigate between the digital and physical world.
3. Carry out SWOT and competitor analysis
"Many retailers race to advance omnichannel initiatives without doing the critical thinking to identify the starting point and the specific capabilities needed to succeed at each step. Pressure to keep pace with competitors or eagerness to put a compelling idea into action can prompt some companies to plunge in headfirst." - McKinsey, "Omnichannel: The path to value"
It's an easy mistake to make. You see another retailer rolling out a shiny new experience on social media and you rush to deliver something similar. But emulating your competitors doesn't always mean you'll emulate their success. The key to trying something new is to do your research, and that means carrying out a full analysis of not only your business and your competitors but your customers too. What do they want? What will they value?
DO:
Employ proven, data-led planning methods such as a SWOT analysis to understand exactly what your business needs are, from all angles, and how your mobile strategy will support you.
Use this as an opportunity to consider different options and perspectives, and discover what assets you have that you can draw on.
See what's working well for your competitors – and look at other business leaders across different industries for inspiration too.
Check in with your customers to gauge what they would value from your mobile strategy.
4. Look at the bigger omnichannel picture
"Shopping experiences that were considered cutting-edge not long ago are now baseline consumer expectations, and retailers that fail to deliver them are losing rapport with shoppers, fast. For today's consumers, that includes omnichannel journeys: consistent, made-for-me experiences, synced up across multiple channels." - Retail Dive, "Researchers: Omnichannel is now a baseline consumer expectation"
Your customers don't want to fill up their shopping cart on the mobile app, then switch to the desktop later and find that none of their items have carried over. Deliver a disconnected shopping experience like this and they'll be disappointed. The same goes for ad hoc marketing communication that doesn't take into account their preferences or overlooks their purchase history. A unified customer experience is key, and that requires a solid and well considered omnichannel strategy.
DO:
Identify weak channels across your business and strengthen them to ensure you deliver a consistent consumer experience.
Be flexible. Let your customers purchase online and return items in store, or make a purchase from their mobile while store and have it delivered to their home.
Unify all back-office processes to ensure your store operations, inventory, distribution, and finances all link up.
Build reporting and tracking capabilities to gain a complete view of your business and customers.
5. Get the business behind a mobile retail approach
"If you want to capture the market share and loyalty being awarded to highly innovative retailers who have doubled down on their digital-first strategy, you need to ensure that you have a digital-first strategic plan and the resources needed to support these innovations." - Forbes, "The Massive Shift To Mobile Shopping Calls For A Massive Shift In Your Digital Strategy"
While it may be discouraging to know that around 70% of big IT projects fail (data by Forbes), there are proactive steps you can take to avoid making the same mistakes in your own business. Two key factors to reduce the risk of failure are getting management involved from the very start, and identifying exactly what your business needs are, and how your mobile strategy will support them.
DO:
Plan, analyze, forecast, and compare – as detailed in the steps above – before committing to a big digital/mobile transformation.
Ensure that top-level management are on board and that you have representatives from all areas of the business involved in your mobile strategy decision-making.
Clearly communicate your business needs and goals and define a clear roadmap with clear steps and measurable results along the way.
Do your research into the best technology provider that understands your specific requirements and will grow with your business.
If you need help finding a solution to your needs, or need technology experts to help you design the road forward in your digital transformation, contact us.