Is your hotel business reaping the rewards of cloud-based property management software yet? If not, maybe now is a good time to consider your options. Today's web-based property management systems (PMS) deliver all the functionality you need and more to run your hotel business effectively.
What is SaaS?
Software as a service, or SaaS, has to do with where your software and data is hosted. Traditionally, you'd install software onto your own servers and bear the cost of maintaining it (and updating it) yourself. With the SaaS model, all software and applications run in the cloud. Businesses that opt for this consumption model usually pay on a subscription basis, with the cost being determined by their usage and storage requirements, and the number of licenses they need. SaaS software tends to be much cheaper upfront. Even more importantly for businesses, with SaaS they don't have to worry about buying in specific hardware, or paying high consulting fees for customization.
When cloud-based technology first came onto the market, the general opinion was that it was more suited to small and medium-sized businesses. Larger businesses tended to stick with traditional on-premise software, as they believed it gave them more control, more functionality and full customization. But over the past few years, the technology, and attitudes, have changed. Today, SaaS is the default software delivery model for even the most complex business systems, and businesses large and small across all industries, including hospitality, have embraced it.
Here are just a few of the main benefits you can expect from moving to a cloud-based PMS:
1. Keep your data safe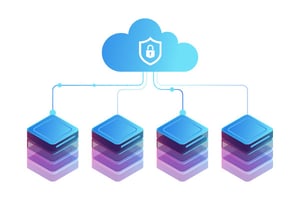 Hotel data security breaches continue to rise. A recent report by Ponemon Institute and IBM Security estimated that, in 2022, the average total cost of a data breach in the hospitality industry was US$2.94 million. These costs cover everything from lost business and reputational damage to legal costs.
Hotels and resorts are a typical target of cybercriminals because of the valuable data you collect from your customers on a daily basis. When your guests check in, they hand over their identification, including passport details, their home address, their credit card information. If you run a spa or wellbeing center, you may even have their medical history.
If you have an on-premises PMS, running on your servers, you are liable for keeping all that information safe. But switch to a cloud-based PMS, and that liability shifts to the cloud hosting provider. Not only that: if you run on a cloud service like Microsoft Azure, you're backed up by industry-leading security features, from automated threat detection and data encryption to identity isolation.
The great thing about a SaaS PMS is that not only are you investing in all the functionality you need to run your business; you're also investing in a secure IT infrastructure without having to front the cost yourself. And because all your data is automatically backed up and stored in the cloud, you don't have to worry about losing it in an outage or exceeding your servers' capacity.
2. Stay current with the latest software and support
On top of the in-built security features of a cloud-based PMS, with SaaS, you're always using the latest version of the software. This means you're benefiting from the most up-to-date features and functionality, as well as any new security patches, which are applied immediately.
And the best part is, these updates are immediate, and included in your subscription price. You can say goodbye to the costly and time-consuming upgrade projects required with on-premises software. With SaaS, your software provider bears the responsibility of maintaining and updating the system and delivering all the functionality you and your fellow industry users need. So even if the current version of the PMS lacks a specific function you'd ideally like to have, it may be added to the system at some point in time, if there's demand for it.
3. Scale up and down as needed

Is your hotel business expanding? Or perhaps you're reassessing your physical locations, and looking to scale back. Either way, you want your software to match your current needs and you don't want to pay for more than you need to. Through times of rapid growth or even through periods of turbulence, you need to be able to provision the right IT resources and save on costs where you can. While an on-premises PMS system can't deliver that flexibility, a cloud-based one can. Scale up or down your resource consumption, and make sure you have more resources when business is high - and save during quieter times.
4. Save money, time, and hassle
One of the biggest benefits of SaaS is the way you pay for and manage your IT. Instead of having to invest large sums of money upfront to cover software, consultation, customizations, and support fees, you pay for what you need on a subscription basis.
This makes SaaS software implementations generally far more predictable in terms of costs. Smaller hotels benefit from high-performance technology they might not otherwise be able to afford, while larger businesses can quickly ramp up their operations without having to buy all the associated infrastructure or hire more trained IT staff. And unlike on-premises systems which can take months to roll out, a cloud-based PMS is much faster to deploy.
Ready to move to the cloud?
Widespread evidence shows that companies using SaaS benefit from greater operational efficiencies, reduced costs, and unparalleled scalability as they take advantage of the innate flexibility of the cloud.
Are you ready to find out how we can help you take advantage of the cloud and grow your hotel business without limitations? Contact us for more information.