Are you a retailer or an owner of restaurant / bar chain? Do you know what "Generation T" stands for? According to trend analysis soon every need we have (car service, pizza delivery ... ), every purchase (!!) we make will be available at the tap of a button. Anytime, anywhere. So how are retailers (and/or hospitality owners) facing the mobile (r)evolution? [Tweet This] I checked local retailers and downloaded several mobile apps.
Apart from the fact that now I can use my phone instead of my loyalty card(s) (which is good!!!), there are not actually many additional advantages. I can list the items on promotion and use them as coupons when I buy what I needed, which is ok. However, the issue here is that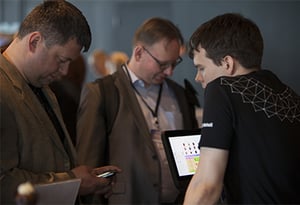 the list (or lists) is simply too long, impossible to filter, arrange … so how is that supposed to help me find what I need or even motivate me to buy more? There is no sales history available and, in most cases even if there is one, it is just a summary – no item details available. No in-app sale option available either. I hope this will come soon – since I am frequently buying on-line! So I truly cannot wait to see this feature available from within the mobile apps (yes I do not mean to get just a link to the browser version on my phone!). Ok, I like store locator with opening hours and phone numbers and mail address, but ... I would trade that feature with instant notifications about new items on sale any time! As it is now, notifications are not available – I need to go into the apps to learn if there is anything new … not really effective or attractive. Well, I have to be fair: there is one retailer who is using notifications. But when their notification pops up on my mobile, it is general info. I would expect more from a retailer who knows everything about my purchases in his stores. If that wasn't enough already, the other day what used to be annoyance or frustration became quickly anger. Why you ask? I was waiting at a POS line (subject for another blog, trust me!), when I noticed that people in front of me had coupons for 20% discount – cut out from daily newspaper. I thought: ok, hmm ... I have the mobile app from this retailer, so I probably have same coupon on my mobile app, too. Nope. Did not have it. I do not have to explain why this retailer is not on my favourite list any longer, right? For now, local retailers failed me on mobile platform. I wonder what local restaurants will offer … But in the meantime, if you are tired of frustrating your current and potential customers with your Mobile App, take a look what LS Omni can offer to retailers and restaurateurs alike.
by Katja Ocvirk, LS Retail Sales Executive - Europe