"If you can't measure it, you can't improve it," said Peter Drucker, widely considered the man who invented business management.
But knowing what you should measure is not as easy as actually doing it. As demand for a seamless, personalized customer experience across all channels is driving deep transformation in the retail industry, retailers find themselves contending with ever-growing data and metrics, which they often don't know how to use.
In an article on which factors will shape the future of retail, Matthew Shay, president and CEO of the National Retail Federation, said that experts are now questioning the value of long-standing retail metrics like same-store sales. Instead, they are exploring new ways of gauging success.
"These next-gen metrics recognize that the holistic shopping experience – whether online, in-store or both – is more important than any one channel," Shay said. "Comp sales that include digital, market share and net promoter scores are increasingly seen as painting a more complete picture than traditional metrics, particularly because they capture the "halo" effect of in-store and online and reflect an increasingly channel-agnostic consumer."
Of course, there isn't one set of metrics that will work for all sectors. Fashion retail in particular has its own unique set of challenges. With this in mind, here are five key metrics you should be tracking right now in your fashion store and how you can measure them effectively: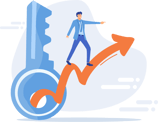 1. Sell-through rate
This is perhaps the most important key performance indicator (KPI) for fashion retailers. It tells you how much stock you have sold since the beginning of the season and where you are now. Not only does it give you a good indication of your selling rate, but it helps you determine your return on investment (ROI).
Stock will always remain one of your biggest investments. You need to make sure you have enough inventory to keep you going throughout each season, but not too much left over that you're forced to sell it at a discounted rate and erode into your profit margin. With the right system, you can see exactly how much stock is being sold in any given period. If you want, you can even track the sell-through rate for individual items to make sure you're selling enough at the right time.
You can make this metric even more powerful if you compare its value to an expected sell-through rate. The expected sell-through rate is usually calculated using historical data from similar items or item groups, allowing you to plan specific sales goals. The comparison of actual vs. plan tells you if you're selling faster or slower compared to your expectations, and helps you take corrective measures early in the season to avoid overstocking of empty shelves.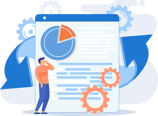 2. Product lifecycle curve
Fashion is one of the most fast-paced industries and retailers have a limited window to sell their stock. Most apparel tends to follow a four-step selling process, also known as a lifecycle: introduction, growth, maturity and decline. Certain products sell better at certain times of year, and some lifecycles last longer than others. It's important to have a good idea of how much you're aiming to sell of each product, and when you're hoping to achieve the majority of sales. Swimwear, for example, has a very clear and usually predictable lifecycle. At the beginning of the summer season, sales tend to start off slow then pick up rapidly to reach a peak, before dwindling as the colder months approach, when most customers are on the lookout for discounts and promotions. In this scenario, most of the stock should have sold out by the middle of the season. If it hasn't, then you're likely to end up with a lot of products to mark down.
To get the most out of each product line, you need full visibility of your stock and sell-through rates. Armed with this information, you can take appropriate action to drive sales at the right moments and order more stock to ensure supply, if needed. In the early and mature stages of a product's lifecycle, you can remind customers and encourage them to buy through online advertising and newsletters, for example. You can also introduce flash sales if the product isn't selling as well as expected. And when sales begin to decline, you may decide to reduce the price to clear remaining stock.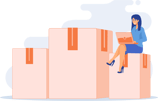 3. Stock availability and size fragmentation
There's nothing more disappointing for a customer than reaching your store only to find out that the item of clothing they wanted has sold out in their size. But there's a way you can save this situation. If you can track down the item they want from a different store, or your warehouse, and send it to them, chances are they'll be a very happy customer.
Today, retailers not only need to keep an eye on stock availability across their physical stores, but also online. At the beginning of the season, you will likely stock every size – S, M, L, XL – in ratios according to your target market and known customer base. But as the season progresses, your size distribution will become more fragmented. To prevent this, some retailers choose to remove entire product lines and send leftover stock to replenish lines in other stores.
Whichever way you decide to tackle the issue, you need tools that can clearly highlight regional disparities, flag fragmented sales distribution, and give you total visibility of your stock so you can move items around to locations where they will sell best.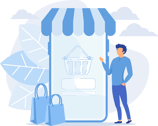 4. Store capacity and showrooming
Are you making the best use of your store capacity? How are you presenting stock on your shop floor? Today, most fashion retailers divide their stores into sections, either by brand or product group, calculate the capacity for each area, fill it with stock, and then judge their store's performance on in-store transactions and sales data. While this is still important and relevant today, the explosion of showrooming, the habit of looking at stuff in stores to then buy online, is turning this metric on its head.
Customers are increasingly going into stores to touch and try out products without necessarily buying them straight away. Your store still holds value as it continues to have a positive effect on overall sales, but are you measuring this effectively? New tools can help you compare foot traffic against conversion rates and cross-reference them with e-commerce orders over the same period. You can also use retail management features to send information to customers via e-mail while they're in store and then track who makes a purchase.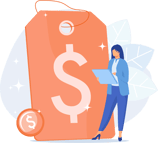 5. Markdowns
Markdowns are inevitable. But when done right they can be healthy for your business. They keep your product line fresh and help you quickly boost sales when interest in certain products wanes. But are you able to measure the impact of markdowns on specific product lines and size groups? If not, you may be missing out on an opportunity to effectively get rid of end-of-season stock. Act too soon, and you'll sell off stock cheaper than you need to, act too late and you'll struggle to shift it.
Sophisticated analytics tools can help you better plan the timing of your markdowns. They can automatically flag when you should mark down an item after a certain period, like 60 days for example. Or you can take a more dynamic approach based on individual product lines.
One software solution, one accurate view of all your data
With our full retail management solution LS Central you can not only ensure that all your data is accurate, but you can also track whichever metrics you need to support your business and do it all within the same system. LS Central uses automations to help you optimize your replenishment with minimum effort, while considering elements such as past sales and space available to help you identify what products you should order and how to distribute them to your stores, so you can maximize profit and decrease risk.
Want to know more? Get in touch to find out how we can help you keep your fashion business on track, and always under control.