WPC 2015: insights and takeaways from Microsoft's Worldwide Partner Conference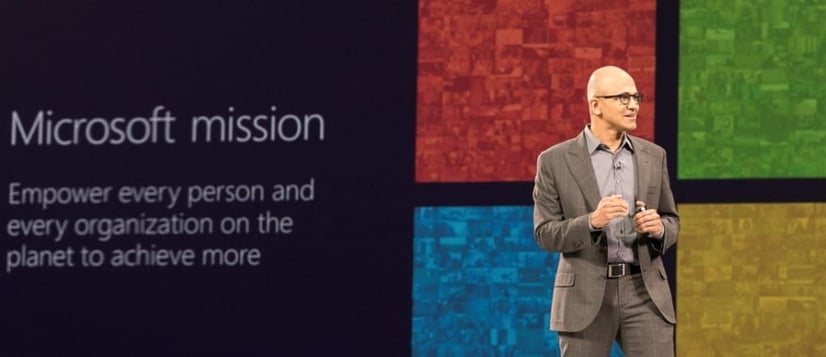 Mobile first, Cloud first
Last month we attended the Microsoft Worldwide Partner Conference (WPC) 2015 in Orlando, FL, USA. We came back with three prestigious awards, a renewed membership to Microsoft's Inner Circle and many interesting ideas and insights. As at the previous WPC, "Mobile first, cloud first" continues to be Microsoft CEO Satya Nadella's core message. Among the major investment Microsoft is undertaking, a key one is the building and promotion of the "intelligent cloud", which aims to become "the back-end infrastructure that drives all of your enterprise mobility." Business productivity was another key topic at WPC. Microsoft and partner speakers outlined ways of creating more personal computing and revolutionizing business processes to make them more efficient. COO Kevin Turner outlined a plan of action that has the ambitious goal of reinventing productivity and business processes, using the cloud.
Microsoft and partners, transforming businesses
Throughout the keynote, Microsoft executives thanked partners for the essential role they play in executing the Mobile first, Cloud first vision, bringing success worldwide to themselves and Microsoft. Microsoft underlined that it will keep on investing in technologies, resources, and programs that enable Microsoft's partners to take full advantage of the rapidly expanding markets for cloud and mobile technologies. "What makes Microsoft unique are the people in this room, this partner ecosystem. Together with our partners we are transforming the business world for the next era. There is no other ecosystem that is primarily and solely built to help customers achieve greatness," said Nadella during the Vision keynote. The CEO also reaffirmed the importance of us all working together towards achieving Microsoft's mission: empowering every person and every organization on the planet to achieve more. Microsoft expects that the release of Windows 10 will create additional opportunities for us partners, as with it begins a new era of personal computing where a single operating system spans all platforms and devices.
The role of Dynamics in the Microsoft ecosystem
"What Office 365 represents, what Dynamics represents… we want to bring these different products today into one set of services, which are extensible." Nadella's keynote significantly emphasized, for the first time, the important role that Dynamics, ERP and CRM play in the Microsoft ecosystem. After Microsoft partnered with Salesforce.com and apparently considered buying the company, there had been questions and uncertainty about the strategic role of Dynamics in Microsoft. Nadella's speech dispelled the doubts on the future of Microsoft Dynamics.
Other key innovations and insights from WPC:
Microsoft HoloLens, powered by Windows 10, brings high-definition holograms to life. It is the world's first fully untethered holographic computing device, and it is expected to fundamentally change how design professionals create, communicate, visualize, and work.
Project GigJam empowers business workers, giving them unprecedented ways to accomplish their business tasks faster and better. The projects aims to increase efficiency and expedite business tasks by breaking down the barriers between people, devices, and apps. Project GigJam is part of Microsoft's efforts to reinvent productivity and business processes
Cortana Analytics Suite is a comprehensive set of services that will help businesses transform data into intelligent action. By bringing together leading technology infrastructure and perceptual intelligence, the Suite has extended predictive and prescriptive capabilities, which enable businesses of any size to transform through the power of data. The suite will be available this fall, both as a monthly subscription and through third party solutions.
Microsoft Partner Network (MPN) updates. Changes to the MPN program include: - a new app certification platform that will enable more partners to certify their apps in order to qualify for competencies; - new Azure incentives designed to drive active usage of the platform; - Microsoft Azure Certified Hybrid Cloud program. The changes will enable partners to better take advantage of the cloud opportunity, as it will be easier for service providers to deliver Microsoft-certified hybrid solutions to customers.
Expansion of the Microsoft Cloud Solution Provider (CSP) Program: the program, which increases the ways partners can profit from the cloud, was successfully rolled out in 40 countries in its first year. This year, CSP will be expanded to include 131 markets. Azure and CRM Online will join Office 365, Windows Intune, and Enterprise Mobility Suite (EMS) as available services in the program.
New Office 365 E5 offering: in October, Microsoft will introduce a new premium Office 365 enterprise suite. The new E5 plan will include Cloud PBX, Power BI and analytics features along with advanced security capabilities, providing partners with a complete productivity and communications platform for their enterprise customers.