What's hot in the restaurant: 8 trends that will define the upcoming months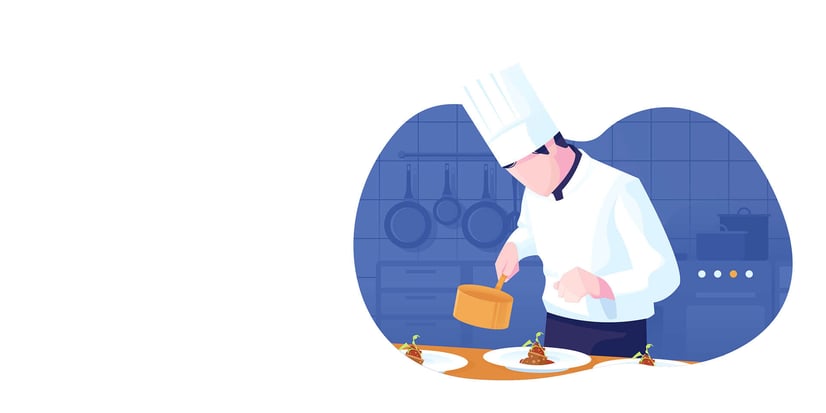 What's on the menu for restaurants and food service businesses? As retailers keep dipping their toes into the F&B market, and while home delivery continues to disrupt the industry, it is unsurprising that many of the top trends for the next months have little to do with flavors, and a lot to do with technology, innovation and operational efficiency. Here's a rundown of the 8 trends we predict will shape the food service industry landscape in the upcoming months.
Off-premises dining
It's the era of hectic lives and Netflix nights. According to research by consulting firm Technomic, 59 percent of all food service meals are now consumed off the restaurant premises. More food service businesses are realizing this is an opportunity, and taking steps to be part of it. Some of the trends that are emerging, and we expect to see more of, include:
Restaurants designed specifically for delivery and takeout. While established operators have been busy adding counters and Point of Sale devices dedicated exclusively to take-away orders, restaurants catering solely for to-go orders have been multiplying. Don't think of a bog-standard street-food joint: these are highly-outfitted professional kitchens that produce restaurant-quality food – but come with no sit-in space. Shared kitchens have also been popping up – food preparation areas that allow F&B startups to test the market, and their capabilities, by renting a kitchen space for a period of time, and distributing their dishes through associated delivery services.
A continued growth in mobile and online ordering. 40 percent of consumers prefer to order online, Deloitte reports – and when they do, average spend per order increases.
Differentiation in the third-party delivery space. From giants like UberEats and Deliveroo to local startups, in just a few years the home delivery space has become extremely crowded. In the coming months we expect operators will implement different tactics to differentiate themselves and ensure customers loyalty, for example replacing per-delivery fees with subscription
The connected kitchen
The Internet of Things (IOT) – a network of physical objects that can sense and communicate changes in their state or environment – is changing the way we interact with objects. According to estimates by analyst firm Gartner, by 2020 there will be 25 billion smart devices transmitting information to us and each other. Restaurant kitchens are some of places that will be most transformed by the IOT revolution. Although smart appliances are more expensive than their traditional counterparts, the higher cost on the outset is outweighed by lifetime savings. From intelligent fryers that warn you when the oil needs to be changed, to fridges that alert users when they are not at optimal temperature, smart appliances help restaurateurs reduce costs and waste, while also cutting labor costs as they replace low-qualified staff. Gartner predicts that by 2020, smart kitchen appliances will contribute to at least 15 percent savings in the hospitality industry. Cost reduction is just one of the benefits IOT can bring. All the information collected and transmitted by the sensors in the machines can also help restaurateurs gain a very detailed overview of their kitchen's efficiency levels. This wealth of information can then be analyzed through Business Intelligence tools, and used to streamline the whole business, improving resource and energy management, ensuring food quality and safety standards, optimizing use of inventory, and maximizing equipment lifetime.
Keeping it sustainable
Environmental awareness keeps on growing among consumers. Food service businesses are realizing that sustainable practices can be a win-win, as they help bring customers through the doors while also contributing to slashing costs and waste. In the upcoming months, we expect to see more:
Creative use of food waste. From root-to-stem to nose-to-tail, chefs are finding inventive ways to use every single part of the vegetables, fruits, and animals in the kitchen. It's a great way to minimize waste, while also creating unique dishes that differentiate the restaurant.
Locally sourced, farm-to-table food. As more consumers are concerned with climate change and factory farming practices, zero-distance food from small farmers has been gaining larger and larger appeal. In the next few months, we expect restaurant menus to flaunt ingredient provenance, and openly advertise collaborations with local farmers.
Transitioning from single-use items. Forward-thinking F&B businesses are moving ahead of legislators, and getting rid of highly polluting single-use utensils like Styrofoam cups and plastic straws before regulations force them to. In the upcoming months, we expect to see more brands rethinking their policies on take-away containers, free napkins, plastic cutlery.
DIY orders and payments
Modern guests want to order and pay at their own pace, and a server waiting by the table can be an unwanted source of stress during a relaxing night out. In the past few years, restaurant technology that removes the human component has met with increasing popularity. Some of the tech we expect to see more of in the coming year includes:
Artificial Intelligence-powered chatbots that help you quickly order food via social media (see Domino's Pizza Facebook chatbot, which lets users place an order just by texting the word "pizza").
Technology that supports serverless ordering in the restaurant, from tabletop tablets with Point of Sale functionality, to ordering kiosks. Ordering kiosks were recently voted the top emerging technology for improving the customer experience, Hospitality Technology reports. McDonald's recently implemented kiosks in all its 14,000 U.S. locations after tests in selected restaurants showed higher sales at the machines than with human servers.
Tech that simplifies and speeds up payments. From mobile POS in the servers' hands, to mobile wallets, to payments by voice and by biometrics – for example through fingerprint or eye scan – the tendency is clear. We expect to see quick innovation in this space in the near future.
The mainstreaming of special eating styles
In the past few years the obsession for healthy food has gone mainstream, and special diets, often focused on "free-from" dishes, have been multiplying. From vegan, to keto, to paleo, to macros, to gluten-free, most consumers seem to be experimenting with some sort of eating style – and restaurants are finally starting to catch onto the trend. In the coming months, we expect to see more main dishes and menus designed to cater for this growing group of diners. This will mean more vegetable-centric and vegan mains, with plant-based substitutions increasingly used to make staples such as burgers, pasta and pizza more appealing to vegan, low-calorie and low-carb eaters. As diners become more concerned with what goes into their food, restaurants need to ensure they can clearly track and communicate every ingredient they put in their dishes, including which allergens they contain (and, for the ambitious ones, nutritional value). This means restaurants must keep precise, up-to-date recipes, and distribute this information to all their locations, down to the hands of the servers who need to deliver it quickly to interested guests. In the coming months, we expect a growth in technology that enables accurate tracking and real-time communication across the enterprise. In specific, we will see growing interest in unified restaurant systems that centralize menu management, and mobile Point of Sale devices that staff can use to deliver detailed menu information straight at the diners' tableside.
An experience to remember
While much of the technological revolution happening in restaurants focuses on making the whole process – from ordering, to cooking, to payments and delivery – faster and more efficient, some restaurateurs are differentiating themselves by moving in the opposite direction, creating highly curated dining experiences that transform the restaurant into an exciting destination. In the coming months, we will see more of:
Instagrammable locales. Social sharing is moving from the dishes to the eating environment. From iconic murals to lighting fixtures that change color, restaurants are now thinking 360 degrees when it comes to creating a unique, picture-pretty sense of place.
Established brands distancing themselves from convenience. Starbucks is among the first fast casual brands making big investments into experiential cafés. Its roastery concept targets customers looking for a refined destination with a cozy atmosphere. The first non-US location, in Shanghai, generated $64,000 per day, every day, during its first eight weeks — that's twice the sales an average Starbucks café makes in an entire week.
One-of-a-kind events. In the era of generalized fear of missing out, temporary seems to make food taste better. In the past few years, pop-up events have been one of the fastest-growing trends in the restaurant industry. According to research by event platform Eventbrite, 75 percent of pop-up events attendees believe it's worth paying more for a unique dining experience. As this trend expands, we expect to see growing demand for cloud-based technology that enables restaurateurs to take table reservations, orders, and payments for a short time in a professional and cost-effective way. Why the cloud? Cloud-based systems usually don't require an upfront investment and can be used with a time-limited subscription, making them ideal for businesses that need to use, or increase, POS devices for a short period of time.
Investing on skilled staff
As diners increasingly value the quality of their dining experience, forward-thinking restaurants are replacing their low-skills, low-pay staff with automations, and at the same time investing on highly skilled staff members. As staff turnover remains dangerously high in the industry, it's increasingly important to implement effective strategies to retain and empower the best employees. In the coming months, we expect to see increased focus on:
Customized employee training. Gone are the days of a one-hour training video, and off you go. Businesses are seeing the value in keeping their staff constantly trained, so that they can competently serve customers, advise them of the best choices on the weekly menu, and even take proactive action on issues such as food safety and allergen management. Technology such as virtual reality (VR) is already used by quick service chains to deliver immersive training to new hires; we expect to see more innovative ways of using tech to keep employees up-to-date.
Technology that enables staff to solve diners' problems, and deliver great experiences. Mobile Point of Sale, although not a new technology, is still relatively underrepresented in the industry. Software review platform G2 Crowd predicts that implementation of mobile POS systems in restaurants will increase by at least 30 percent in the coming year, as more restaurateurs will see the benefits of empowering their staff with a way to access all the information guests need – from the ingredients in each dish, to current availability of items, all the way down to waiting times in the kitchen, and preparation status of each order.
Blurring the lines across industries
From Nordstrom to Armani to Whole Foods, in the past few years we have seen more and more retailers test the waters as restaurateurs. As consumers shift their interest, and their spending, from things to experiences, adding an F&B offering in the store premises means extra foot traffic, and more time consumers spend on the premises. In the coming months, be prepared for more retail brands moving into the F&B space. As the lines between industries shift, businesses in retail and hospitality increasingly need technology that supports them across the whole spectrum of their activities. In the coming months, we expect to see growing interest in systems that can help manage both retail and food service operations in the same platform, uniting breadth of action with deep industry functionality. Running all verticals on a single platform is the only way companies can get a clear overview of their whole business, and in turn take effective decisions. At the same time, a unified system also affords a single view of customers, a necessary prerequisite to delivering consistent, smooth experiences. Today's diners move quickly, in many ways. In its recent "Restaurant digital crossroads" research, BPR reports that most guests will only afford you one to two poor dining experiences before moving on to a competitor. In the coming months, we expect to see more forward-thinking food service businesses invest in high-return technology such as mobile POS, self-service kiosks, and mobile payments. If you need help assessing your needs or deciding which systems you should implement to reach your goals, get in touch with our F&B experts. We would love to help you find the technology mix that will lead you to success.