5 ways to keep customers loyal to your retail brand in a post-Covid world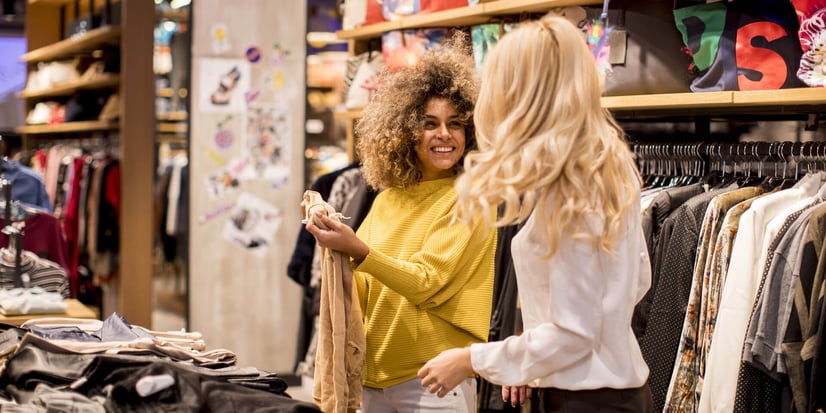 In 2020, consumers leapt five years in the adoption of digital in just eight weeks, according to McKinsey. In Latin America, 13 million people made their first-ever e-commerce transaction. And in every country measured in the analyst's consumer sentiment surveys, more people turned to digital and reduced-contact ways of accessing and buying products and services.
As shopping habits have quickly evolved, so has loyalty. McKinsey's research shows that roughly one in five US consumers switched to a new store brand during the pandemic, with value and trust being the top reasons for switching.
With consumers increasingly shopping online and interested in trying new experiences, retailers need to find ways to encourage customers to keep coming back. Here are five strategies that have proved effective in this changed consumer environment.
1.
Enhance your digital experience
There shift to online spending has been dramatic. Forbes reports that online sales nearly doubled at the peak of the pandemic as consumers stayed home, and many have now made online shopping part of their regular routines. According to statistics from Retail Touchpoints, around a quarter of consumers now do 90% of their shopping online.
To stand out from the noise, retailers need to offer online experiences that are convenient, but also novel and enticing.
Chinese jewelry chain Ideal shifted overnight from a traditional brand with retail stores to online, with its employees live-streaming sales on WeChat. Far from relying on scripted videos, the sales associates focus on delivering highly targeted content, with personalized style advice and with promotions that are adjusted to regional tastes and trends. Foreseeing a long-term shift into virtual sales, Ideal has partnered with a media agency to retrain its sales associates as live broadcasters.
Home furnishing retailer IKEA is one of the brands that have recognized that change is here to stay. IKEA was already offering augmented reality options, allowing customers to superimpose pieces of furniture to the customers' rooms, to visualize their favorite IKEA sofa or bookshelf in the environment. As part of its effort to strengthen its digital capabilities, IKEA is now planning to let customers design their homes virtually. In the not-too-distant-future, shoppers will be able to load a photorealistic 3D representation of their home in the IKEA app and move furniture around, try out new styles, and check that a design fits and is within budget before committing to a purchase.
Even when customers are more inclined to return to physical stores, it will be up to retailers to create a consistent experience across all channels. For instance, in the US, Walmart has redesigned its new physical stores so that they're more closely aligned with the navigation features in its mobile app.
2.
Grow your remote service offering
Consumers are not just doing more shopping online; they are also accessing more services online. Banks and insurance companies have had to switch to remote operations, scaling up their call center operations and online chat capabilities. Retailers, too, having to find new ways to help customers virtually.
When its stores closed, UK department store John Lewis launched a host of online consultations and virtual styling sessions to stay in touch with customers. Its nursery service connects parents-to-be with an advisor via video call for recommendations on the products they will need. Customers who need help creating flexible working spaces can have a call with a home design stylist.
Independent retailers are stepping up their game too, offering one-to-one personal shopping services via video calls, hosting virtual wine tasting evenings and rolling out services where they will choose, wrap and send gifts for you based on your personal preferences and recipient profiles.
Experts recommend getting on board with this new trend by developing partner ecosystems and interconnected service platforms to better serve customers. Take as an example food retailers who are joining forces with e-health platforms or online fitness companies to cross-promote products and services.
3.
Get the right social influencers onboard

Social media influencers remain relevant, but look different. Pre-pandemic, Kim Kardashian celebrating her birthday on a private island and feeling "so privileged" would have felt enviable. Today, many consumers find her tone deaf. Aspirational marketing has lost its shine, and people are increasingly ready to support brands that align with their values, and ditch those that don't. At the same time, deprived of physical events, people are using social media much more than before, with engagement rates for sponsored content skyrocketing.

Enter a new breed of social influencers.

Brands like Rihanna's Fenty Beauty are moving away from celebrities towards consumer influencers to promote the products in Instagram stories and TikTok videos. Custom apparel brand Teespring now allows TikTok influencers to sell the brand's products via the social platform. Direct purchases on media platforms are expected to boom, not just on social media but on traditional ones, too: US broadcaster NBC has already rolled out technology that allows its app users to purchase products they see on screen without leaving the article they are reading or video they are watching. People can simply click on a featured product, and make the purchase.

It's not just customers that can be influencers, employees can be too. Younger customers are now ordering the likes of the "TikTok" drink and the Skittles Frappuccino from Starbucks – off-menu items that have never been promoted or officially recognized by the brand, but which were made popular by staff members. Search the hashtag #starbucksbarista and you'll find a ton of videos of employees sharing their favorite off-menu drinks.
4.
Tailor your experience and go local

The near-total shutdown of travel and related constraints have made local trade more important than ever. And it means that businesses must connect with customers by tapping into their communities and localizing their marketing.

Research from analysts at Global Data backs this up, finding that a higher proportion of consumers are shopping more locally than they did before the pandemic.

"These factors have forced retailers like Amazon and Flipkart to include more local stores and promote them on their platform," said Hrishabh Kashyap, retail analyst at GlobalData. "These retailers have been vocal about supporting local industries and sellers through their brand visibility and communication to customers. Post Covid-19, we are likely to witness more retailers going local in their procurement and promotions."

In India, Flipkart's platform, "2GUD Local" will assist offline stores sell their products online, with support going from showcasing their products and collections to consumer fulfillment, advertising, and marketing. The goal is to five traditional shopping destinations a new sales channel and access to new geographies, with the ability to reach millions of pan-India consumers.

In the UK, grocery retailer Morrisons took going local a step further by setting up a pop-up concept in hospital carparks for NHS workers. Health workers could order a food box and collect it from a Morrisons truck in the car park at the end of their shift.

Highlight your ties to the local community and show that you are part of it to create a more solid connection with your customers.
5.
Look after your customers
With health now under the spotlight, it pays to show your customers that you care for their well-being. For retailers, this is both a moral imperative and a financial one: serious foot traffic in stores will only return when people trust that they are safe and virus free.
Retailers can demonstrate safe commerce in numerous ways, such as by visibly upping cleaning and disinfecting of communal spaces, mandating the wearing of face masks and clearly communicating these measures to consumers. Some retailers have also been introducing contactless ways to do business, with services such as curbside pickup, touchless payments and deliveries, and self-checkout. These options will likely remain popular post-Covid as people continue to seek convenience, so it makes business sense to add them now, when they can give consumers confidence that it's safe to shop.
To keep up with consumer preferences, you may also want to consider a much broader range of contactless shopping experiences in the future. "The preference for self-checkout or scan-and-go behaviors may change traditional store boundaries and layouts," a recent article by McKinsey said. "Consumers may be more willing to shop display walls, for example, where items are shown and can be scanned for delivery." With consumer preferences shifting continuously, it' important that retailers are always on the move – ready to transform, adjust, and upgrade the experiences they offer.
To find out more about what the customer experience of the future might look like, read our e-book on the trends that will define the retail of tomorrow. Do you need help with your retail digital strategy? Contact us.