9 restaurant technology terms you need to know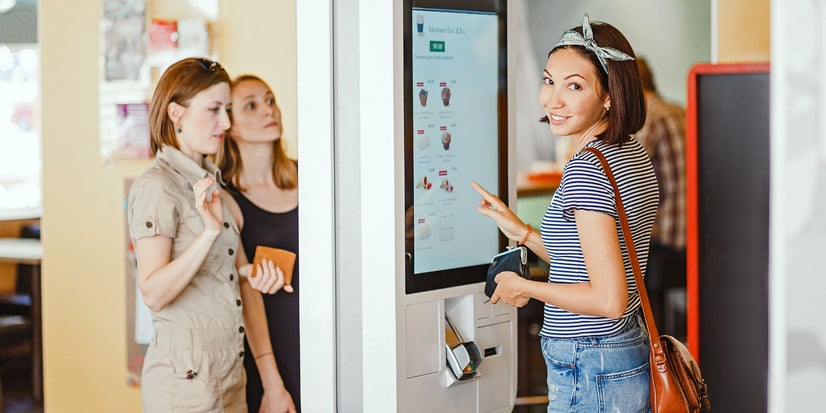 Technology moves quickly. As a restaurant manager, it can be hard to keep up.
That's where we come in. We have listed up some of the most important tech that is transforming the restaurant industry, alongside why it might matter for your business.

Artificial intelligence (AI)
The simulation of human capabilities like vision, speech recognition and decision-making. Artificial Intelligence-powered machines can make sense of and connect vast amounts of data, quickly.
In the restaurant
AI has plenty of applications within the restaurant industry, including:
Chatbots (programs that can understand speech patterns and have conversations) that let customers order food or book a table online – for example on your website, or via Facebook messenger.
Predictive ordering solutions that analyze your expenses and revenue, and forecast future needs based on historical trends, helping optimize purchasing and reduce waste.
Scheduling and staffing solutions to optimize staff scheduling.
Business Intelligence (see below) and analytics solutions that help businesses understand consumer preferences and devise the prices, menus, and recipes that provide the highest returns.
Should I look into it? AI is at the heart of innovation and growth for businesses. As the technology continues to evolve and grow, it will further enable restaurants to elevate their standards of service, identify business opportunities and reduce operational complexity.
Augmented reality (AR)
A technology that places digital, computer-generated images over real-life environments.
In the restaurant
AR is still marginal in the restaurant industry. Some restaurants have tried to increase consumers' appetite with AR apps that project visual renderings of food, but the results are still closer to entertainment than revenue generation – unlike in the retail space, where brands have been using AR to let customers virtually test products, with the goal of reducing return rates.
Should I look into it? If you want to add an element of surprise.
Business Intelligence (BI)
Business Intelligence software uses AI technology to collect, integrate, and analyze business data, transforming it into actionable information that can be used for decision-making.
In the restaurant
Even if BI and analytics solutions are traditionally used to improve efficiency, they also have the potential to raise the level of hospitality. When a food service chain knows which lunch offer works best at each location, what type of promotions hit the mark with loyal versus new customers, or whether it's more profitable to host a karaoke night or a wine tasting event, they can take operational decisions that better align their offering with their guests' tastes and demands.
Should I look into it? Does your business collect data? Do you want to understand if there are inefficiencies in the way you run your business? Do you want to decrease waste, grow revenue, do more of what works with customers? If the answer to any of these questions is "yes," do look into BI software.

Cloud-based POS (or online POS)
Point of sale software that can be directly accessed from the web, and is usually run on a web browser. "Cloud" refers to software and services that run on the internet.
In the restaurant
According to Hospitality Technology's latest "POS Software Trends Report", 61% of businesses want their next POS system to be cloud-based. Some of the reasons are cost-effectiveness and scalability: online POS are usually available as a service for a monthly rental fee, and do not require high upfront investments. Online POS systems are also quick to deploy (no local hardware and software installation is required), and as they run on web browsers, they are compatible with most hardware.
Should I look into it? In the future, all POS will be online. Look for a cloud-based POS and system that also works when offline, so you can keep processing orders even if your internet connection is unreliable.
Cloud (ghost, virtual, dark) kitchen
Cloud kitchens (also known as "dark kitchens", "ghost kitchens", or "virtual restaurants") are digital-only restaurant brands, without a restaurant front. The dishes can usually be only ordered online or via app, and are only available for delivery.
In the restaurant
Operators have massively turned to cloud kitchens to reduce costs. No front of house means no property-related costs like design or furnishing, and no need to employ front-of-house staff. Euromonitor recently estimated that ghost kitchens could be a $1 trillion business by 2030.
Should I look into it? Ghost kitchens have a lower entry barrier than traditional restaurants. For established brands, they can be used to expand into new markets (for example, an established pizza chain may open a new virtual brand that specializes in tacos and carnitas) at lower cost and risk. At the same time, this kind of venture requires investment in online branding. How will you distinguish yourself from the competition, attract new customers and grow loyalty without a physical location to show your brand of hospitality? Before you dive in, investigate how you can make a splash without a physical presence.
Contactless payments
Forms of payments that require little to no physical contact with shared surfaces. Examples include mobile wallets, contactless cards, and payments by biometric authentication (for example through iris scan, fingerprint, voice, face recognition).
In the restaurant
Contactless payments are safe, convenient, and quick. The technology, already popular, boomed during the pandemic. In China, in 2020 e-wallet purchases surpassed cash purchases by 23%.
Should I look into it? Although some operators will be put off by the higher transaction costs, contactless payments are worth investigating as they will become a common payment method in the future.
Internet of things (IOT)
The internet of things is a term given to all items and devices that are built to connect to the internet, and to each other, and exchange data.
In the restaurant
Connected kitchen appliances such as ovens, deep fryers and freezers automatically upload their status (from average temperature to energy consumption) to the cloud, simplifying maintenance and helping restaurants follow health and safety regulations without having to physically check on each piece of equipment. Managers can just look at the reports that each device generates, and troubleshoot problems or resolve inefficiencies. Having a real-time, continuous overview on the status of your appliances also helps guarantee food safety, and reduce both energy and food waste.
Should I look into it? Given the width and breadth of applications of this technology, it's likely that you will find several IOT-connected items which can benefit your operations.
Self-ordering devices
Devices that enable customers to make their order and send it to the restaurant kitchen without needing a server. While many restaurants use free-standing kiosks or (more affordable) tablets on the tableside, some also enable customers to order on their own device using a branded app.
In the restaurant
In just a few years, self-ordering devices have gone from niche to common. Kiosks, in particular, are highly popular with guests, who appreciate the convenience. Restaurants have also noticed monetary benefits: the Harvard Business Review reports that McDonald's customers spend on average 30% more when they order on a kiosks. In specific, upsell seems to be more common than at manned registers: when the kiosk screen offered the option to add a drink, 20% of customers added it to their order.
Should I look into it? While self-ordering is increasingly popular, it may be better suited to casual and quick service than formal restaurants. Look at your customers and at the kind of experiences you want to offer, and decide whether a form of self-service device would enhance, or detract from, the guest experience.
Unified commerce
An approach that uses a single software solution across the business. Unified commerce software replaces all the separate, badly integrated software solutions and databases restaurants use with just one, enterprise-wide platform.
In the restaurant
Customers demand consistent guest experiences. To deliver them, and to keep the business and its costs under control, restaurants are increasingly replacing their traditional fragmented IT setups with unified software solutions. By providing a comprehensive, clear view on their business, unified commerce enables restaurants to spot issues and solve them, minimize waste and costs, deliver personalized offers, and transmit information – such as a menu change, a new promotion, or an ingredient substitution in a recipe – to all touchpoints and locations, instantly.
Should I look into it? If you are not using unified software, chances are you are struggling with siloed customer information, and have no real-time visibility into your business data. Disjointed software solutions will make your business harder to manage, and your customer service poorer. Contact us to learn how unified commerce will benefit your restaurant business from day one.

The restaurant industry is changing rapidly. Download our e-book on upcoming restaurant trends to get a glimpse of the restaurant of tomorrow. If you need help keeping up, don't hesitate to contact our experts.