Are you currently using LS Retail software in your retail stores, restaurants, pharmacies, or gas stations? Did you know that, when you have an active LS Retail subscription license, you get much greater flexibility than with a traditional perpetual license?
Subscription or perpetual license?
There are several differences between a subscription license and a perpetual one. A perpetual license is the traditional model: you own the license and can use the software for as long as you want, but you ne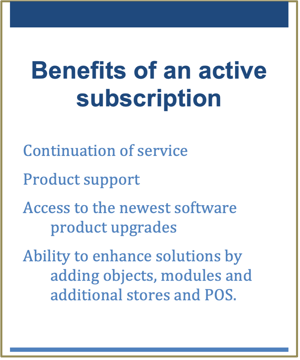 ed to pay for the whole investment upfront. You can also pay for enhancements, and have access to the most up-to-date version of the software (more on this below).
With a subscription license, you have the right to use the software and services for as long as you pay. It's a more flexible arrangement than a perpetual license, as you can increase or decrease license modules as needed, and you can even choose if you want to be invoiced monthly or annually. And as long as you're on subscription, you can continue to enhance, support, and upgrade your solution – it's included in what you pay.
Why choose an LS Retail subscription license
If you are still deciding whether or not a subscription is right for your business, here are 4 benefits you should consider:
1. Continue or interrupt the service as you want

As long as you are paying for your subscription, you can use the software and service. If you change your mind you can cancel the subscription license. You can stop paying, and you'll no longer have the right to use the solution after the end of the current period.
2.
Get software upgrades

As long as you remain on an active subscription, you have access to the newest software product upgrades. This means that you may upgrade between product versions at no extra cost.
3.

Access product support

We offer 24/7 support for licenses on active subscription. This support covers everything from bug fixes to licensing problems. To access support, you just need to contact your LS Retail implementation Partner.
4.
Expand your capabilities with product enhancements

An active subscription also gives you the ability to enhance your solutions by adding additional modules such as extra functionalities, objects, stores, and POSs.