Norsk Medisinaldepot buys a new software system for 320 pharmacies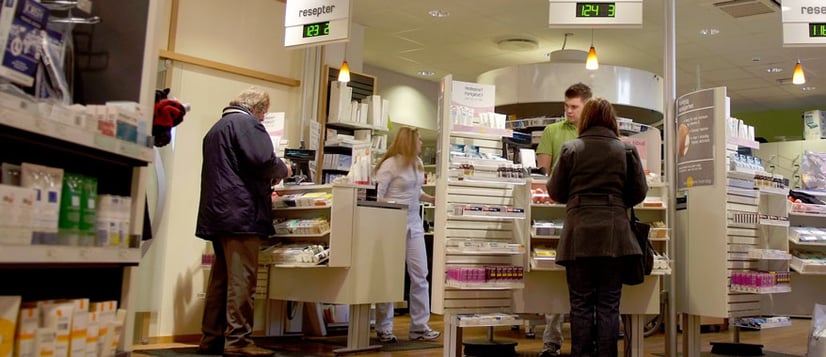 LS Retail, CGI and Norsk Medisinaldepot AS (NMD) sign major contract
NMD has signed an agreement with CGI Norway for a cloud-based ERP system for 320 pharmacies and 1600 Points of Sale. This agreement entails the implementation of Microsoft Dynamics NAV and LS Pharmacy, a specialized pharmacy solution from LS Retail, with a 10-year service and management contract.
"It's been essential for us at NMD to locate a solid and forward-looking standard solution that can help optimize our business processes and interactions with our customers. Experience in pharmacy software played a big role, as did the opportunity to work effectively across Nordic country borders. We have high expectations of CGI as our strategic partner, and look forward to working effectively with them in our journey towards the pharmacy of the future," says Ros-Marie Grusén, CEO of NMD.
The implementation includes Microsoft Dynamics NAV along with LS Pharmacy, developed by LS Retail. LS Retail is Microsoft's largest independent software vendor within retail and pharmacy. LS Pharmacy is fully compliant with DIFA, a common data exchange platform for the pharmacy sector and for government systems. "This contract provides Norsk Medisinaldepot's chains, Vitusapotek and Ditt Apotek, with a modern and complete pharmacy solution that covers the increasing demands of a changing environment. The latest Microsoft Dynamics technology complemented by LS Pharmacy ensures that we deliver a state-of-the-art solution with rich functionality. Both the pharmacy staff and their customers will reap the benefits", says Tom Hauge, CEO of CGI.
The entire solution will be delivered as Software as a Service (SaaS) in the Norwegian cloud. This means that NMD does not need to invest in buying and running their own hardware and software. The solution is scalable, and regular updates will be provided. In today's dynamic retail environment this reduces risks and costs, and ensures flexibility to meet future customer needs. The scheduled implementation project will take around 18 months, with planned rollout in the summer of 2020. The agreement also covers the operation and maintenance of the system for the following ten years.
About NMD
Norsk Medisinaldepot AS (NMD) is one of Norway's biggest suppliers of pharmaceuticals and health-related products. The Vitusapotek chain, with 250 pharmacies all over Norway, is fully owned by NMD. Vitusapotek Samarbeid is an alternative for those who wish to run their own pharmacies as Vitusapotek. NMD has also set up another chain, Ditt Apotek, which is a cooperative chain of 69 privately owned pharmacies. The total number of employees at NMD is over 2500. NMD is a part of McKesson Europe, an international organization with 39,000 employees and operations in 13 countries.