LS One 2020, the latest version of Point of Sale and back-office solution LS One, was just released. Here's some of the top functionality the LS One team has developed and improved during the past year.
New user interface (UI) design
Both the LS One POS and the Site Manager now have a totally new look and feel. If you are familiar with previous versions of LS One, you will see a completely new software solution: all POS dialogs have been redesigned, new controls were added, and the demo data layouts have been updated to go with the new design.
The 2020 version of LS one also introduced new UI design possibilities for LS One users. You can now configure the colors, borders and styles of all buttons at the POS, including OK, Cancel and other operation buttons. In the Site Manager you can set a style (background color and font) for each type of button.
The Site Manager was also redesign to match the design of the POS.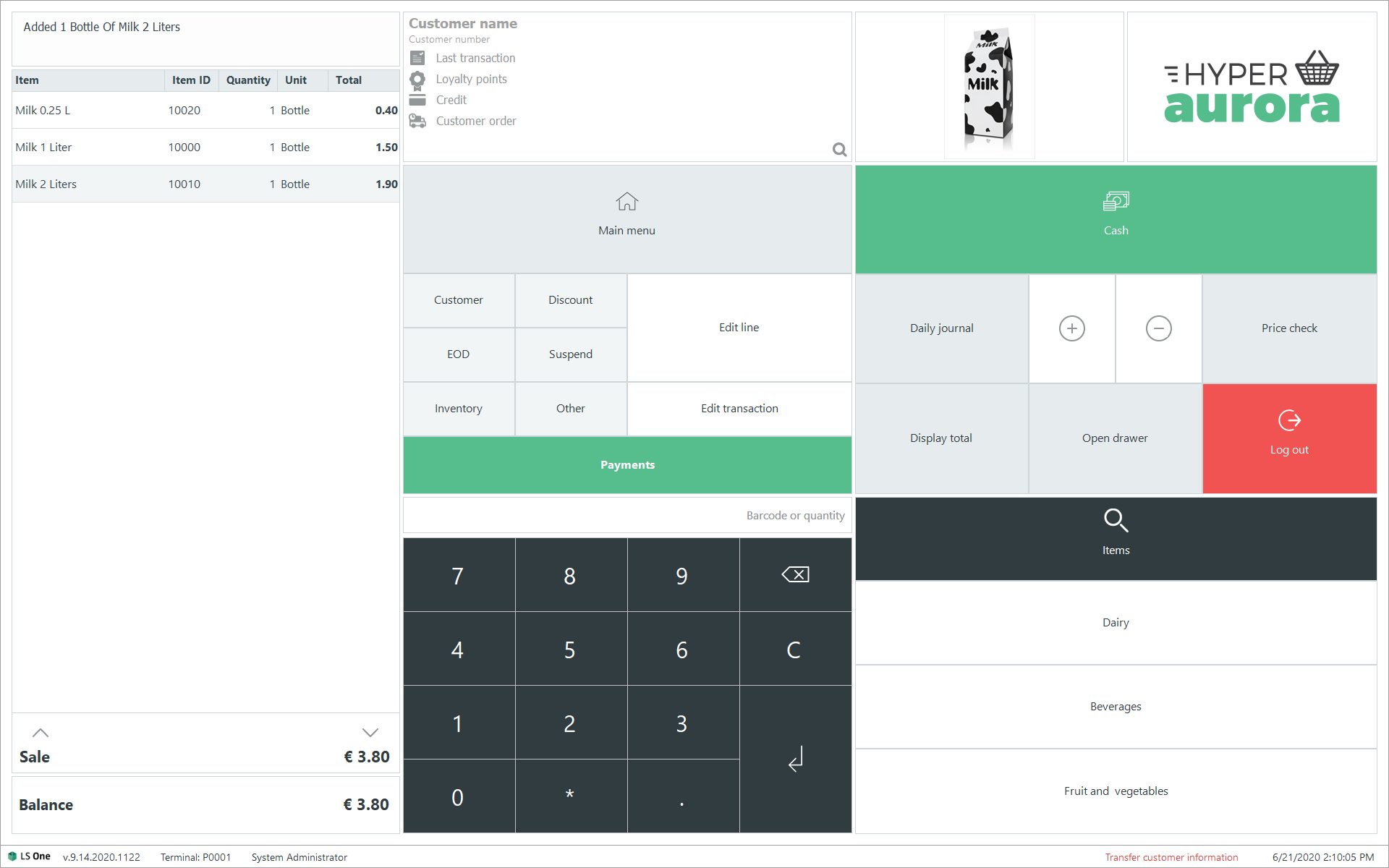 Improved usability
The new UI doesn't just bring a more modern look to LS One. It also comes with considerable usability improvements. Here are some of the top enhancements:
The item search has been improved significantly. You can now search for any parts of the item name (not just the beginning), you can search within the text field (for example, the item description), and you can even look for variant attributes (such as "red", or "medium").
In the hospitality POS, the table management screen is now much more intuitive. You can now clearly see what table is selected, and what its status is (available, occupied, waiting to order, etc.) thanks to straightforward color coding.
Dialogs for tender declaration, safe drop and bank drop have been improved.
It is now easier to view details of customer orders, and to view and edit quantities to pick up.
Better performance at the mobile POS
The Mobile POS is a simplified POS terminal that runs a local database containing the full item master on the device. The Mobile POS enables retailers to serve customers and close sales away from the traditional point of sale terminal. It's ideal for busting queues and to sell outside of traditional retail settings, for example in garden centers, in temporary and pop-up stores, and while home-delivering products.
In this release the mobile POS has been drastically improved as regards performance, usability, and support for end of day procedures.
Improved integration to SAP Business One
Last year, we introduced the out-of-the-box integration between LS One and ERP SAP Business One, available for both SQL and SAP HANA. In the past few months, more and more customers using SAP Business One have moved from competing retail solutions to LS One, and we have been working with them to ensure we meet all their integration needs. We have received new integration requests by customers as well as by partners, who have asked us to merge their customizations to stay on the main developing branch. Once we receive a customization, we test it, improve it, and then merge into the standard LS One product, so you can always stay assured you are using a quality tested integration.
Introducing the LS One Suite
LS One suits different sizes of business, from small "mom-and-pop" stores to enterprise customer with 1000+ POS deployments. The LS One Suite is a solution package designed to satisfy all the business needs of our smaller-size customers. The LS One Suite includes the LS One POS, site manager, mobile POS and mobile inventory, at a discounted price.
You can read more about further improvements and fixes in the release notes.