LS Central version 17.4 was released on March 26, 2021. Here's a summary of the new functionality now available.
Improvements to statement calculation and posting
We have substantially improved and optimized the performance of the statement calculation and posting functionality. We have refactored the process for replication counter updates. This resolves possible deadlock issues during statement calculation and posting. Now you can also automatically create and calculate statements for stores in an incremental way, and perform statements batch posting in parallel.
Reduce the wait for the end-of-day calculation with automations
You can now set up the system to automatically create and calculate statements for stores. The statements will be calculated incrementally, with each calculation only including new transactions. This way the calculation time can be spread across the business day, minimizing the waiting time for the last calculation of the day.
Reduce statement posting time with parallel posting
You can now post the statements in the batch posting queue in parallel, with multiple sessions. Define in the setup how many statements you'd like to post in parallel, and LS Central will spin up the needed background sessions to work on the statement posting. Depending on your server's specification, this can reduce the total statement posting time tremendously.
We measured the improvement in our performance lab.
While the original code took 100 minutes to post 100 statements, the improved code reduced the time to 85 minutes. With additional parallel sessions, you could achieve even further time reduction. With six parallel sessions, the total time was down to just 58 minutes, which is a 42% improvement.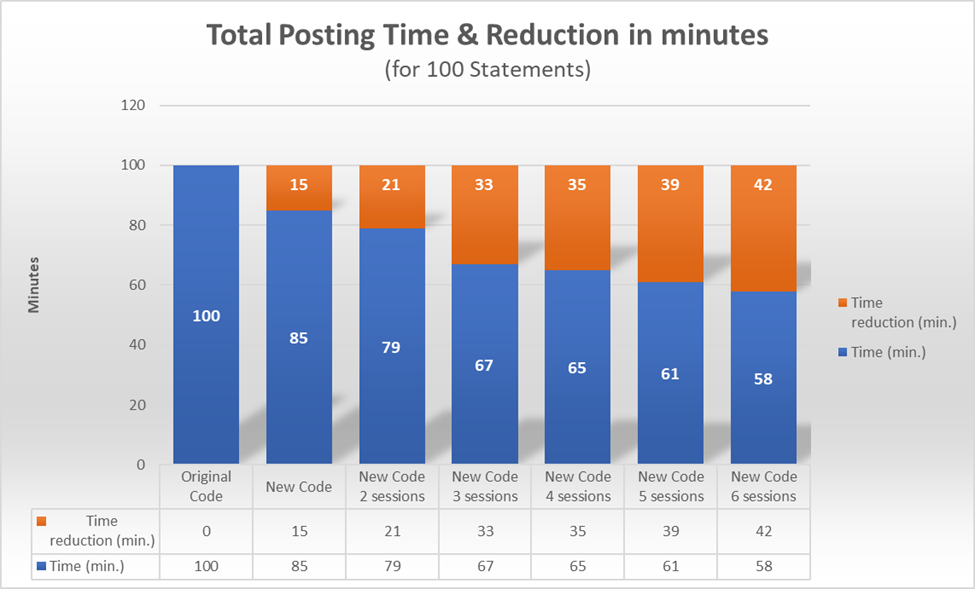 (Performance test result, LS Retail test lab)
These improvements were also tested successfully with a customer. Using their data and real-life environment we saw similar improvement behaviour.
If you are still on a C/AL version, ask your LS Retail partner to request the SCP (Statement Calculation & Posting) object package (based on LS Central 14) via the Technical Support help desk on the LS Retail Portal.
Use a dual display through the LS Central AppShell
When you start LS Central through the LS Central AppShell, Windows version, you can now access support for a dual display. Enable the dual display in the Terminal card, and it will start automatically, opening by default on the secondary screen.
A dual display can be useful to show information on the customer-facing screen. For example, you can show the POS journal with the total amount to pay, or display advertising videos when the POS is not online.
Configure keyboard shortcuts for POS commands
You can also now trigger POS commands and button clicks via keyboard shortcuts. This kind of configuration can be useful to speed up sales for the POS user.