LS Central 14.02: improved replenishment and customer order, and a new forecasting tool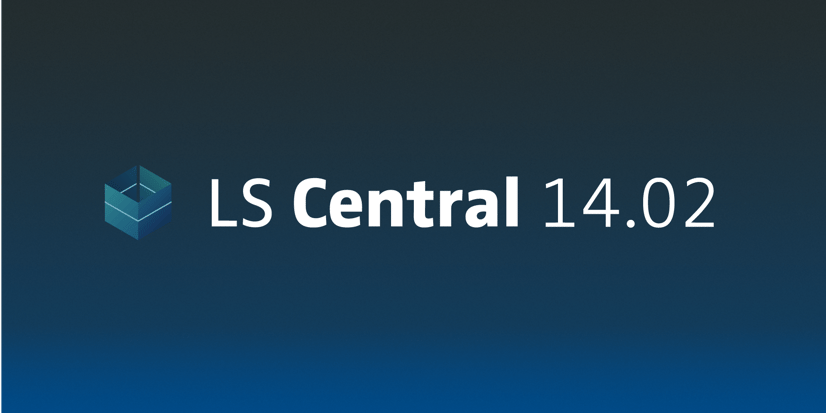 The latest version of LS Central, our unified commerce system for retail and hospitality, was released on October 31, 2019. This is the last LS Central release built on C/AL code: LS Central version 15, available in the upcoming months, will be the first release built on AL code.
In preparation for the switch, we have adjusted the length of many LS Central fields to follow the changes introduced in Business Central earlier this year, we have removed fields that are no longer in use, we have refactored some pages to optimize the user experience in the web client, and replaced .dlls with native methods.
But this release is not just about adjustments. We are also introducing some exciting new functionality. From improvements to the EFT, customer order and replenishment functionalities, to an innovative sales forecasting engine, let's take a look at what's new and exciting in LS Central.
More flexibility with customer orders
Customers want complete control and flexibility while shopping. When they order a product, they want to know where it is and when it's coming, and if they change their mind, they want to be able to cancel the order. Thanks to the new improvements to the customer order functionality, from today it's even easier for you to offer all of this.
Better overview of order status
All changes of status on customer order headers and lines are now logged. This means you and your staff can follow the progress of the customer order from start to end. You can also now set what status(es) will trigger a message that will be sent to the customers.
Easier cancellation of orders
In the system, you can now:
send a cancel request for a customer order through the Omni server
cancel a customer at the POS
cancel a customer order in the back office.
In all cases, the system checks if the customer order can be cancelled before proceeding. If the order has already been fully or partially paid when it is cancelled, the refund is posted to a specific account. You can set up a standard Business Central workflow that will trigger an approval process for the refund.
Accurate payments at the eCommerce
When you create a customer order through the Omni server, you can now include a payment token with the order. Before the customer order is posted (on the POS, or through a sales order in the back office), the system requests a payment validation through the Omni server. If the payment is not validated, the order is set on hold. This enables eCommerce sites to finalize the payment transaction with the correct amount at the right time.
Improved EFT functionality at the POS
In this release, we have enhanced the EFT functionality in the retail POS, to make it easier for you to adapt it to your business needs.
The POS now automatically checks the last card payment in the log. If the payment is unfinished, the POS asks the PIN entry device (PED) for the last processed transaction, and if there is a match, the POS completes the transaction. This is useful in case the connection to the PIN pad ends unexpectedly, before the transaction is completed at the POS.
If the POS receives a signature verification request from the PIN pad, it can now handle the request as configured. In the setting screen, you can set the POS to automatically accept the signature, to automatically reject it, or to let the cashier decide via a pop-up screen.
To help you cut waste, you now can configure the system to skip printing merchant and/or customer receipts.
To help partners adopt the new EFT functionality, we have created an EFT FOB file. In the FOB file we have downgraded the EFT changes to the latest versions of each year (09.10 / 10.10 / 11.05 /13.05). Partners then can downgrade from that version into previous versions of the same year, if needed. To get the file, please contact the LS Retail Support team.
The LS Central POS and Hardware station with the LS Pay plugin are tested by PSPs according to their procedures. The solution is now certified by NETS in the Nordic countries (NO,SE,FI,DK). In the same countries, the self-service POS is instead certified by PayEx.
More tools to help you set up the LS Hardware Station
Do you need help setting up the LS Hardware Station for EFT devices? Then you should watch our new setup video with detailed instruction.
The Hardware Station now supports a new PSP, Worldpay.
Easier, quicker setup of the mobile inventory app
The LS Retail mobile inventory app can now read configuration settings from an external file that is pushed to the mobile device by a mobile management software. Thanks to this feature, you can now more easily and securely set up and roll out large installations of the mobile inventory.
Further updates to the POS
Users now have the option to use the native device keyboard when running the webPOS in the LS Central App. This can be convenient for users who are accustomed to the native keyboard in the device.
Thanks to a new option, the system can now automatically log off when in Sales mode.
Demand Planner is discontinued
The integration to Demand Planner, the on-premises forecasting tool from AGR, has been removed from LS Central. However, this doesn't mean you'll be left without demand forecasting.
We are proud to announce the upcoming release of LS Forecast, our own cloud-based forecasting tool. You can find a preview in the current version, and more details below.
Advanced sales forecasting with LS Forecast
The solution consists of a cloud-based forecasting engine. You can manage setup and upload/download of data in LS Central, and utilize the downloaded forecast for Replenishment.
The cloud-based part is built on Microsoft Azure Machine Learning and uses advanced statistical forecasting techniques such as ARIMA, Seasonal ARIMA, Additive and Multiplicative models to predict future sales demand from sales history. LS Forecast has been introduced as a new Replenishment Calculation Type. Let's take a deeper look at its functionality.
Weekly and daily forecasts
LS Forecast allows you to calculate forecasts on daily or weekly level for different item groups. While you might want to utilize the highest precision for your top priority items, a forecast on weekly basis can be sufficient for your spare parts and lower priority items. The advantage of a weekly forecast is that it reduces calculation time and cost for the forecast.
To translate weekly forecasts into daily quantities for Replenishment, we have introduced Weekly Sales Buckets. These buckets provide an overview of the item's sales distribution pattern across the week, from Monday to Sunday. This pattern is calculated by item group and location, based on historical sales data.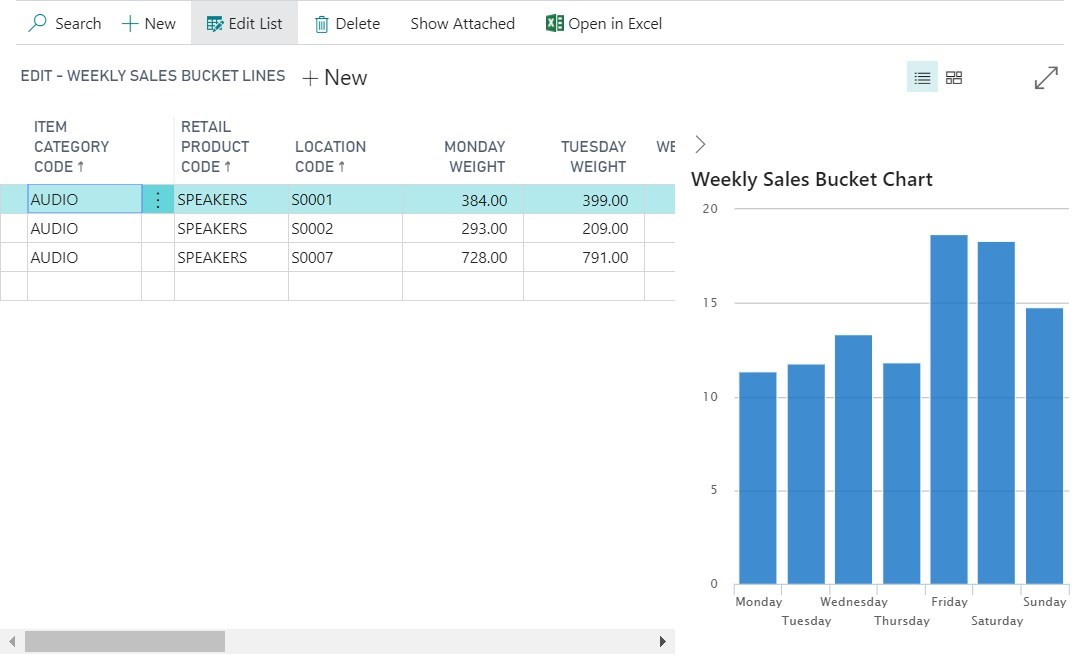 (Weekly Sales Bucket for product group and location)
Open-to-Buy enhancements
Open-to-Buy is a core functionality in retail planning that ensures you have the right number of items in stock according to sales plans and current inventory. In this version we have added several improvements to make planning easier and more powerful.
Improved usability
Information and setup are now clearly split. You can access the Open-to-Buy information directly from the Retail Sales Budget list and card. You can now define the Open-to-Buy values from the Open-to-Buy pages.
Calculation levels
With the new feature enhancements, you can calculate and monitor Open-to-Buy values for entire budgets and budget parts, such as divisions, item categories, retail product groups, items and up to five item hierarchy levels. Advanced drill-down functionality allows you to easily access details from the Open-to-Buy page.
Checks for purchase orders and allocation plans
To ensure that purchasers don't violate budgets and Open-to-Buy values, a checking feature has been introduced which calculates if a purchase order or allocation plan is still within the given limits for planning periods.
Automatic calculation with the scheduler
In order to keep the Open-to-Buy meaningful, the Retail Sales Budgets and Open-to-Buy values must always stay up to date. The Open-to-Buy can be updated manually, or set to be calculated periodically with a scheduler job. You can also set up multiple scheduler jobs for the calculation to run in parallel.
Faster calculation of replenishment journals
We have refactored and improved the program code for the Replenishment Journal calculation. The result is reduced calculation time, especially for journals that are not empty prior to the calculation.
Automatic item exclusion
Replenishment can now exclude items from the Replen. item quantity and Replen. journal calculation following rules which base on factors such as items created before a certain date, no item sales since a certain date, and items with zero inventory. If needed, the process can also be automated with a scheduler job. This new functionality helps to reduce calculation time by excluding unnecessary items.
New role center and web client page improvements
In this version, we introduce a new role center for replenishment that will enhance the user experience with the new Web client. We have also tested, refactored and improved replenishment- and fashion-related pages to support the new client.
Variant Framework – Logical Order
Are you a retailer using the Logical Order field in the variant framework? You'll be happy to know we have increased the maximum number of values to 999. We have added a new Refresh Variant Settings action to the Item Variant Framework page. This action enables the Item Variant Registration to be updated with the latest Logical Order and Variant Weight setup as defined for the variant values.
Track your restaurant metrics in LS Central for restaurants
In this release, we are introducing a new Role Center for restaurants that use table management. This is a dashboard where you can see at a glance:
restaurant performance (Gross turnover, Amount per guest, Revenue per seat hour, Table turnover)
current status (Occupied tables, Total free tables, Inhouse guests, Available seats)
day summary (Total guests, Transactions, No-shows, Canceled reservations)
We have noticed that, over time, the Dining Area data can become quite extensive. You can now archive data to reduce the size of the database. As a result of this change, you can now view Dining Area statistics and see table turnover per day, number of seatings, revenue per seat hour, gross amount per period and section.
More informative Kitchen Display System (KDS)
Modern restaurant guests like to be well informed. In this release, we are introducing customer-facing displays (CFD), a new type of KDS that helps you deliver fast, reliable information to guests waiting to be served.
This kind of display is most commonly used in quick service restaurants to give guests an easy way to know when their dish is done. After the order has been bumped from the expeditor, the screen will show the order as ready.
We have also improved information for your kitchen staff: you can now use a "deal" header in the KDS to clearly mark dishes that are sold as meal deals.
Improvements to LS Activity
We are introducing more ways to manage memberships:
With Membership Groups, you can group multiple memberships. You can use this functionality to keep track of members in a location, or of members registered in a specific course, for example.
Are you running a multi-location environment? You can now track how many memberships are issued in each of your locations. You can also add a "home location" (the store where the membership was issued) to a membership entry.
We are also introducing some platform improvements:
LS Activity is now fully Web POS compliant.
We have created new role centers for LS Activity and member management that better fit the Microsoft Dynamics 365 Business Central web client. In the Membership role center, you can now access Membership Group to define specific groups and get a summary of active members per week.
More functionality in Staff Management
You now have more flexibility when it comes to managing your staff:
Create and work with weekly rosters, instead of just monthly ones.
Assign staff to work for just part of the day. This is very useful if a staff member is unavailable during specific parts of the day.
Compare staff costs between different periods, either per month or salary periods.
We are also introducing some platform improvements:
Staff Management now fully supports the Web POS for LS Central.
There is a new role center, designed following the Dynamics 365 Business Central design guidelines.
You have questions, we have answers
Choosing the right POS system or business management software for your business may be an overwhelming experience, but we are here to help every step of the way. Talk to our experts to receive specific suggestions tailored on your unique needs.