Loyalty, the new hotel currency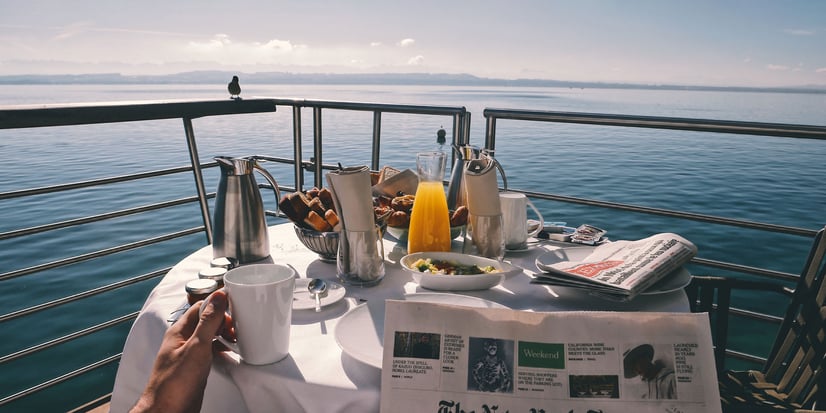 According to the World Travel & Tourism Council, the global travel market makes up 10.4% of the global GDP. This is a $8.27 trillion market that just keeps on growing.
The hotel industry, one of the oldest players in the travel industry, has been drawing many of these investments, and is now approaching nearly 10 years of consecutive growth. In the US, gross profit deriving from hotel bookings grew by $116bn to $185bn between 2009 and 2017, Deloitte reports. For the upcoming months, Deloitte is forecasting steady year-over-year growth all around: average daily rate, revenue per available room, total occupancy are all expected to grow.
Why is this happening? On the one hand, consumers are benefiting from strong purchasing power and a stable economy. On the other hand, digital innovation has opened entirely new markets and business streams, from online-based rental of private accommodations, to property comparison and booking via app, to simplified check in processes. The availability of advanced data analytics tools has also enables hotels and other property providers to deliver more personalized customer experiences than ever before. At the same time as technology is empowering operators to offer more, customer expectations are also increasing.
To stay on top in a booming sector where customers are more and more demanding, you need a clear, well-planned customer loyalty strategy, one that anticipates guest demands while also differentiating your brand from the competition.
Digital transformation
Across many industries, businesses are making hefty investments in digital transformation, implementing new technology to revolutionize business operations and the customer experience. Luxury hotels, in particular, have begun their journey full force. Many are adding impressive customer-facing features such as smart rooms that can be controlled by apps or mobile phones.
However, there are still untapped opportunities for profitable digital transformation.
Creating more emotionally loyal customers should be one of the top goals in any B2C digital transformation strategy. According to a recent study by loyalty experts Collinson, last year only 38% of American adults felt rewarded for their loyalty to travel brands. Poor personalization seems to be the top reason behind this failure. 61% of respondents said they ignore most communications from travel providers, as they are not relevant to them. Only 33% of participants said that the offers they receive are personalized to their interests or preferences.
This gap in the industry is a great opportunity to differentiate your brand.
How to tie emotionally loyal customers to your hotel
To develop an effective loyalty strategy, you must begin with studying and understanding your customers. Think beyond personality types, towards contextual thinking – meaning, dig deeper than age and gender, and focus instead on variables such as family background, interests, friends, careers, spending habits. If you manage to create an emotional bond between your brand and consumers, you can increase revenue. In fact, research shows that emotionally loyal customer visit you more often, are less price sensitive, are more attuned to your messaging, and are eager to spread the word to their friends and family.
So, what benefits should you give to deliver real value, and boost loyalty?
In a survey by loyalty marketing agency rDialogue, 83% of respondents said that, to them, it is very important that a brand makes their experience more convenient. Travel loyalty program members, in specific, see time savings as an extremely important advantage.
I previously suggested four steps you should follow when creating your own loyalty strategy. Let's see how this structure can be applied to the hotel industry, keeping in mind that travelers highly value speed and convenience.
1. Create a unique shopping experience
Creating unique experiences can start with connecting your existing dots. For instance, you can deliver much higher levels of convenience and personalization by connecting all customer information into a single database. When you can track customer data from the reception, to the hotel bar, to the spa area and restaurants, and give this unified view to your staff, you can easily personalize the guest's stay in ways that will increase satisfaction. If the guest is part of your loyalty program, and your systems all work together, you can tie any stay to previous ones, and use the knowledge of your customer and their tastes to surprise them with benefits that you know they will love. For example, you could offer a late check-out, a free hotel upgrade, their preferred rooms or room service, or complimentary parking, depending on what you know they would usually pick.
This is a great way to increase convenience, while at the same time emotionally tying your customer to your brand by showing them that you know them, and that you care.
2. Design individualized loyalty programs
In 2017, Hilton Hotels started a new era when they allowed their members to use their loyalty points to shop with Amazon. This change reflects a wider shift to more personalized and contextual incentives. Gartner also reports that personalization efforts now represent a relevant part of marketing budgets, particularly in travel, hospitality and retail.
Here are some ideas to create a highly tailored, high-value loyalty program:
Divide it into tiers such as Gold, Silver, and Platinum, and let members move up based on hotel stays. Limit the number of levels to three or four, and ensure the top level stays exclusive by requiring a considerable level of commitment.
Let guests use the loyalty points to get more hotels stays, or gain personalized offers – or both.
Connect the loyalty program to your in-house system. This way, your server at the hotel restaurant can use the information at the POS to delight a frequent traveler, for example asking if they want to use the 30% off voucher they received last month – or even surprising them with a free coffee or cocktail.
Use innovative technology such as artificial intelligence to give customized recommendations based on user's preferences and past travel experiences.
Tie the program to a hotel credit card to collect more detailed customer information, which you can then use to personalize the experience in your hotel.
Offer a loyalty app through which guests can easily check in or out, see their loyalty points, and use them for making a booking or purchasing extra benefits.
3. Build a community with friend referrals
Word of mouth is the best recommendation you can get for your hotel. On the one side, people trust friends and family more than official advertising. On top of that, referred guests are more likely to become emotionally loyal customers themselves, according to research by Nielsen. Encourage your guests to share their experience by adding a 'refer this hotel to your friend' button on your app or booking portal. Track the guests who make their first book after being referred by a friend, and make them loyal to your brand by giving a personalized "thank you" present during their next stay.
4. Make use of your community
User-generated content, paired with an official presence on social media and rating platforms, are key to guest engagement today. Make sure your website can support not just bookings but also ratings, and that the data flow is seamless across your systems. This way you can easily reward customers for their reviews, for example giving them extra loyalty points on top of a "thank you for the feedback" note. Not only: a quick assessment of reviews enables you to take swift action when you have to. Always respond to negative comments, and take the steps needed to avoid losing customers – loyal ones in particular. When your systems are interconnected, you can easily contact unhappy guests, for example via the app, and send more information – or even personalized vouchers – to try and fix the issue, and regain the lost trust.
Making loyalty work
According to research by the Global Business Travel Association, business travelers consider three hotels on average before making a booking. And when it comes to taking the final decision, loyalty programs play an important part for an astounding 82% of travelers.
When developing your loyalty program, make sure you have all the pieces in place:
offer a clear structure, with rewards that are easy to understand
deliver benefits that save guests' time, making the whole process, from booking to stay, easier and more convenient
create moments of delight using customers' information to personalize their experience
include a referral program that makes both loyal guests and their referred friends feel valued and special.
To truly deliver a personalized, unique experience, it's key to have technology that ties all guest information together giving you a single, 360-degree view of each consumer. This is easily done with unified commerce. This kind of all-in-one software has been revolutionizing the retail industry, providing businesses with a single version of the truth and a clear vision of the business across channels. Most importantly, it has enabled retailers to clearly see, understand, and communicate with their customers. According to consulting firm BRP, 86% of retailers plan to implement a unified commerce platform by mid-2021.
The hospitality industry is seeing a steady growth of both opportunities and competition. This is the time to equip your business with tools that will give you the edge over other hotels brands. A unified commerce platform can be the secret weapon that ties your whole loyalty strategy together, giving you the visibility you need to create truly meaningful, personalized moments.
We can help you find the technology that lets you follow your customers throughout their journey and understand their needs and wants. Then, all you have to do is use your customer service expertise to create experiences that delight your guests, leaving them wanting for more.
Contact us to discuss how you can start your journey towards true emotional loyalty with unified commerce.