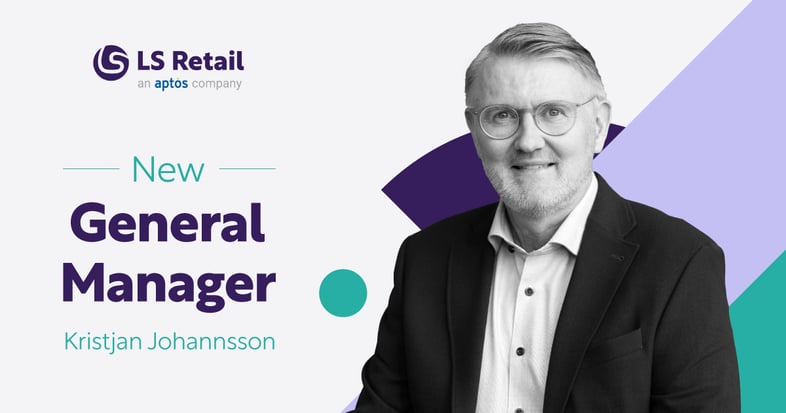 Johannsson most recently served as Chief Commercial Officer at LS Retail
Kristjan Johannsson has been appointed by Aptos as general manager of LS Retail, effective immediately. Johannsson has held various leadership roles at LS Retail since he joined the company in 2016, most recently serving as chief commercial officer. In his new role, Johannsson will chart the strategic direction of LS Retail, overseeing its P&L as well as all functional areas of the business, including sales, partner operations, software development and marketing. Johannsson will continue to report to Aptos CEO Pete Sinisgalli.
Following Aptos' acquisition of LS Retail in 2021, LS Retail has furthered its position as a world-leading developer and provider of unified POS and business management software for retail and hospitality. To date, LS Retail's solutions have been delivered to more than 100,000 stores and 6,500 customers, with those customers located in 157 countries.
Built on Microsoft technology, LS Retail solutions are sold, implemented and supported through nearly 400 strategic partners. LS Retail's vast channel network, as well as its partnership with Microsoft, have been instrumental in its success. According to Sinisgalli, Johannsson is the right person, at the right time, to lead LS Retail to new heights.
"With his more than 30 years of experience in the software industry, deep understanding of channel partner dynamics, and commitment to customer and colleague satisfaction, Kristjan was the natural choice to lead LS Retail into its next phase of growth," said Sinisgalli. "I am confident that under Kristjan's direction, LS Retail will provide valuable solutions to customers, expanded opportunities to partners, and a great place to work for colleagues."
With LS Retail experiencing a surge of market momentum, including being named one of the largest POS software vendors in the world based on number of installations, Johannsson takes the helm at an exciting time.
"As a trusted provider of unified business software solutions for retail, restaurants, pharmacy, gas stations and hospitality, the LS Retail team has a passion for transforming customer experiences through the power of a single software platform," said Johannsson. "We will work closely with Microsoft and our partners all over the world to deliver this unified commerce vision. I'm honored to lead LS Retail forward, buoyed by the strength of our parent company, Aptos, and by the hundreds of remarkable individuals who make up the LS Retail organization."
Based in Iceland, LS Retail has offices in Europe, the Middle East, Asia and North America, and approximately 300 colleagues. Following Johannsson's appointment as general manager, LS Retail will continue to operate as a stand-alone business unit within Aptos.